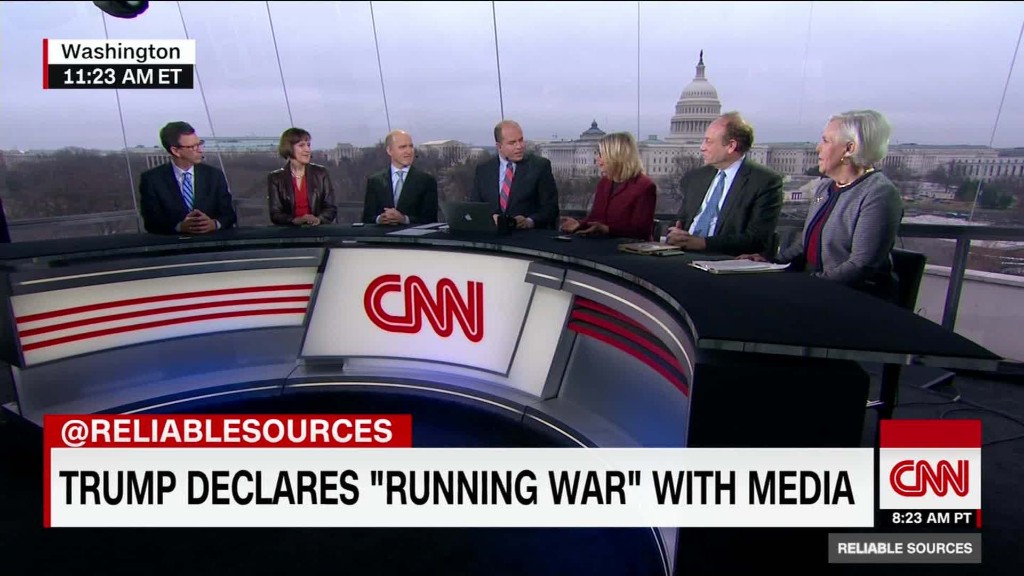 The alternative to "facts" is "fictions."
But President Trump's special adviser Kellyanne Conway proposed something new on Sunday: "alternative facts."
The strange phrase entered the lexicon when Conway told NBC's Chuck Todd that the numerous misstatements in press secretary Sean Spicer's angry statement to reporters Saturday were actually "alternative facts."
Related: White House press secretary attacks media for accurately reporting inauguration crowds
The phrase called into the question Conway's understanding of the word "facts" and caused widespread mockery on Sunday.
But Conway's remarks were reflective of something real -- a new administration which feels, on day three, that it is already under siege from unfair reporters. Trump himself spoke about his "running war with the media" on Saturday.
Spicer, Conway and other Trump aides are "planting a flag, saying they're not going to tolerate this," a longtime Trump aide told CNN on condition of anonymity.
The aide blasted alleged media "obsessions," using some of the exact same language Trump chief of staff Reince Priebus used on "Fox News Sunday."
"I'm saying there's an obsession by the media to delegitimize this president, and we are not going to sit around and let it happen," Priebus said on Fox. "We are going to fight back tooth and nail every day, and twice on Sunday."
The administration's view, according to the source, is that journalists have seized on Trump's popular vote loss; intelligence community findings regarding Russian interference in the election; and inauguration crowd size counts, all in order to "delegitimize" the new president.
Newsroom leaders strongly reject this suggestion.
"The president may feel he's at war with the media. 'The media' is just honest men and women trying to do their jobs," NPR head of news Michael Oreskes said on CNN's "Reliable Sources."
Spicer said at least five things that are not true during the five minutes that his angry statement lasted on Saturday. His false claim about Trump having the biggest inauguration audience ever, "period," came under severe scrutiny on the Sunday morning news shows and online. Meanwhile, Spicer had no further comment on the controversy.
Todd, the moderator of "Meet the Press," was startled by Conway's "alternative facts" explanation.
"Alternative facts are not facts. They're falsehoods," he said to her.
At one point in the interview, when Todd brought up "falsehoods," Conway said he was being "overly dramatic."
Before their discussion ended, Todd asked Conway if it's "a political tactic to come up with 'alternative facts' and try to set up the press as your enemy."
Conway replied, "no, I didn't say that at all."
But to a lot of journalists, that's exactly what it sounds like.
The presentation of "alternative facts" undermines the media's reporting of reality in a way that decreases public trust in the media -- and in facts.
The administration's tactics in its first days, coupled with Conway's invocation of "alternative facts," has observers worried that one of the ways it will "fight back" is to simply deny that two plus two equals four.
"Alternative facts" is "a George Orwell phrase," Washington Post reporter Karen Tumulty said, referring to the science fiction novel "1984."
"This brings us to '1984' doublethink, where war is really peace, where famine is really plenty. That's what's happening here," political historian Allan Lichtman said on CNN Sunday afternoon.
The phrase was a top trending topic on Twitter during the day. Some people made jokes while others took it very seriously.
"'Alternative facts' is a euphemism of propagandists and authoritarians. The new White House administration is full of both. Actual facts," MTV's Jamil Smith tweeted.
The Merriam-Webster dictionary even tweaked Conway by tweeting out the definition of a "fact."
"May I say that we teach no courses in our journalism program about alternative facts," Frank Sesno, the director of the school and media public affairs at the George Washington University, said on CNN's "Reliable Sources."
"We will flunk you if you use alternative facts," he added.
Oreskes said Conway's "alternative facts" comments are symbolic of a larger "struggle going on in the world right now."
"There are people who understand that if you can create a different understanding of reality, you can actually change politics or anything else you want to deal with," he said.
The administration is likely not all that upset with the discussion it's started among the press about the truth and its flaunting of it. The Trump aide, speaking on condition of anonymity, pointed out a fringe benefit of the administration's media complaints: "By going out and doing this, it took images of people protesting off the TV."