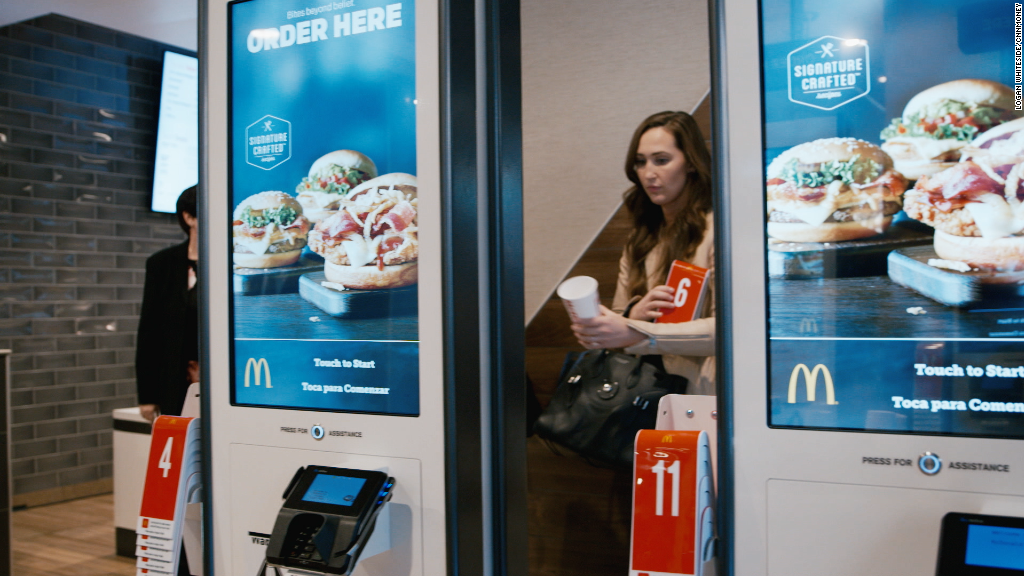 McDonald's just reported supersized fourth quarter results and its strongest global growth in five years -- despite the fact that sales in the United States fell from a year ago.
The home of the Big Mac is doing extremely well in the U.K., Japan and Latin America. That helped McDonald's post overall sales and profits that topped forecasts.
But the company's McComeback in its home market is starting to falter. Same-store sales, which measure how well restaurants open at least a year are doing, were down 1.3%. Operating profits fell too. Shares fell nearly 1% on the news.
The company blamed tough comparisons to the fourth quarter of 2015, when McDonald's (MCD) was on fire thanks to its All-Day Breakfast menu launch.
McDonald's CEO Steve Easterbrook didn't express much optimism about a turnaround in the first quarter either.
McDonald's is also facing tougher competition from rivals like KFC, Taco Bell and Pizza Hut owner Yum! Brands (YUM), Burger King parent Restaurant Brands (QSR) and fast casual chains like Panera (PNRA) and Shake Shack (SHAK).
Easterbrook has gotten a lot of credit from Wall Street for helping to turn McDonald's around since he took over as CEO nearly two years ago.
Related: McDonald's just tweaked the Big Mac
Under his watch, McDonald's has made big changes to the menu, introducing healthier items like kale and more customized sandwiches. Most recently, McDonald's unveiled both a smaller and bigger version of its Big Mac.
So McDonald's needs to find new ways to attract even more customers.
Still, investors are hopeful that restaurants and other retailers will do well this year thanks to Donald Trump's presidential victory.
McDonald's did not mention whether or not consumers may be more confident following Trump's win in its earnings release though.
Some retailers have cited an uptick in sentiment because of President Trump, who has pledged to cut taxes and grow the economy at a faster clip than it has over the past few years.
But minimum wage hikes across the U.S. over the past year have also put pressure on costs at McDonald's and other restaurant chains. So that could wind up canceling out any boost in sales.