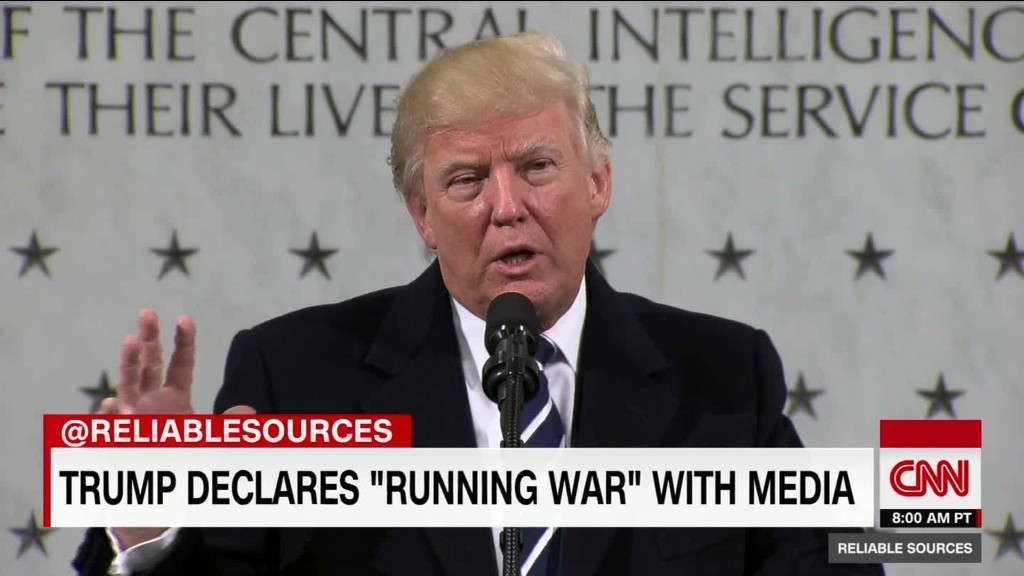 Press secretary Sean Spicer's Monday afternoon restart -- fielding questions from reporters after angrily lecturing them two days ago -- received tempered praise from the press corps.
But disagreements and concerns remain front and center.
On the one hand, Spicer said his intention is to always tell the truth, "never to lie" from the White House podium.
On the other hand, he continued to insist that Friday's inauguration of President Trump was "the most watched inaugural" around the world, despite the suspect evidence he presented.
Spicer made clear that he and other Trump administration officials will continue to challenge the press and point out perceived mistakes. He said "the default narrative is always negative" about Trump, and it is "demoralizing."
Monday was seen as a career-defining moment for Spicer, a Washington veteran with decades of public relations experience, because of his surprise statement on Saturday.
Reporters were astonished when Spicer came to the briefing room on Trump's first day in office and read an angry statement about "deliberately false reporting," claiming the press downplayed the crowd size that witnessed the inauguration.
At least five of the things Spicer said in his five-minute speech were not true. He did not take questions in the briefing room, and he declined an interview request afterward.
Some social media commenters scathingly mocked Spicer's performance. He became a "meme."
"I mean he has people comparing him to Baghdad Bob the first day in office, saying, 'I can't trust this guy,'" CNN media analyst Bill Carter noted. (Baghdad Bob was Saddam Hussein's spokesman who kept predicting the defeat of the American invasion right up until U.S. troops rode through the capital.)
So Monday was something of a redo.
At times jovial, other times feisty, maybe also a tad nervous, Spicer took questions for over an hour.
Related: Spicer holds rapid-fire press briefing
Bush administration press secretary Ari Fleischer, who had appealed to Spicer to "cool down the confrontation" after Saturday, said after Monday's briefing that "Sean did an excellent job."
CNN anchor Jake Tapper said, "It seemed like a fairly nice press conference today, but there are some fundamental issues from this weekend," including Spicer's false claims, "that remain out there and unresolved."
Spicer defended his claim that Trump had the biggest audience of any presidential inauguration, "period," by insisting that he only meant when television viewership, internet viewership and crowd counts were combined.
"It's unquestionable," he said.
But there are no global television ratings to go by. And streaming viewership is measured completely differently, making it impossible to know the total audience for any big event.
According to the data that is available, however, President Obama's first inauguration in 2009 drew a bigger crowd in Washington and had a bigger audience on television.
Furthermore, the streaming audience for Trump's swearing-in was only slightly bigger. CNN's reality check team analyzed the data and rated Spicer's claim as false.
The team checked some of Spicer's other statements and found them to be accurate.
Jeff Mason, the president of the White House Correspondents' Association, said in an email message that "it was a positive thing that he was able to call on a lot of reporters."
At the beginning of the briefing, Spicer shared a plan to have what he called four "Skype seats live in the briefing room."
He said these video links will enable "journalists who live beyond 50 miles of the Washington, D.C. area" to ask questions.
Journalists from across the country can already apply and receive access to White House briefings in-person. But the goal, Spicer said, is to make it more convenient and cost-effective for a greater number to participate.
This idea generated immediate skepticism from some journalists because of concerns that pro-Trump media outlets could be favored by the White House.
Spicer may have been inspired by Chuck Todd, the moderator of NBC's "Meet the Press," who suggested "four or five Skype seats" during a podcast with Poynter last week.
Spicer's role is incredibly complicated because he is a liaison between the media and a president who has declared a "running war with the media."
Earlier this month, Spicer spoke with former President Obama senior adviser David Axelrod about communications strategy, and Spicer said, "The one thing, whether you're Republican or Democrat or independent, is that you have your integrity."
"I have never lied," Spicer said, adding, "If you lose the respect and trust of the press corps you've got nothing."