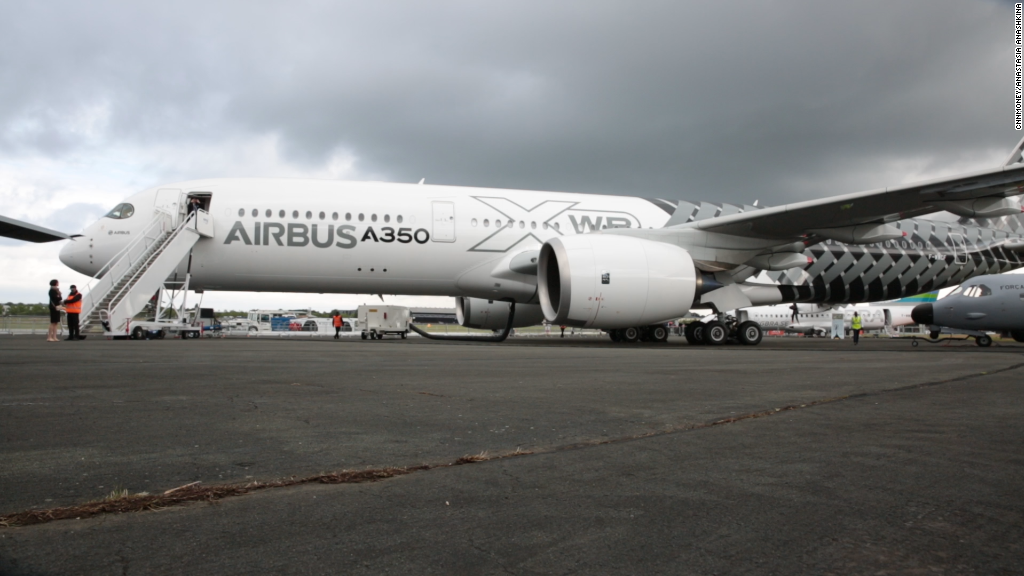 Japan's first ever homegrown commercial jetliner is facing yet another big delay.
Mitsubishi Aircraft Corp. said Monday that it now doesn't expect to deliver the first plane until mid-2020. That's two years later than the previous schedule and the fifth time in less than eight years that the company has pushed back delivery plans for its Mitsubishi Regional Jet (MRJ).
The new delay means the initial customer for the plane, Japan's All Nippon Airways (ALNPY), will receive its first delivery seven years later than originally planned.
Mitsubishi said the latest setback "is due to revisions of certain systems and electrical configurations on the aircraft" to meet certification requirements for regulatory approvals.
Related: Boeing chases airlines for stretch 737
The MRJ's difficulties underscore the challenges of competing in the global plane-making industry, where the barriers to entry often mean years of delays and massive cost overruns. It's Japan's first new commercial aircraft in more than 50 years, the last one was powered by turboprop and introduced in 1965.
Mitsubishi says the jet, which seats as many as 92 passengers, uses 20% less fuel than other aircraft in its class because of its efficient engines made by U.S. firm Pratt & Whitney and aerodynamic design.
It puts Mitsubishi in direct competition with Brazilian plane maker Embraer (ERJ) and Canada's Bombardier (BDRAF), which dominate the market for passenger jets with fewer than 100 seats.
Mitsubishi has more than 230 orders for the aircraft, including from U.S. regional carriers Sky West Airlines, Trans States Holdings and the newly revived Eastern Air Lines.
Related: Japan's first passenger jet has a bad weekend
Delays aren't uncommon in bringing new planes to market.
As Embraer has grown and Mitsubishi has pushed into the market for regional jets, Bombardier launched its own bigger airliner called the CSeries and faced years of delays and billions of added costs to finish the aircraft. It's now been flying with airlines in Europe since last year, but it highlights how even established manufacturers have struggled with new aircraft.
Industry giants Boeing (BA) and Airbus (EADSF) have both endured embarrassing setbacks on high-profile jets like the long-range 787 Dreamliner and the superjumbo A380.
The MRJ made its first flight in November 2015. It now has a total of four test aircraft flying, three of which are currently based in Moses Lake, Washington, 140 miles east of Seattle.
Mitsubishi Aircraft Corp. is a unit of Japanese conglomerate Mitsubishi Heavy Industries (MHVYF), which has long been a supplier to Boeing.