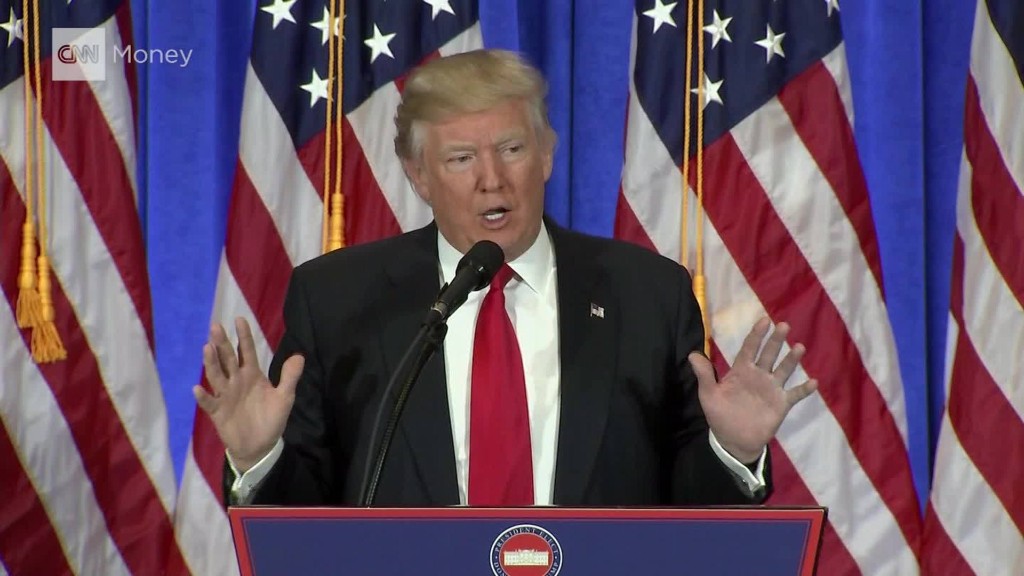 President Trump says he has resigned from positions in hundreds of business entities, according to a document provided to CNN by the Trump Organization.
The text of the 19-page letter reads: "I, Donald J. Trump, hereby resign from each and every office and position I hold" in more than 400 entities listed on the following pages.
The letter is signed by Trump and dated January 19, the day before he was sworn in.
White House press secretary Sean Spicer told reporters Monday that Trump's two adult sons, Donald Jr. and Eric, are "fully in charge of the company."
At a press conference January 11, Trump pledged to transfer his business holdings to a trust run by the sons. He refused to sell his ownership stake, a step that many ethics lawyers say is critical to avoid conflicts of interest.
Related: Trump will leave business, but won't sell
Alan Garten, a lawyer for the Trump Organization, told CNN on Monday that the trust has been set up.
In addition, he said that the organization has appointed an ethics adviser and a chief compliance officer, fulfilling two other promises from Trump's pre-inauguration press conference.
Garten did not release their names but said more information would come later this week.
A lawyer for Trump, Sheri Dillon, said on January 11 that the chief compliance officer would ensure that the Trump businesses do not take "any actions that could be perceived as exploiting the office of the presidency.
She said the ethics adviser would analyze Trump Organization deals for potential conflicts of interest.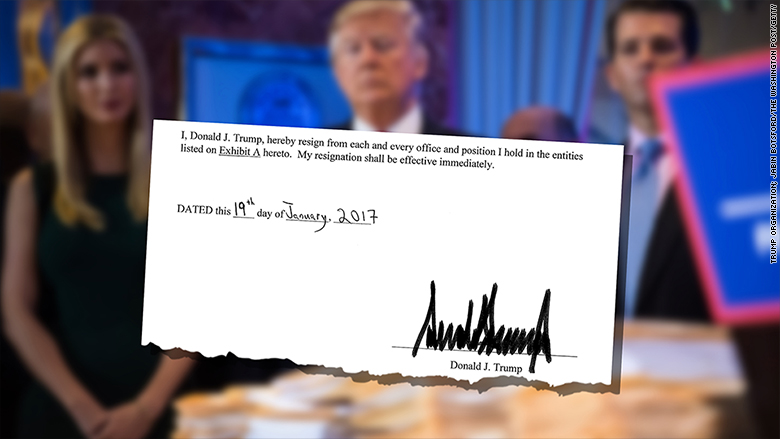 The letter released to CNN still did not satisfy independent experts in government ethics, who have repeatedly urged Trump to liquidate his holdings and hand the proceeds over to an independent trustee who controls them without his knowledge, a structure known as a blind trust.
"It clearly doesn't resolve the conflict of interest or Emoluments problem since this doesn't deal with his financial interests," said Larry Noble of the Campaign Legal Center.
The Emoluments Clause of the Constitution prohibits the president from accepting payments from foreign governments. It is the subject of a federal lawsuit filed against the president on Monday by an ethics group.
Noble added that the letter does nothing to limit Trump's communications with his companies or to prohibit him from advising them.
Dillon, the Trump lawyer, said at the January 11 press conference that Trump would not discuss the business with the sons, though he will still receive reports on the overall profit of the Trump Organization.
Garten said that Trump Organization records will be updated "in the ordinary course as and when required by law" in the states where the businesses are registered.
Charlie Douglas, an expert on private trusts and a partner with the investment advisory firm Cedar Rowe Partners, said the letter "sounds fine to me" and shows Trump "is giving up his positions in hundreds of companies."
But he said the Trump Organization will need to take further steps, including to show who has taken Trump's place in each business.
"He can resign in a day," Douglas said, "but that doesn't tell the whole story of what happens to the companies."
Documents posted Monday by the Florida secretary of state's office already showed Trump's sons in charge.
A listing for the Trump Miami Resort Management Member Corp., for example, showed Donald Trump Jr. as director. A listing for Trump International Hotels Management LLC showed Eric Trump as president.
But submitting such records to the government is not required in all cases.
In Delaware, where more than 300 Trump-related corporate entities are registered, the Trump Organization would not have to submit special paperwork to reflect changes in day-to-day operations or board memberships.
"We simply don't require that information," said Doug Denison, a spokesman for the Delaware Department of State.
Denison said corporations do have to submit an annual filing listing all current officers and directors. The deadline for that filing this year is March 1.