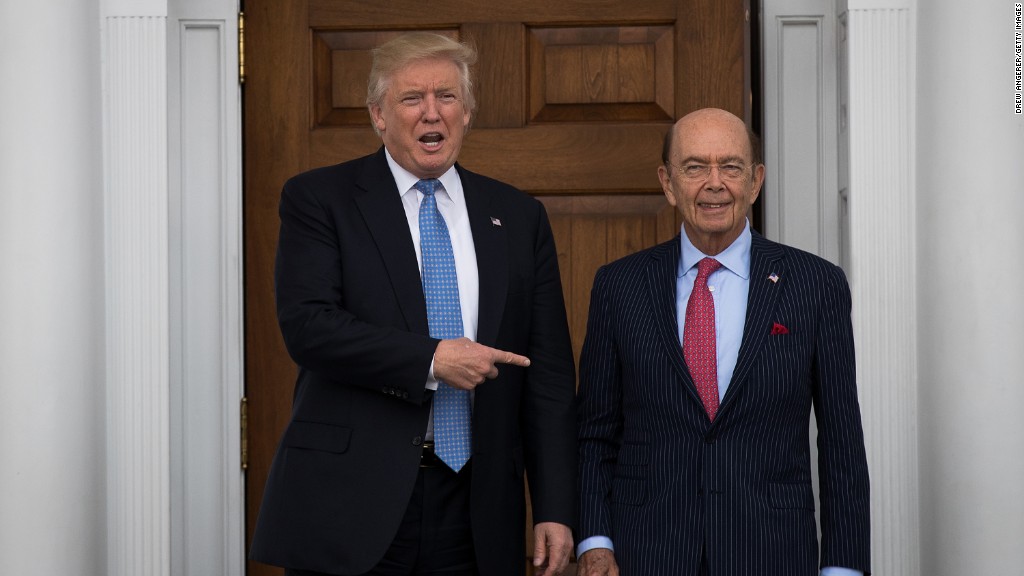 The "King of Bankruptcy" just got a step closer to becoming America's next commerce secretary. But Wilbur Ross first had to promise not to censor or intimidate climate scientists.
A U.S. Senate committee unanimously voted in favor of Ross's nomination on Tuesday, paving the way for a vote by the full Senate. Once confirmed, the famed investor known for buying distressed companies is expected to help quarterback President Trump's muscular trade agenda.
But Ross would also have influence over a key scientific agency housed within the Commerce Department: the National Oceanic and Atmospheric Administration. Better known as NOAA, the agency controls the National Weather Service and conducts research on matters such as the rising sea level that scientists blame on global warming.
Senator Bill Nelson, the ranking Democrat on the Senate Commerce Committee, wrote Ross a letter asking him to "safeguard the department's scientists from political interference, intimidation and censorship."
Ross responded in a letter on Monday night that emphasized he believes "science should be left to scientists."
"Barring some national security concern, I see no valid reason to keep peer reviewed research from the public," Ross wrote. He added, "To be clear, by peer review I mean scientific review and not a political filter."
Related: Tillerson ducks Exxon climate change allegations
Ross said it's his intent to make sure the Commerce Department "provides the public with as much factual and accurate data as we have available."
He noted that public tax dollars support the scientific research and said he wants to continue to attract Nobel-prize winning scientists to the Commerce Department.
Nelson is concerned that Trump, who has said "nobody really knows" if climate change is real, could direct Ross to silence climate research.
"It's my hope that the White House will not hamstring Mr. Ross in carrying out this pledge," Nelson said on Tuesday.
Nelson tried to appeal to Ross's status as a resident of Florida, which he called "ground zero for sea level rise." He cited research showing that Florida's rate of sea level rise has accelerated to triple the global annual average.
"It's clear that climate change poses a grave risk to the economy and the environment of Florida and the nation," Nelson wrote.
While Ross said that he shares "concern" about the impact of rising sea levels on coastal areas, he stopped short of blaming it on climate change.
"We put aside for now the question of what is causing these changes, and agree to focus on addressing the impact of those changes," Ross wrote.
Related: Ross calls China the 'most protectionist country'
During his confirmation hearing, Ross used much stronger language on trade, especially to call out countries he believes are costing America jobs by cheating on trade.
The billionaire called China the "most protectionist country of very large countries" and warned that nations that don't play by the rules should "get punished -- and severely."
If confirmed, Ross will be looked at to help Trump carry out his promise to renegotiate NAFTA. During his confirmation hearing, Ross said NAFTA is "logically the first thing for us to deal with" and will be a "very, very early topic in this administration." He said "all aspects of NAFTA would be put on the table" and argued that trade agreements should be subject to re-opening after a few years.
The new president has already formally withdrawn from the Trans-Pacific Partnership, a controversial trade deal with Asian nations.