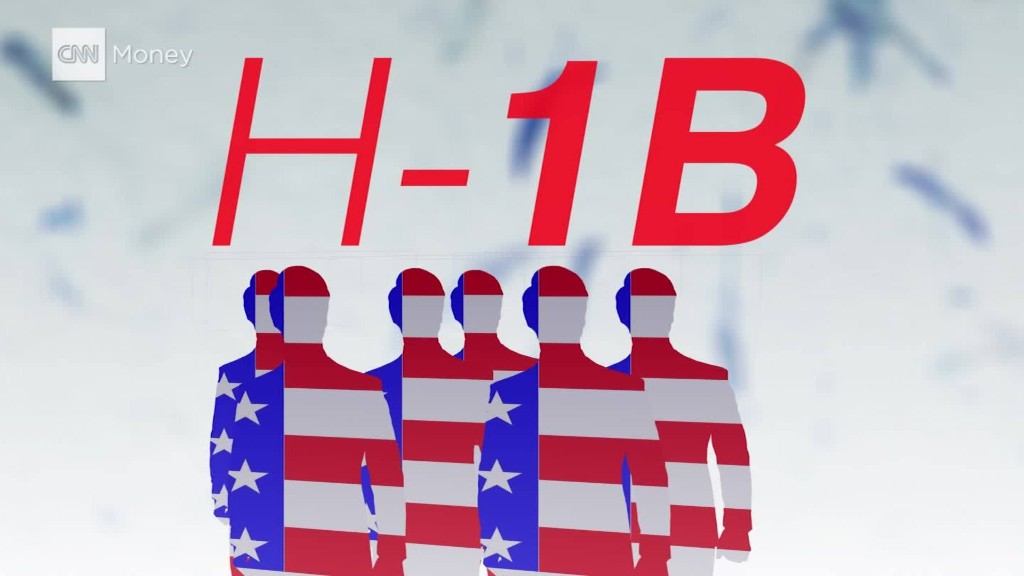 When Trump pledges immigration reform, he's largely talking about building a wall and deporting illegal immigrants. But in Congress, there are numerous proposals to reform the H-1B visa -- the incredibly popular visa for high-skilled foreigners.
The latest proposal would allot the visas to employers who offer the highest salaries -- not through a lottery, as is current policy. H-1B visas are highly coveted. Last year, demand was three times more than the annual limit of 85,000.
On Tuesday, Representative Zoe Lofgren, a Democrat who represents Silicon Valley, introduced a bill that seeks to address a main criticism of the H-1B program -- that outsourcing firms exploit it to hire foreign workers.
Lofgren's bill provides guidelines on how much employers would have to pay workers in order to get first dibs on visas. The wage requirement would vary by job and factor in skill level and location. For example, employers paying 200% of the prevailing wage for a given job would get first priority.
Related: Bipartisan bill aims to reform H-1B visa system
"It lets the market forces work," Lofgren previously told CNNMoney. "That would avoid this program undercutting the wages of American workers."
Lofgren's legislation also plays to her Silicon Valley base: It would set aside 20% of the allocated H-1B visas each year for startups, which she defines as firms with 50 or fewer workers.
She also seeks to change how permanent visas are allocated. Currently, there is a limit to how many visas can be awarded to people from each country. Lofgren's bill would eliminate that. She believes that would take some of the pressure off the H-1B program.
Related: Trump's regulatory freeze: What happens to 'startup visa alternative'
There's a huge backlog for visas from Indian and Chinese nationals due to country quotas. As a result, many stay on H-1Bs while they wait. Because H-1Bs are tied to employers, it is difficult for these workers to change jobs.
Vikram Desai, vice president of nonprofit Immigration Voice, estimates there are 1.5 million of those workers in the U.S. He says Lofgren's bill would help them get visas sooner, giving them more job mobility.
Lofgren, who introduced the bill on her own, would need bipartisan support for her bill to have any chance of success.
A separate bill, introduced last week by Representative Jason Chaffetz, a Republican from Utah, also seeks to replace the per-country immigration caps with a first-come first-served system.
Senators Chuck Grassley and Dick Durbin, both long-time H-1B reform advocates, introduced their bipartisan H-1B reform bill on Friday.
Earlier this month, Representative Darrell Issa introduced "modest" legislation to boost the salary requirement of those applying for an H-1B.