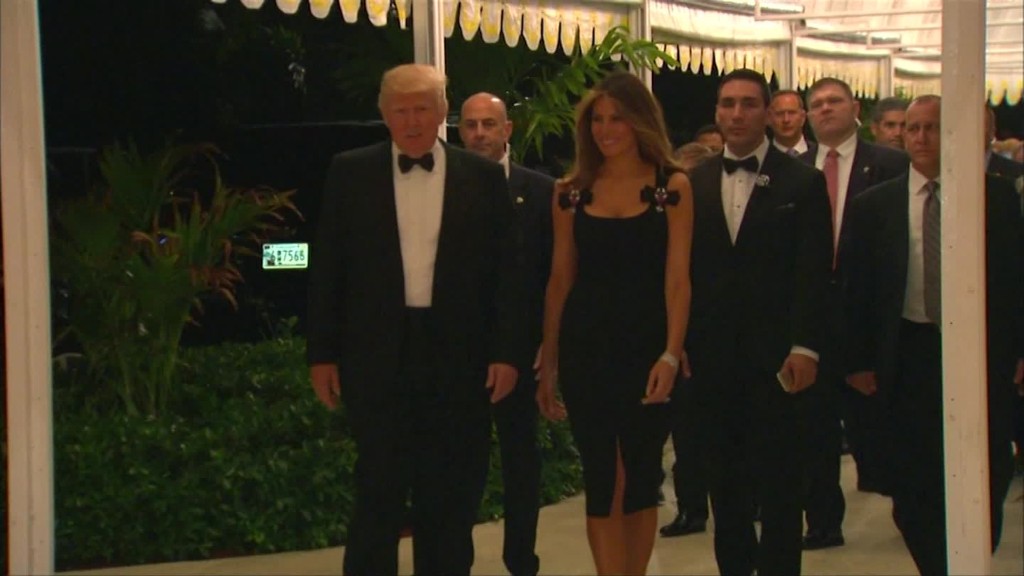 Uber's CEO drove home a simple message to employees this week: We must work with President Trump.
At the company's weekly all hands meeting, CEO Travis Kalanick addressed concerns about his working relationship with Trump by claiming it's necessary in order to fulfill Uber's mission of improving global transportation.
"We'll partner with anyone in the world as long they're about making transportation in cities better, creating job opportunities, making it easier to get around, getting pollution out of the air and traffic off the streets," Kalanick told employees.
"It's about the leaders we have to work with around the world, not just here in the United States but everywhere," he added. "And being optimistic -- asking can we make urban mobility better?"
The remarks were first reported by Business Insider and confirmed to CNNMoney by Matthew Wing, a spokesman for Uber.
Uber, like other tech companies, is facing some pushback from the generally liberal Silicon Valley community over its relationship with the incoming administration.
On Inauguration Day, protesters stood in front of Uber's San Francisco office holding a sign that read: "Uber collaborates with Trump."
Kalanick is one of several tech executives to join Trump's business advisory group. Others include Tesla (TSLA) and SpaceX CEO Elon Musk and IBM (IBM) CEO Ginni Rometty.
Kalanick's rhetoric about Trump was notably different in earlier all hands meetings before the election, according to one former Uber employee.
"Travis generally joked about or made fun of Trump during internal all hands. The tone was typically one of disbelief ... at some of Trump's assertions," the former employee told CNNTech. "But even still, none of Travis's personal feelings about him matter, if Trump's the guy with all the power."
Kalanick's recent comments echo those of Apple (AAPL) CEO Tim Cook, who was one of about a dozen tech executives to meet with Trump at Trump Tower last month.
"We engage when we agree and we engage when we disagree," Cook told employees after the meeting, according to multiple reports. "I think it's very important to do that because you don't change things by just yelling."
Related: Elon Musk's surprising secret weapon: Trump?
Even among some top execs at Uber, working with Trump may be a bitter pill to swallow.
Thuan Pham, Uber's CTO, who escaped Vietnam as a child in 1979, pledged to "help defeat" the "deplorable" Trump and his "destructive agenda" in an internal email after the election, according to Business Insider.
Pham did not respond to a request for comment. When asked about the e-mail, Uber sent CNNMoney its earlier response to the inauguration protests.
"As a company we're committed to working with government on issues that affect riders, drivers and the cities where we operate," Uber said in that statement. "Just as we worked with the Obama administration, we'll work with the Trump administration, too."
In recent years, Uber has hired top political operators and ramped up its lobbying spending as it faces regulatory battles around the country.
The company is currently hiring for a public policy manager tasked with leading Uber's relationships with the White House and various federal agencies.
"Uber's policy agenda is simple -- advance public policy that benefits riders, drivers, and cities," according to the job posting.
Apparently, that thinking applies no matter who is in office.