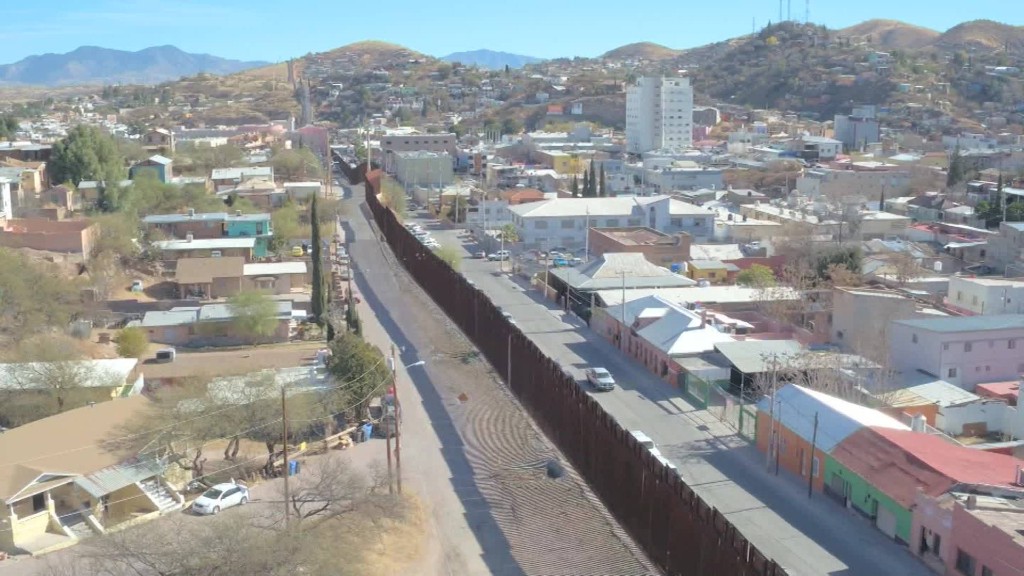 Money transfer service MoneyGram is being bought by a financial services giant based in China. MoneyGram is one of the leading companies that helps people in the United States send money to Mexico and other countries.
Ant Financial, a related company of Alibaba (BABA), the global conglomerate backed by Chinese billionaire Jack Ma, announced Thursday it was buying MoneyGram (MGI) for $880 million.
MoneyGram stock rose nearly 10% on the news.
The deal could be one of the first tests of how serious President Donald Trump is about cracking down on money transfers, also known as remittances, to Mexico.
Trump has already proposed building a physical wall on the border with Mexico. Trump has previously said he would consider levying big taxes -- or even halting -- remittances to Mexico if the country would not pay for the wall.
On Thursday, Mexican President Enrique Pena Nieto canceled a previously scheduled meeting with Trump after the rhetoric on who is going to pay for the wall ratcheted up.
MoneyGram already has a thriving remittances business. And last October -- just a few weeks before the election -- MoneyGram announced a deal with Walmart (WMT) that would let customers send money from Walmart's U.S. stores to Walmart Mexico locations.
So will Trump approve of MoneyGram selling out to a Chinese company? Perhaps.
It's worth noting that Trump already had a meeting with Ma in New York earlier this month before the inauguration.
Trump praised Ma after the meeting, saying that Ma was a "great, great entrepreneur and one of the best in the world." Trump added that "Jack and I are going to do some great things."
Could the Ant deal for MoneyGram be the start of those great things?
Related: Trump threatens Mexico's biggest cash source
The White House was not immediately available for comment about the proposed acquisition.
But executives from Ant Financial seemed to go out of their way in the press release to stress that the deal would be good for the employees of MoneyGram and consumers.
The two companies stressed that MoneyGram will keep its headquarters in Dallas and that it should "maintain and grow its U.S.-based workforce."
Ant Financial CEO Eric Jing said in a release that "we are committed to continuing to invest in MoneyGram's workforce and growing jobs in the United States."
But Jing didn't shy away from the fact that MoneyGram is a major player in remittances from the U.S. to Mexico.
He said a combined Ant Financial and MoneyGram will "will provide greater access, security and simplicity for people around the world to remit funds, especially in major economies such as the United States, China, India, Mexico and the Philippines."
Related: 40% of a Mexican import is American
MoneyGram CEO Alex Holmes, who will remain with the company after the acquisition, added that the deal will allow MoneyGram to expand around the world.
Interestingly, Holmes predicted that consolidation in the money transfer business was coming a few years ago.
He said in an interview in the Financial Times in December 2015 that "regulators want more information" and that rising compliance costs could put pressure on companies to merge.
There were even rumors that MoneyGram could wind up combining with its rival Western Union. (WU)
MoneyGram and Ant Financial said Wednesday that they hope their deal will close during the second half of this year. It will require regulatory approval around the globe though.
Related: Jack Ma and Donald Trump met to talk jobs
One of the regulators that monitors MoneyGram in the United States is the Consumer Financial Protection Bureau, the watchdog agency that was the brainchild of now Senator Elizabeth Warren and was created as part of the Dodd-Frank financial reform law.
So it will be interesting to see whether Democrats like Warren have any issues with the proposed merger, as well as whether or not Trump gives his blessing to it.
Mexico's central bank recently said that nearly $25 billion in remittances made their way into the country from friends and relatives living outside the country during the first 11 months of 2016. Nearly all of that cash was from people in the U.S.
--CNNMoney's Patrick Gillespie contributed to this story.