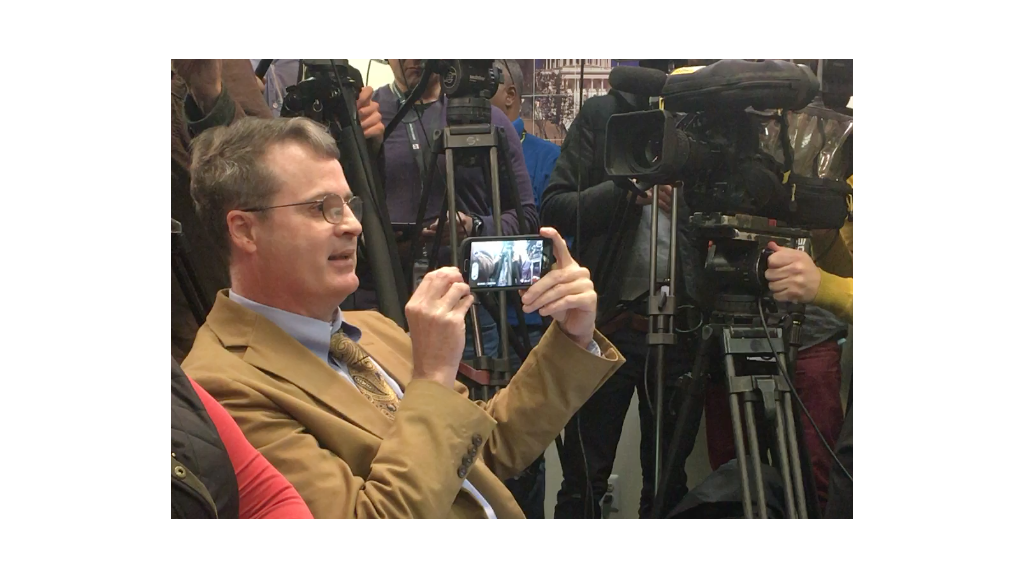 A reporter for Breitbart News was ejected from a press conference hosted by the Council on American-Islamic Relations on Monday.
The reporter, Neil Munro, had already taken a seat for the presser at CAIR's headquarters in Washington, D.C., where the group was set to detail its legal challenge to President Donald Trump's immigration ban.
But the event hadn't even started when Munro was ordered to leave.
"This is America," Munro protested. "We have freedom of speech, freedom of movement."
After organizers said it was a "private event" and threatened to have the reporter removed by a "police escort," Munro eventually relented.
"I respect property rights. I respect freedom of speech," Munro said.
"Then you'll please leave," replied Ibrahim Hooper, a spokesman for CAIR.
The incident at Monday's press conference underscored the simmering tension between Breitbart, a right-wing website with close ties to the Trump White House, and CAIR, a Muslim advocacy group. Hooper told CNNMoney that CAIR has a longstanding ban on Breitbart at its events.
"Very often at our news conferences, we have agent provocateurs or representatives of hate sites on the internet who show up to disrupt or cause problems," Hooper said by telephone. "We regard Breitbart as one of those anti-Muslim, white supremacist websites that we don't allow at our news conferences."
A Breitbart spokesperson did not respond to a request for comment. Neither did Munro.
The Irish-born Munro is known for his confrontational style. In 2012, while working for the conservative website The Daily Caller, Munro was sternly admonished by President Obama for interrupting an announcement Obama was making in the Rose Garden of a new immigration directive.
In his exchange with Hooper on Monday, Munro referred to previous run-ins at CAIR events.
"By the way, is this my first, second, third or fourth time being thrown out of your press conferences?" Munro asked.
"I've lost count," Hooper replied.
CAIR has long been viewed with suspicion by conservative publications and Republican lawmakers, many of whom regularly accuse the organization of having ties to radical Islamist groups, something which CAIR denies.
Breitbart and Munro have been particularly aggressive in its coverage of the organization. Following his ejection from a CAIR press conference last year, Munro described CAIR as the "most prominent advocacy group for orthodox radical Islam in the United States."
A story written Saturday by Breitbart reporter Lee Stranahan ran under the headline, "TERROR-TIED GROUP CAIR CAUSING CHAOS, PROMOTING PROTESTS & LAWSUITS AS TRUMP PROTECTS NATION."
Hooper said those accusations are nothing new. What is different, he said, is the newfound prominence enjoyed by Breitbart, whose former chairman Steve Bannon is among the most influential members of Trump's inner circle.
"The only reason you're probably calling me is their former head is in the National Security Council," Hooper said, referring to Bannon's new role.
"We've been under daily attack for 23 years," he added, "and it's only getting worse."
On his way out of the event on Monday, Munro also noted Breitbart's ever-expanding audience.
"Now that you've got enough for your blog, you can go," Hooper told him.
"It's only 45 million unique visitors per month," Munro responded sarcastically.