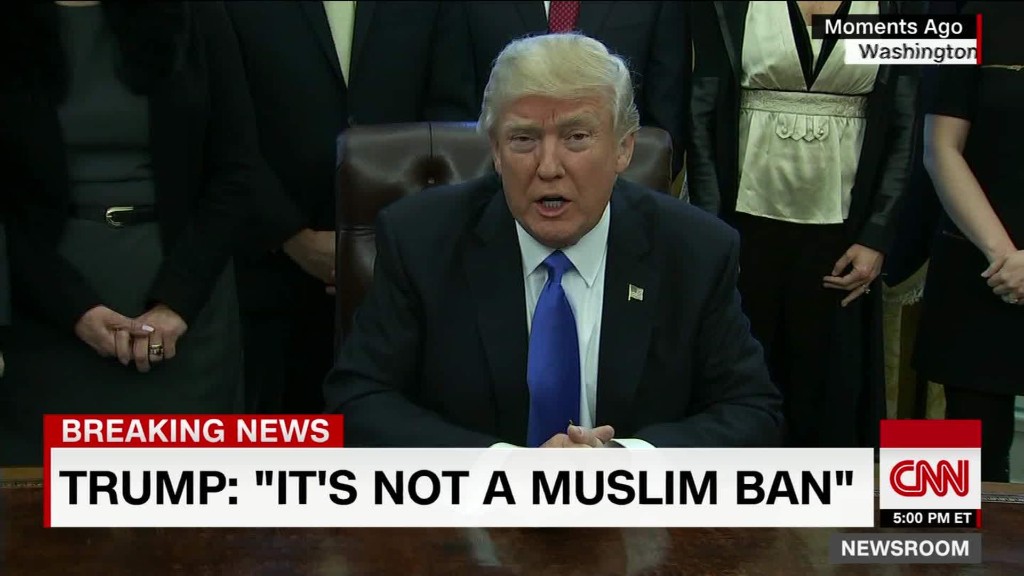 Tech executives in particular have expressed deep concern about President Trump's ban on travel by citizens of seven Muslim-majority countries. But leaders of companies across the economy are speaking out.
Immigrants have played a big role building some major U.S. companies, particularly in tech. A 2011 report from the Partnership for a New American Economy estimates that 45% of high-tech companies in the Fortune 500 were founded by first- or second-generation Americans.
Ford Executive Chairman Bill Ford and CEO Mark Fields
In a memo to employees, they said they do not support the ban. "Respect for all people is a core value of Ford Motor Company, and we are proud of the rich diversity of our company here at home and around the world," they wrote.
Amazon CEO Jeff Bezos
Bezos sent a memo to all of his employees stating, "This executive order is one we do not support," and the memo listed several actions the company was taking to opposed the order.
"We're a nation of immigrants whose diverse backgrounds, ideas, and points of view have helped us build and invent as a nation for over 240 years.... It's a distinctive competitive advantage for our country—one we should not weaken."
Coca-Cola Chairman and CEO Muhtar Kent
Kent said in a statement that "the Coca Cola (CCHGY) Company is resolute in its commitment to diversity, fairness and inclusion, and we do not support this travel ban or any policy that is contrary to our core values and beliefs."
Bank of America CEO Brian Moynihan
"As a global company, we depend upon the diverse sources of talent that our teammates represent," Moynihan wrote in a memo to employees. He added, "In view of this, we are closely monitoring the recent refugee- and immigration-related executive order in the United States, and subsequent developments."
Chobani CEO Hamdi Ulukaya
"This is very personal for me," Ulukaya wrote in internal memo to his staff that was obtained by CNN. "As an immigrant who came to this country looking for opportunity, it's very difficult to think about and imagine what millions of people around the world must be feeling right now."
Uber CEO Travis Kalanick
Kalanick wrote in a Facebook post that he's committed to helping Uber drivers affected by Trump's "unjust immigration and travel ban."
"Drivers who are citizens of Iran, Iraq, Libya, Somalia, Sudan, Syria or Yemen and live in the U.S. but have left the country, will not be able to return for 90 days. This means they won't be able to earn money and support their families during this period," Kalanick said.
He added that Uber is helping those drivers by providing 24/7 legal support, compensating drivers for lost earnings, urging the government to overturn the ban and creating a $3 million legal defense fund. Uber has also created a Google doc where drivers can fill out a form to receive assistance.
Netflix CEO Reed Hastings
"Trump's actions are hurting Netflix (NFLX) employees around the world, and are so un-American it pains us all," Hastings said on Facebook (FB). "Worse, these actions will make America less safe (through hatred and loss of allies) rather than more safe."
Starbucks CEO Howard Schultz
"We are living in an unprecedented time," Schultz said in a memo to Starbucks (SBUX) employees. He pledged to hire 10,000 refugees over five years in the 75 countries where Starbucks does business to "reinforce our belief in our partners around the world."
Expedia CEO Dara Khosrowshahi
Khosrowshahi spoke of his family's emigration to the United States after the Iranian Revolution in 1978, and the sense of relief that "we were welcome now, and we would be welcome tomorrow."
He wrote to Expedia employees: "I believe that with this Executive Order, our President has reverted to the short game. The U.S. may be ever so slightly less dangerous as a place to live, but it will certainly be seen as a smaller nation, one that is inward-looking versus forward thinking, reactionary versus visionary."
Khosrowshahi pledged that Expedia would work with employees to "ease any pain or difficulties you are having" as a result of the ban.
New York Times Co. CEO Mark Thompson and Times publisher Arthur Sulzberger
"We are committed to diversity of talent, thought and ideas and the fair and equal treatment of all employees, whatever their background," they said in a memo to staff. "We will do everything in our power to support and protect every one of our colleagues, regardless of their race, country of origin, and religion or belief system."
They specified they were speaking as employers, not about the editorial opinion or news reporting of The Times. The Times editorial board on Saturday called the ban cruel, bigoted, cowardly and self-defeating.
Apple CEO Tim Cook
Cook issued a letter, obtained by CNN, reacting to what he called "deep concerns" among employees. He assured workers that Apple (AAPL) does not support Trump's policy and the company is prepared to help them.
"Apple would not exist without immigration, let alone thrive and innovate the way we do," Cook said.
Google
Google (GOOG) sent a memo to its employees urging anyone with a visa or green card from one of the banned countries to cancel travel plans.
"Please do not travel outside of the U.S. until the ban is lifted. While the entry restriction is currently only in place for 90 days, it could be extended with little or no warning," reads the memo, which was reviewed by CNN.
Microsoft executive Brad Smith
Microsoft (MSFT) said it employs 76 people that could be affected by the ban. Smith said in an email to employees, which was shared on LinkedIn, that it will provide "legal advice and assistance" to those affected.
BlackRock CEO Larry Fink
He wrote to employees: "We, of course, all want to promote security and combat terrorism, but we believe it needs to be done with respect for due process, individual rights and the principle of inclusion."
Twitter CEO Jack Dorsey
Dorsey called the potential impact of Trump's decision "real and upsetting."
General Electric CEO Jeff Immelt
Immelt said, in a memo on the G (GE)employee blog, that he shares the "concern" felt by his employees and said the company has many employees from the countries named in the ban.
"These employees and customers are critical to our success and they are our friends and partners," he wrote, adding that GE would "stand with them" and try to find a balance between security and "movement of law abiding people."
Immelt was one of 28 business leaders named to a council to advise Trump on manufacturing growth.
JPMorgan Chase
The bank said it has reached out to employees on sponsored visas who could be affected by the executive order. CEO Jamie Dimon is on Trump's business and economic council.
"We want every one of you to know of our unwavering commitment to the dedicated people working here at JPMorgan Chase (JPM)," the statement said.
Trip Advisor CEO Stephen Kaufer
Trip Advisor's (TRIP) CEO wrote in a Linkedin post that Trump's immigration ban is "not only heartless and discriminatory, but also against the principles that make our country great."
Kaufer also said in a tweet that "We need to do more, not less, to help refugees," and said the action was "wrong on humanitarian grounds, legal grounds, and won't make us 'safer.'" In a separate tweet, he called out Republican lawmakers: "You can't sit this one out."
Chorus CEO Dick Costolo
Chorus CEO and former Twitter (TWTR) chief executive Costolo called Trump a "a coward" on Saturday.
Salesforce executive Vala Afshar
Afshar tweeted a list of U.S. tech companies that were founded by immigrants, including Apple (AAPL), Google (GOOG) and IBM (IBM).
Y Combinator cofounder Paul Graham
Graham said, "This is a good time to remember that without immigration the U.S. will only have 5% of the top people in each field."
Y Combinator president Sam Altman
Altman criticized Trump's move in a blog post. He called on tech executives to publicly speak out against Trump's executive order "at a minimum."
LinkedIn CEO Jeff Weiner
Weiner said "all ethnicities should have access to opportunity, calling it a "founding principle" of the United States.
Yelp CEO Jeremy Stoppelman
Stoppelman called it a "sad day" for America.
Investor Chris Sacca
"Shark Tank" star and tech investor Chris Sacca promised to match up to $50,000 worth of donations to the American Civil Liberties Union.
Box CEO Aaron Levie
Levie also promised to donate to the ACLU and called Trump's actions "immoral."
Path CEO Dave Morin
Morin called it "one of the weakest decisions in American history."
Salesforce CEO Mark Benioff
Benioff retweeted anti-ban sentiments before posting his own thoughts.
Facebook CEO Mark Zuckerberg
Zuckerberg was quick to lambast the immigrant ban in a Facebook post Friday.
Tesla CEO Elon Musk
Musk called the ban "not the best way to address the country's challenges."
Foursquare
Foursquare said in a series of tweets Monday that it opposes Trump's immigration order. "At their core, our company, products, community and country are rooted in diversity & inclusion," the company said.
21st Century Fox
In an internal memo, Executive Chairman Lachlan Murdoch and CEO James Murdoch said they "value diversity and believe immigration is an essential part of America's strength."
"Moreover, as a company that is driven by creativity and innovation, we recognize the unique perspective offered by our many people who came to the U.S. in search of the opportunity for unfettered self-expression," they said.
Skift Co-Founder Jason Clampet
Clampet said in Skift's newsletter that travel industry leaders "have to figure out how we move from here, and the biggest role we have is to fight for the right of free movement of people — ALL of us, every color, every race, every orientation — in and out of America and beyond, and the future of a connected world outside of the neo-isolationist bubbles."
WPP CEO Martin Sorrell
The CEO of the British advertising company told CNN that it was too early to judge the full impact of the ban. But he said his gut reaction was that "this sort of restriction is unfair, or has unfair consequences on innocent people."
Rakuten CEO Hiroshi Mikitani
The chief of the Japanese e-commerce company tweeted that he was "very sad to see what is happening now in the U.S." Evoking his family's connections to the U.S., Mikitani said it is "wrong as a human being to uniformly discriminate based on religion and nationality." Rakuten will support its Muslim staff members, he said.
--CNNMoney's Dylan Byers, Nina dos Santos, Matt Egan and Chris Isidore and CNN's James Frater contributed to this report.