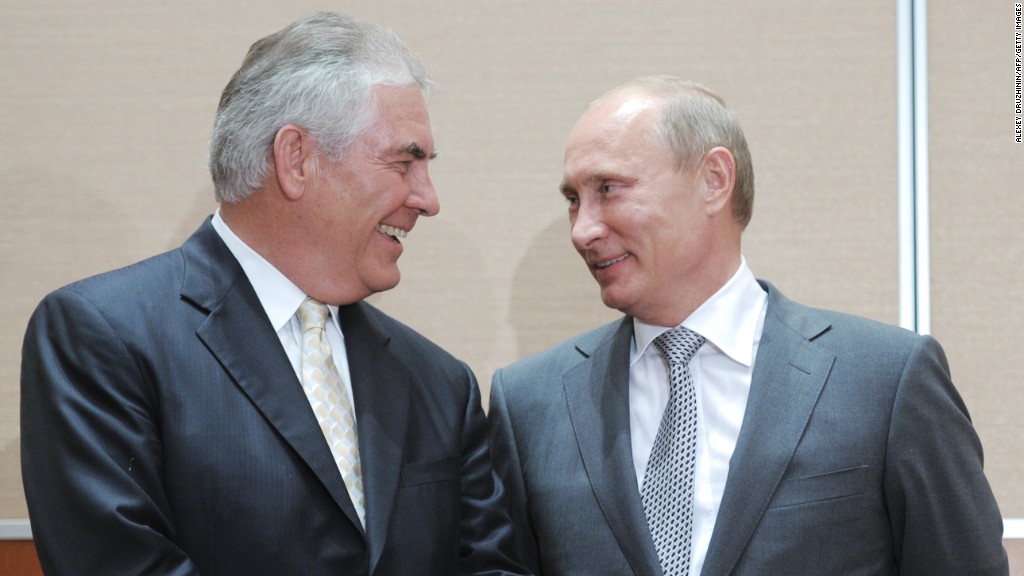 Depressed oil prices are keeping the heat on Exxon at a time when the oil behemoth's longtime CEO Rex Tillerson has left to join the Trump administration.
ExxonMobil (XOM), the world's largest public oil company, revealed on Tuesday a 40% decline in fourth-quarter profits.
Darren Woods, who became CEO after Tillerson stepped down to become secretary of state, blamed the "prolonged downturn in commodity prices."
The company's bottom line also took a hit from writing down the value of undeveloped natural gas assets in the Rocky Mountains region by almost $2 billion.
Despite the disappointing results from the last three months, there are signs that Exxon may have begun to turn the corner. For the first time since mid-2014, Exxon's revenue didn't decline last quarter. But the 2% bump in revenue to $61 billion was less than Wall Street had been anticipating.
Oil prices have roughly doubled since bottoming last February at $26 a barrel. But they are still about half of their 2014 peak due to a continued supply glut caused largely by the U.S. shale oil boom.
Related: Tillerson's Exxon didn't put America first
Under Tillerson, Exxon was slow to take advantage of the surge of new U.S. oil resources as it focused on mega deals overseas instead. But earlier this month Exxon purchased $5.6 billion of assets in a New Mexico section of the Permian Basin, a hotbed of shale oil development.
During a conference call with analysts, Exxon said the oil giant continues to comply with existing sanctions on Russia. Those sanctions froze Exxon's mega development deal in the Russian Arctic that was sealed in 2011 by Tillerson, who has deep ties to Russia.
"I'm not going to speculate when or if they are...removed in the future," said Jeff Woodbury, Exxon's head of investor relations.
Analysts have said that Exxon could be one of the big winners of improved relations between Washington and Moscow.
Exxon also said it is "monitoring the situation very closely" in Iraq following President Trump's ban on travelers from Iraq and six other majority-Muslim nations.
Exxon has a joint venture in southern Iraq and a controversial deal to explore for oil fields in the semi-autonomous Kurdish region in the north.