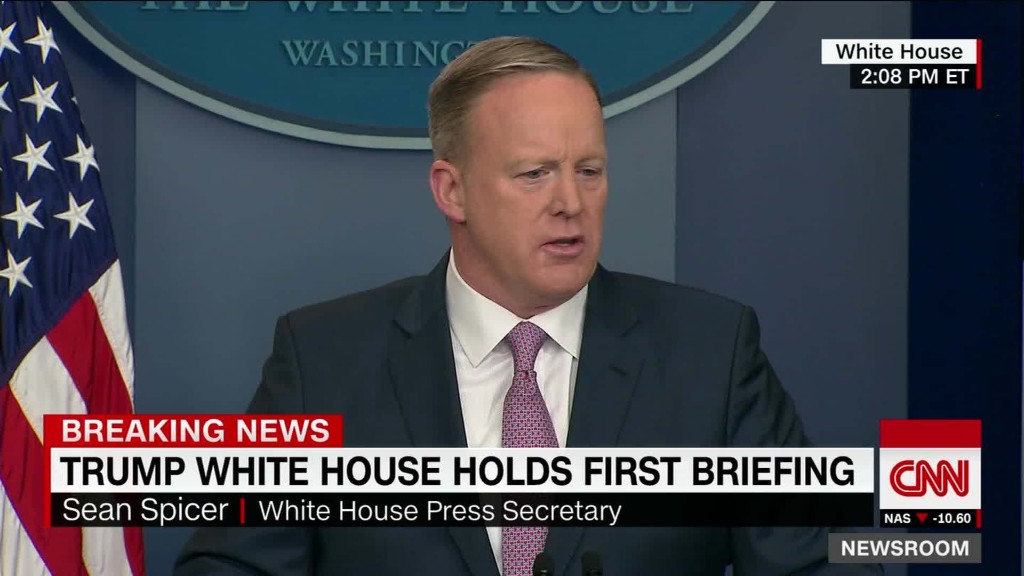 The fringe right-wing outlet Infowars has tapped one of the leading promoters of the debunked conspiracy theory surrounding Barack Obama's place of birth to helm its fledgling Washington, D.C. bureau.
Jerome Corsi, author of the 2011 book "Where's the Birth Certificate? The Case That Barack Obama Is Not Eligible To Be President," said he's leaving WorldNetDaily, another conspiratorial publication to join Infowars.
Appearing on "The Alex Jones Show," a radio and Internet show hosted by Infowars' founder and proprietor, on Tuesday, Corsi said he believes he will receive credentials for White House press briefings on Monday, Tuesday and Wednesday of next week.
"I expect to get cleared, perhaps tomorrow," Corsi said.
A White House spokeswoman did not respond to a request for comment.
Corsi, who also co-authored a book questioning John Kerry's service in Vietnam that had a significant influence on the 2004 presidential campaign, has a history with President Trump. Jones said Tuesday that the reporter and the president have known each other "for 40-plus years."
The two found a common cause in their scrutiny of Obama's birth certificate, with Trump reportedly seeking insight from Corsi back in 2011. They didn't always see eye-to-eye on the matter. In 2011, after Obama released his long-form birth certificate, Corsi claimed that Trump had told him a computer expert concluded the document was computer-generated.
Trump denied having said this and, adding insult to injury, noted that he had not read Corsi's book either. Around the same time, Corsi claimed that Trump worked with Obama to neutralize the birther conspiracy theory.
But by 2015, after Trump launched his presidential bid, Corsi's attitude about Trump had changed, and he went on Jones' show to declare Trump "for real."
Jones is assembling what he described Tuesday as a "nucleus of a Washington bureau based around writers and investigative journalists." He called Corsi "a real thoroughbred of journalism," and said he wants to "build an operation with probably 10 people."
It wouldn't be unheard of for an outlet like Infowars to score a White House credential; they are not restricted to major outlets and no test of credibility is required to get one. Lester Kinsolving, a radio host who has written for WorldNetDaily, had a credential and attended briefings for years. But the symbolism isn't lost on Jones.
"We have to be on the field as real media," Jones told Corsi.
Infowars was an enthusiastic backer of Trump's presidential campaign, and Jones clearly expects his outlet to gain extra credibility now that Trump is in the White House.
Jones, a manic personality with a proclivity for colorful rants, said Tuesday that he doesn't want mainstream outlets like CNN shunned from the White House briefing room.
"I want them there frothing and flailing and lying and just doing what they do," Jones said.
Related: While other outlets fact-check Trump, Infowars provides alternative facts
Infowars been reliable a supplier of conspiracy theories -- from 9/11 "trutherism" to the false claim that the Sandy Hook massacre was a hoax. Such radical beliefs long kept Jones in the fringe, largely shunned by high-profile politicians. But in Trump, Jones found a kindred spirit with a mainstream audience.
"Your reputation is amazing," Trump told Jones in a 2015 interview. "I will not let you down."
Jones indicated on Tuesday that Trump has made good on that vow, gushing that the president may "go down as George Washington 2.0." Trump spent his first week "just dominating the globalists," Jones said approvingly.
On Tuesday, Corsi told Jones he wants to build "an army of our journalists who are trained to present the truth" in order to counter what he said were "mainstream media lies."
In order to get credentialed, Corsi said, he had provided to the White House various information it requested from him -- including, among other things, his birth certificate.