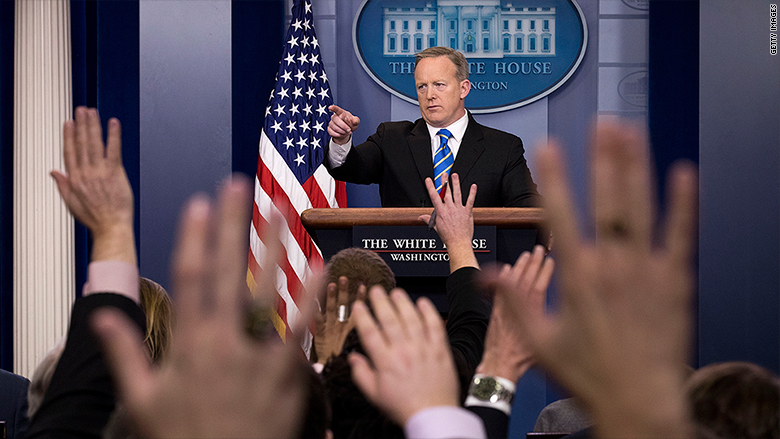 Jeff Jobe is less than 24 hours away from the most high-profile moment of his career.
The publisher of six weekly community newspapers in South Central Kentucky, Jobe learned Tuesday that he had been invited by White House Press Secretary Sean Spicer to ask a question at the next day's press briefing -- via Skype.
"You're talking to a guy who is sitting in his car behind his office building in Glasgow, Kentucky," Jobe said in an interview. "Don't you see that it's pretty cool that a guy from Kentucky is getting to do this?"
Ten days earlier, Spicer had announced that the White House would use Skype to take questions from non-Beltway journalists, part of an effort to bring more voices into the briefing room. Watching from home, Jobe picked up his phone and called Jessica Ditto, a deputy communications director for President Trump whom he knew from her former days as communications director for Kentucky Governor Matt Bevin.
"I never heard anything back about it until I was asked if I could actually get Skype here, and I said, 'Yeah, I can do that,'" Jobe explained. "At 10:30 this morning I was notified: 'Your name has been passed along to Secretary Spicer."
On Wednesday, Jobe will become one of the first four journalists to participate in the White House press briefing via Skype. The other participants, as announced by Spicer, are Natalie Herbick of Fox 8 in Cleveland, conservative talk radio host Lars Larson of "The Lars Larson Show," and Kimberly Kalunian of WPRI in Providence, Rhode Island.
The addition of outside questioners has unnerved some members of the existing White House press corps, who fear the Trump administration is using the initiative to dilute critical questions from veteran journalists with softballs from supportive outsiders.
Jobe describes himself as a Trump supporter -- "Absolutely, I endorsed him," he said. And he has run for elected office as a Republican twice, once in 2008 and again in 2014. But he stressed that his only intention is to serve his readers: "I want it to be of value to my state and to South Central Kentucky," he said. "I want to bring it home, if I can."
Jobe is frustrated with the way his communities have been portrayed in the national media. He says Kentucky Trump supporters are portrayed as bigoted hate mongers, when in fact all they want is what's good for America.
"The spin you see about all this hate mongering, we're not that, we don't do any of that," he said. "We're good people, we don't want to hurt anyone. This election has been described in a manner that is just unjust."
So the idea of bringing outside voices in the briefing resonated with Jobe. He said he feels that too many reporters approach press conferences in search of soundbites and "gotcha" headlines, and that he welcomes the opportunity to bring in what he described as a more patient, thoughtful perspective.
"I'm a community newspaper publisher, and we're weekly. Timely breaking news is not my forte," Jobe explained. "I've gone to press conferences and come back and read what some of the media wrote, and I felt like I was in a different meeting. So I got to where I took my time, took my notes, took a few days to write it up the right way."
"I don't have to get a headline-grabbing news story," he continued. "I think my readers know that I'll be honest. So I think there's opportunity outside the Beltway, no disrespect."
Jobe said he doesn't know yet what he'll ask. He said he chafed at an inquiry from another reporter who had insinuated that his question had been pre-approved by Spicer or the White House.
"It's insulting to think I'm going to ask a question with approval," he said.
"I'm still thinking about it. I have no idea. My biggest fear is that I can't even articulate the question tomorrow. But I'll do the best I can," he said.
"The only thing I know is the next day I'll wake up and I'll be Jeff Jobe, the publisher of six newspapers serving Barren, Butler, Edmonson, Hart, Metcalfe and Monroe Counties, Kentucky."