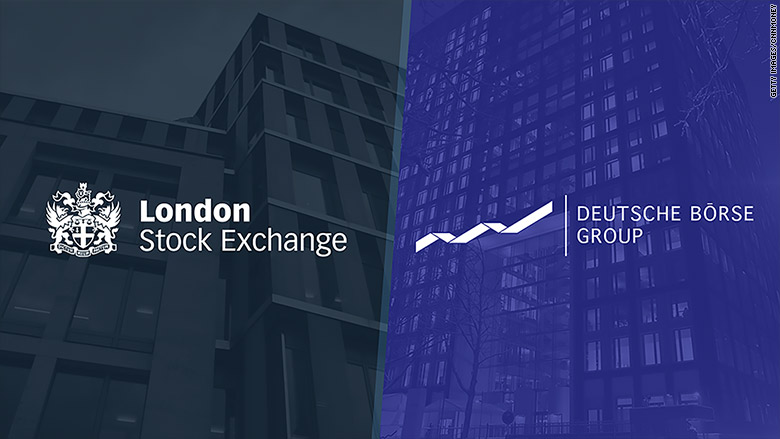 Prosecutors in Germany are investigating share purchases made by Deutsche Boerse CEO Carsten Kengeter just weeks before his company began merger talks with the London Stock Exchange.
The exchange confirmed Thursday that the public prosecutor's office in Frankfurt was probing the transaction.
Kengeter purchased nearly 69,000 shares in Deutsche Boerse (DBOEF) in December 2015, according to the company's annual report. The shares were worth roughly 4.5 million euros ($4.9 million) at the time, but their value has since increased by 30%.
Deutsche Boerse said it is "cooperating fully" with investigators, and that Kengeter was allowed to buy shares in the company as part his official remuneration program, which was approved by its supervisory board.
Related: Deutsche Bank suffers $2 billion loss
Deutsche Boerse chairman Joachim Faber said the accusation was unfounded, and that the purchase predates merger discussions.
"The two chairmen and CEOs only agreed to start negotiations about a merger between LSE Group and Deutscher Boerse in the second half of January 2016," Faber said in a statement.
The deal to combine the London Stock Exchange (LDNXF) with Deutsche Boerse, which operates the main German stock market in Frankfurt, was announced in February 2016. Shares in both companies soared as a result.
Billed as a "merger of equals," the all-share transaction was effectively a takeover: Deutsche Boerse shareholders will end up owning more than 54% of the new combined group, and Kengeter will be chief executive.
On Thursday, a spokesman for the London Stock Exchange said it welcome Faber's "strong statement of support."
"We look forward to working towards completion of our proposed merger," the spokesman added.