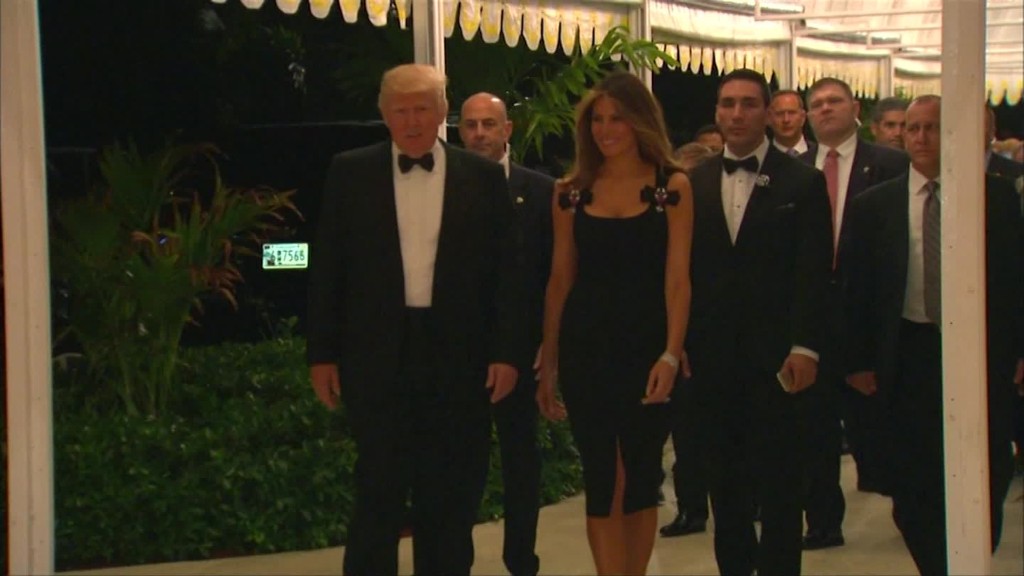 Silicon Valley and President Trump may be at odds over immigration and global trade. But tech investors aren't too concerned.
Facebook (FB) is the latest tech giant to report extremely strong earnings for the fourth quarter. While the stock is flat Thursday, it is already up 16% this year.
Apple (AAPL) stock is up 11% in 2017. The shares surged 6% Wednesday following its blockbuster results.
Amazon (AMZN), which will report its earnings after the closing bell on Thursday, is up 12% this year.
And Netflix (NFLX), which kicked off tech earnings season two weeks ago by wowing Wall Street with better-than-expected subscriber gains, is up 14% so far in 2017.
These solid results are a big reason why the Nasdaq, the exchange which is home to these four tech giants and many other tech leaders, is up 5% already this year. That's better than the Dow and S&P 500.
Tech stocks fell in the immediate wake of Trump's victory over Hillary Clinton. But investors have since seem to have concluded that Trump isn't going to kill off innovation in Silicon Valley.
The healthy earnings from tech giants also shows that demand for tech, particularly mobile content and services, is still robust. And there's probably little that President Trump can do to change that.
Related: Facebook is closing in on 2 billion users
However, investors will need to keep an eye on the president's policies. They could eventually wind up being a problem for tech leaders.
There are reports that Apple, Facebook, Google parent Alphabet (GOOGL), Microsoft (MSFT) and other tech companies are planning to send Trump a letter to express their opposition to his ban on immigrants from seven predominantly Muslim countries.
Facebook CEO Mark Zuckerberg and COO Sheryl Sandberg have both spoken out against the immigration ban as well.
Tech companies benefit from having workers from many foreign nations come to the U.S. through various visa programs, most notably H-1Bs for high-skilled talent.
But so far, this isn't something that investors are worrying about. They are focusing instead on the here and now. Earnings are great -- and should continue to grow at a phenomenal rate this year.
Plus, there are other ways that Trump might help the tech sector.
His recent comments about the dollar being "too strong" and that it was "killing us" has caused the greenback to fall over the past few weeks.
Trump was mainly talking about the dollar versus China's yuan. But he also has accused Japan of trying to keep the yen artificially low. And Trump trade adviser Peter Navarro just blasted Germany, saying that he believes it is manipulating the euro.
Why does this matter for tech?
Apple, Google, Microsoft and other big tech firms actually benefit from a weaker dollar since they generate a big chunk of their sales from international markets. The weaker dollar makes the prices of their products more competitive in Europe and Asia.
Related: Apple has $246 BILLION in cash, nearly all overseas
Trump may also help the tech sector with tax reform.
His proposal to give companies a one-time tax break to bring back -- or repatriate -- cash that is currently being held overseas could give tech companies more ammo to increase hiring, acquire companies, boost dividends and buy back more stock.
Apple, for example, has 94% of its more than $240 billion in cash sitting in foreign bank accounts. And Apple CEO Tim Cook said earlier this week that tax reform would be "very good for the country and good for Apple."
So it looks like the tech sector's relationship with Trump will be complicated. If the president goes too far with protectionist and isolationist rhetoric, that would hurt Silicon Valley.
But if Trump helps get the economy growing at a faster clip, pushes down the dollar and lowers corporate taxes, then tech leaders (and investors) may wind up benefiting from the new president after all.