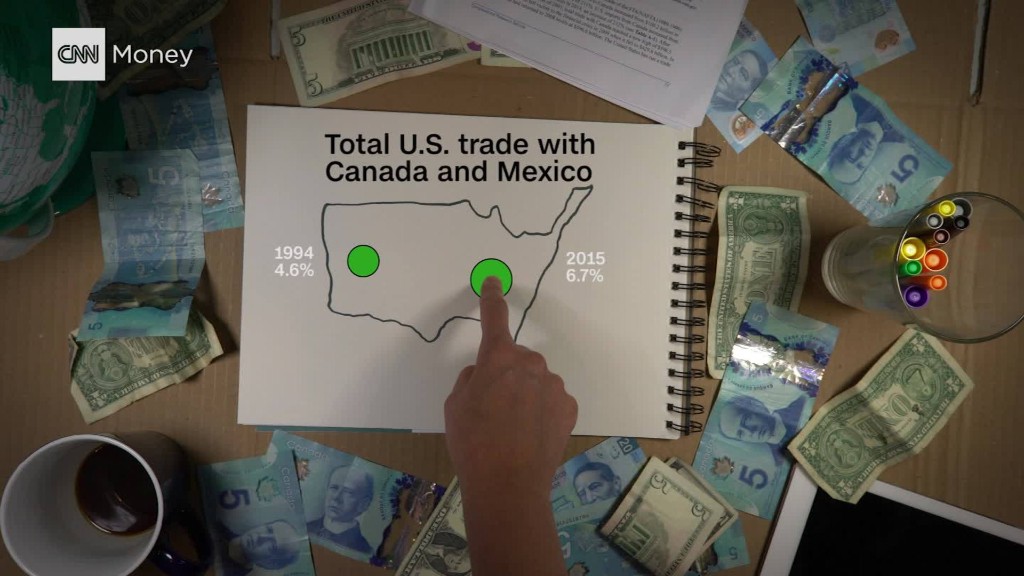 The U.S. dollar has lost its mojo. Tough talk from President Trump is at least partially to blame.
The greenback initially surged after Trump was elected as investors bet that his agenda of tax cuts and infrastructure spending would accelerate the American economy.
But thanks in part to Trump's complaints that the strong dollar is "killing" the U.S. economy, the U.S. dollar retreated 2.6% against a basket of currencies in January. It was the worst January for the greenback since 1987.
Another dip for the U.S. dollar on Thursday left it at the lowest level since mid-November and down 4% from the recent peak.
So what's going on? One factor is that Trump and his team have talked the U.S. dollar down. Clearly, they realize a super-strong greenback makes it harder to deliver on promises to boost American exports and create manufacturing jobs. The Trump team has been accusing several countries of manipulating their currencies.
For instance, the U.S. dollar tumbled on Tuesday after a Trump adviser accused Germany of using a "grossly undervalued" euro to hurt the American economy.
Related: Will Trump kill the Trump rally?
Germany "continues to exploit other countries in the EU as well as the U.S. with an 'implicit Deutsche Mark' that is grossly undervalued," Peter Navarro, who heads Trump's National Trade Council, told the Financial Times.
Trump himself weighed in on the same day. During a meeting with pharma CEOs, Trump said other countries' strategy of devaluing their currencies have caused drug companies to ship jobs overseas.
And just before taking office, Trump told The Wall Street Journal that U.S. companies can't compete with China because "our currency is too strong."
"It's killing us," Trump said.
Ironically, talking down your own currency -- or suggesting others are tinkering with theirs -- is a also considered form of currency manipulation.
Still, it makes perfect sense that Trump and his advisers would want to prevent the dollar from getting too expensive. A strong dollar makes American goods like iPhones more expensive for foreign buyers. It also makes it less attractive for auto makers like Ford (F) and General Motors (GM) to bring jobs back to the U.S. -- a core Trump goal.
But the dollar is pulling back for other reasons too.
Related: Waiting for tax reform? It may take longer than you think
The Trump market rally, for instance, has cooled off in recent weeks because investors are no longer sure the stimulus he's promised will happen soon.
Specifically, there is growing concern that the infrastructure spending and massive tax cuts Trump wants won't get done as quickly as investors hoped. That means any benefit to the economy and the dollar won't be felt yet either.
Currency analysts also pointed to big question marks looming over Trump's trade policy. Many fear that if Trump takes a protectionist stance by imposing tariffs, it will spark a trade war that will hurt the U.S. economy. That would be bad for the dollar.
The Federal Reserve isn't doing the dollar any favors either. The Fed's statement on Wednesday did nothing to alter the thinking that the central bank isn't in a rush to raise interest rates enough to make the dollar more attractive.
The good news for investors is the dollar pullback has given a boost to shares of U.S. multinationals like Nike (NKE) and Apple (AAPL).
"If the dollar's downtrend continues, stay invested in the international-heavy sectors," Bespoke Investment Group analysts wrote in a report.