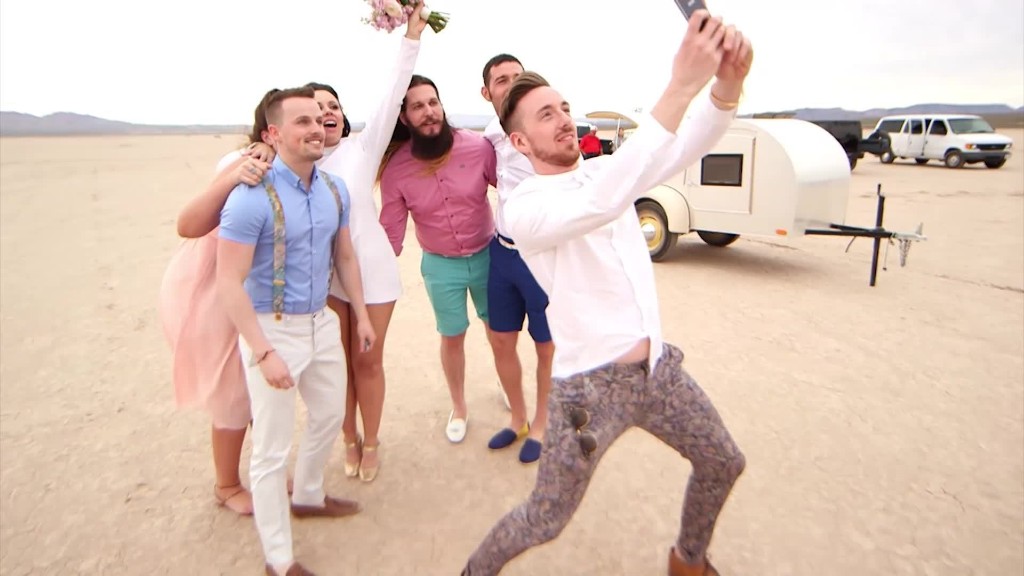 Forget about the bride and groom: It's all about the wedding guests these days.
The average cost of a wedding climbed to a record high of $35,329 last year, according to The Knot's 2016 Real Weddings study. That's up 8% from the 2015 average.
Meanwhile, the number of guests has dropped.
"Couples are spending their budgets to focus on guests, they are taking care of them and showing them a very personalized experience," said Kristen Maxwell Cooper, executive editor at The Knot. "But personalization is not cheap."
Last year, the average number of wedding guests was 141, down from 149 in 2009. Smaller invite lists mean guests are getting pampered: Couples spent an average of $245 per wedding guest last year, up from $194 seven years ago.
Spending on custom guest entertainment has more than tripled since 2009 as couples add things like photo booths, fireworks, cigar rollers and dance performers to their wedding day agendas.
Some couples are choosing to have both a band and a DJ at their receptions.
"The DJs are staying later," said Anne Chertoff, trend expert at the WeddingWire, especially as couples add after-parties to their receptions.
Related: Couples are saying 'I do' on Thursdays
Couples are also rolling out customizations like a dessert baristas or adding a special element, like a scotch or bourbon bar.
Technology is also playing a bigger role on the special day, which can increase the budget. Brides are hiding GoPro cameras in their bouquets to film their walk down the aisle, according to The Knot, and photographers are using drones to get overhead shots.
While weddings are getting more modern, who picks up the tab has remained pretty traditional: Only 10% of couples paid for the event themselves, the study found.
"Weddings are still very rooted in tradition," said Maxwell Cooper. "There are still parts of the wedding that are tough to break."
On average, the bride's parents covered 44% of the budget, while the couple paid 42% and the groom's parents picked up 13%. Nearly half of the couples surveyed reported they went over budget.
The survey included nearly 13,000 Knot users throughout the U.S. who were married last year.
Related: Weddings pop up in the Nevada desert
While barn and DIY weddings have been popular in recent years, couples are starting to take a more formal approach.
"In metro areas, there is a shift in formality coming back," said Chertoff. "We went so far the other way, brides are starting to say, 'my friend, cousin and big sister did that, I am going to do something different.'"
The venue continues to be the biggest budget eater with couples spending an average of $16,107, according to The Knot.
"It's the thing that is going to set the tone for everything else," said Maxwell Cooper. "Couples are looking for something that speaks to them as a couple...something that is a real wow factor that ultimately has the guest walking away saying, 'Wow, that was amazing.'"
The most expensive place to get hitched was in Manhattan, where couples spent an average of $78,464 in 2016. Couples in Arkansas spent the least spent the least on their big day at $19,522.