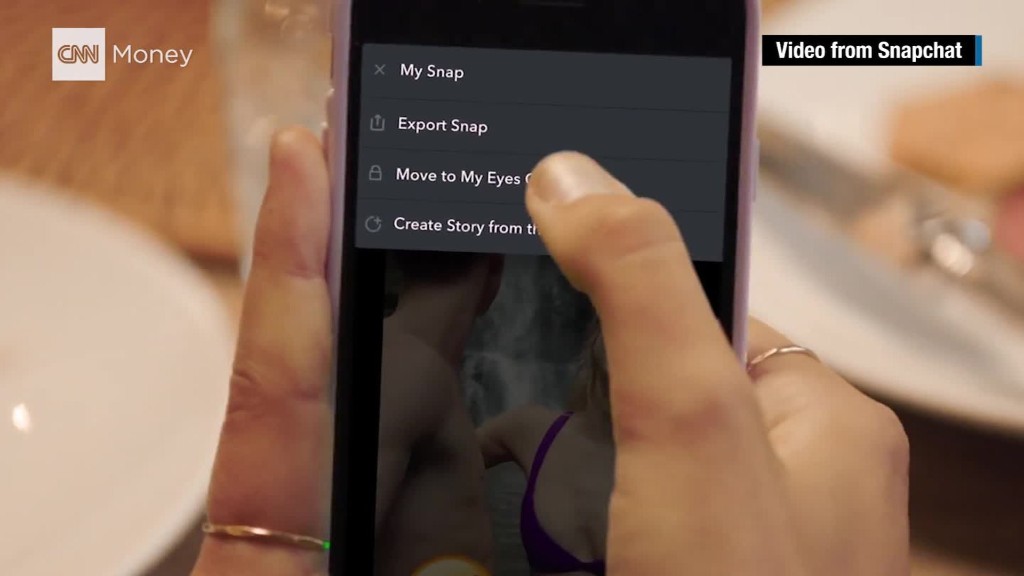 The biggest social media IPO since Twitter is here.
Snap Inc., the parent company of Snapchat, filed paperwork on Thursday to raise $3 billion in its long-awaited initial public offering.
The tech company will only sell non-voting shares when it goes public. It will list on the New York Stock Exchange under the ticker symbol "SNAP."
The documents offer the clearest glimpse yet behind the curtain of one of tech's most secretive startups.
Snap claims 158 million daily users and said over 2.5 billion Snaps are created every day.
However, the young company warned that its popularity could plateau, hurting its business. It noted that user growth was "relatively flat" in the end of the third quarter. Snap blamed the decline in user growth on performance issues linked to new products and updates.
Snap also continues to struggle to make money -- and it signaled a profit may not be coming soon. The company suffered losses of $515 million in 2016, up from a loss of $373 million the year before.
"We have incurred operating losses in the past, expect to incur operating losses in the future, and may never achieve or maintain profitability," Snap said in the filing.
Not just that, but Snap acknowledged that "for all of our history, we have experienced net losses and negative cash flows."
Snap also warned about the impact of higher expenses, especially legal and accounting costs that public companies deal with.
Snap's financial track record is already bringing unwanted comparisons to Twitter (TWTR), which has failed to turn its strong brand recognition into reliable profits.
"To me, Snap is Twitter 2.0 -- a company with a good growth rate that is losing a ton of cash, coupled with a massive valuation," said Brian Hamilton, cofounder of private company analysis firm Sageworks.
Snap's corporate structure will allow its founders to exert enormous control over the company. The Class A shares being offered in the IPO have no voting rights, meaning they can't weigh in on key matters like who sits on the board, how much executives are paid and on potential mergers.
Founders Evan Spiegel and Robert Murphy will control much of Snap's Class C shares, which are granted 10 votes apiece. Class B shares will have one vote apiece, but it's not clear who holds those and they're not being offered in the IPO.
Wall Street competes intensely to get a piece of marquee IPOs like Snap's. That's why Snap's decision to list on the New York Stock Exchange is a big win for that iconic venue.
Morgan Stanley (MS), Goldman Sachs (GS) and JPMorgan Chase (JPM) also won bragging rights as the banks that are taking Snap public.
As is common, Snap listed a number of risk factors that could hurt the company's growth. One interesting risk: Snap warned that its lack of a designated headquarters may "negatively affect employee morale." Snap is based in Venice, California, but its offices are spread throughout the city, a setup the company said may limit social interaction and oversight of employees.
The company confidentially filed paperwork for an IPO before the presidential election. It took advantage of the Jumpstart Our Business Startups, or JOBS Act, which allows companies with less than $1 billion of annual revenue to file for IPOs in secret.
Snap makes money from an eclectic mix of sources, ranging from traditional video ads and sponsored location-based filters to physical products like smart sunglasses sold out of smiling vending machines and ice trays sold on Amazon (AMZN).
The Snapchat app launched in 2011 and set itself apart from other messaging services with a focus on disappearing messages. It initially developed a reputation as a service for sending salacious pictures, but has since moved far beyond that.
Today, Snap defines itself as a "camera company." It sells Spectacles for recording videos and has built up its flagship app with augmented reality lenses that make sharing posts with friends more playful and engaging.
On any given day, you can flip through collections of posts from users attending the same event or find big name publishers like Vogue, National Geographic and CNN curating content specifically for Snapchat.
Related: Say hello to Snap Inc.
Snapchat's success has forced larger tech services like Facebook (FB), Twitter (TWTR) and Instagram to clone its features, with mixed success. Facebook famously tried to acquire the company for $3 billion in 2013. The sum sounded outlandish at the time -- now, not so much.
The public offering will officially make Snap's cofounder and CEO Spiegel, 26, one of the world's youngest billionaires.
If the stock performs well, Snapchat's IPO could encourage other billion-dollar tech startups to go public. Many startups have preferred to sit on their vast piles of private funding rather than deal with public market scrutiny.
But Snapchat may also have to contend with comparisons to Twitter, which went public amid high expectations in 2013 only to crash and burn after its first earnings report.
Investors thought Twitter might be the next Facebook, with more than one billion users and tremendous demand from advertisers. Instead, Twitter's user base stalled around the 300 million mark.
The challenge for Snapchat, according to Monness, Crespi, Hardt analyst James Cakmak, will be getting investors to focus more on how much users actually "engage" with its services rather than just overall user growth.
"Since they've managed to successfully change the way advertisers think, investors should be an easier sell," Cakmak says, before adding a caveat: "So long as the growth curve remains steep."