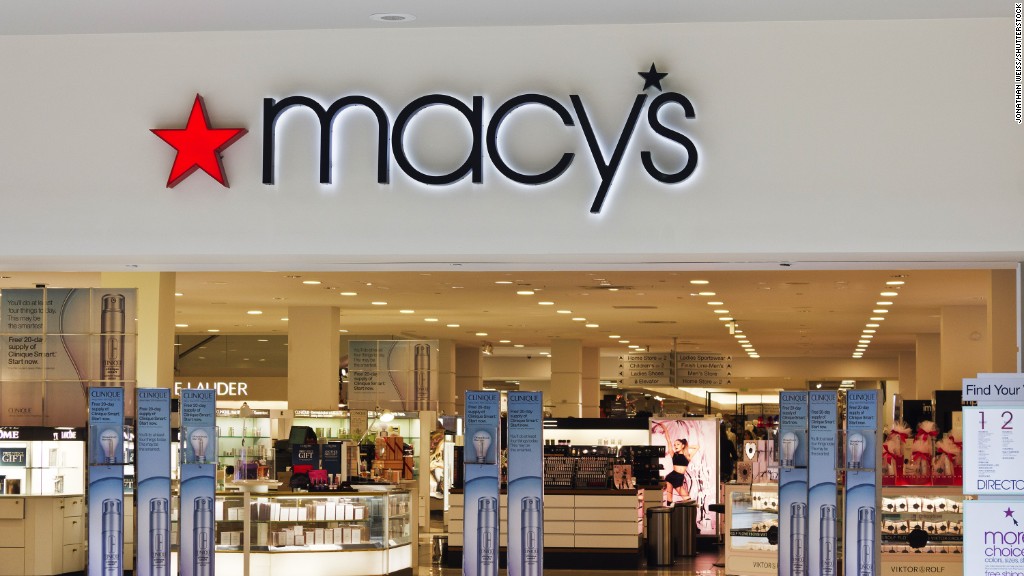 The latest Miracle on 34th Street for Macy's could wind up being a sale of the company itself.
Macy's stock soared 10% Friday after the Wall Street Journal reported that Hudson's Bay, the Toronto and New York-based parent company of Lord & Taylor and Saks Fifth Avenue, might be interested in buying the iconic retailer.
A source familiar with the matter confirmed to CNNMoney that an offer has been made but that discussions are still in preliminary stages.
Spokespersons from Macy's (M) and Hudson's Bay said they do not comment on rumors and speculation.
But questions about the future of Macy's have been swirling for some time, and they have intensified in recent weeks.
The New York Post reported Thursday that long-time CEO Terry Lundgren, who will be stepping down later this year, might look to sell the company before his term as CEO is up.
Related: Amazon is worth more than Sears, Macy's and Target combined
Last month, Macy's announced plans to shut down 68 stores and cut more than 10,000 jobs following disappointing sales during the holidays.
Adding insult to injury, the company was also attacked by President Trump last year. And there are some, including Trump, who believe that his feud with the company has hurt sales.
Macy's used to sell a Trump line of clothing. But the retailer dumped it in the summer of 2015 following the first of many controversial comments Trump made about Mexican immigrants on the campaign trail.
Trump called for a boycott of Macy's and gloated on Twitter when the company started to report disappointing sales last year.
But even if Trump supporters did abandon Macy's, it's not the only reason the company is struggling.
Macy's is among a slew of department stores -- Kohl's (KSS), Nordstrom (JWN), JCPenney (JCP) and Sears (SHLD) -- that have found it difficult to compete with online retail giant Amazon (AMZN), mass merchandisers Walmart (WMT) and Target (TGT) and upstart fashion chains H&M and Zara.
It's made Macy's vulnerable to a takeover. And if Macy's does wind up merging with Hudson's Bay, it would also reunite Macy's and Lord & Taylor under one corporate roof.
Related: Nordstrom distances itself from Ivanka Trump brand
The two were briefly part of the same company after Macy's parent, then known as Federated, bought Lord & Taylor owner May Department Stores in 2005.
Federated sold Lord & Taylor in 2006 to NRDC, a private equity group. NRDC then bought Hudson's Bay in 2008.
But is Hudson's Bay the only company that could make a play for Macy's?
Cowen analyst Oliver Chen put out an interesting note about Macy's on Friday. He wondered if a tech giant might want to take over the legendary retailer.
"We are intrigued by the idea of a company such as Amazon, Google, Ebay, or Facebook acquiring Macy's -- this would be a revolutionary combination of establishment retail meets new media," he wrote.
It's a provocative thesis, but it's unclear why any of these companies would want to inherit all the inventory, real estate and other headaches that come with owning a brick-and-mortar retailer.
Investors in Amazon (AMZN), Google parent Alphabet (GOOGL), eBay (EBAY) and Facebook (FB) might also revolt at the thought of a Macy's acquisition. A Macy's purchase would almost certainly lead to a slowdown in the earnings growth of any of these tech titans.
It's possible that Macy's could look to go private with the help of an investment firm or sell to another retailer. Chen noted that Fast Retailing, the Japanese-based owner of Uniqlo could be a possible acquirer.
And any deal for Macy's will probably need the blessing of activist shareholder Jeff Smith of Starboard Value Partners as well.
Smith, who has successfully pushed Olive Garden owner Darden Restaurants (DRI) and Yahoo (YHOO) to make big changes after he bought stakes in them, has urged Macy's to set up a real estate investment trust, or REIT, for its stores as a way to boost the stock's value.
If Hudson's Bay offers a big premium for Macy's, Smith will probably be on board with a sale. But he could agitate for Macy's to seek other buyers, which could start a bidding war if other retailers jump in with their own offers.
But this much is certain. Macy's days as an independent company could soon be numbered. The stock has soared 12% in the past two days on the takeover speculation. If Macy's decides it would rather remain independent, its shares would likely tank.
So will the famous Macy's Thanksgiving Parade in New York City soon have a new benefactor by the time this November rolls around? Stay tuned. But it's starting to look like the end of an era in the world of retail.
--CNNMoney's Matt Egan contributed to this story.