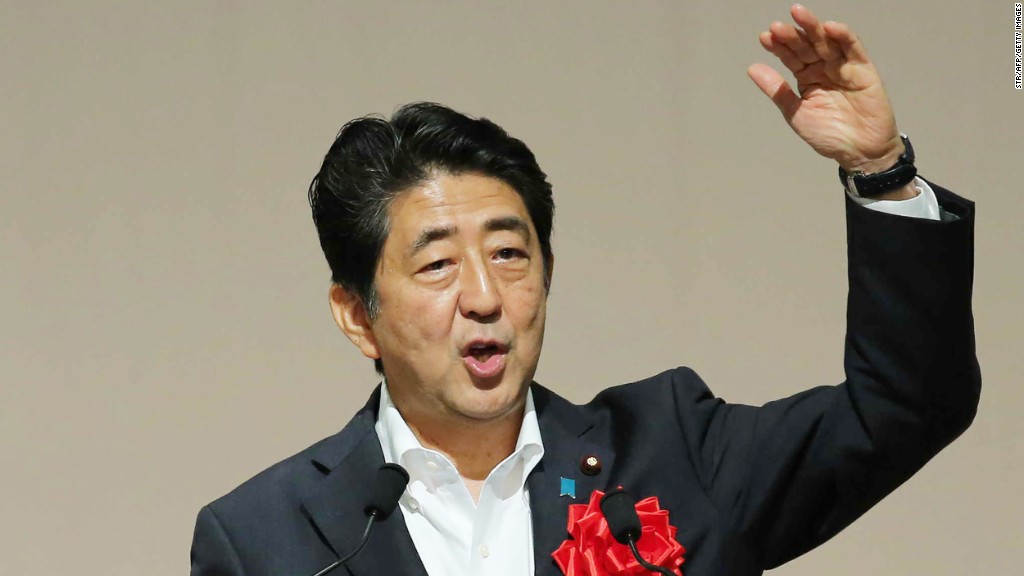 President Trump sounds like he's picking a fight with Japan over trade. That could make for tricky talks about a hugely important relationship when he meets Prime Minister Shinzo Abe.
The U.S. and Japan account for nearly a third of the global economy. Trade in goods and services between the world's No.1 and No.3 economies was worth nearly $268 billion in 2015.
The U.S. emerged from the financial crisis with a healthier economy than Japan, which has struggled for years with weak growth and falling prices. But in Trump's view of international trade -- where winners have surpluses and losers have deficits -- Tokyo is beating Washington.
Japan's surplus in goods traded with the U.S. stood at $69 billion last year. Put another way, Japan is now second only to China in contributing to the U.S. trade deficit.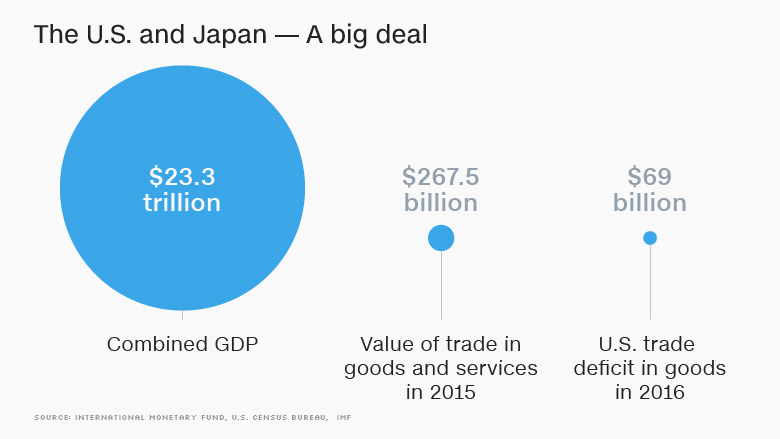 That creates an awkward situation for Abe as he prepares to meet Trump.
Experts at the Center for Strategic and International Studies wrote this week that the Japanese leader would likely be "at pains in his conversations with President Trump to emphasize the breadth, depth, and importance of the economic relationship, as well as the benefits it brings to the United States."
Japanese media reports suggest Abe may try to curry favor by following the playbook of tech tycoon Masayoshi Son, who showed up for a meeting in November promising to invest billions of dollars and create thousands of jobs in the U.S. -- and let Trump claim the credit for it.
Related: He said what? A look back at Trump's Japan bashing
A similar pledge from Abe would raise questions about how the country with the highest debt level in the world can afford it, and why the money isn't being spent at home.
Here are some of the key economic issues that could come up as the two leaders meet at the White House on Friday and stroll around Trump's Florida golf course on Saturday.
Related: Trump teeing up a softer diplomatic approach with Japan
Trade deals
Abe was a big backer of the Trans-Pacific Partnership, a regional trade deal that was years in the making. He was hoping it would help his efforts to revitalize the Japanese economy.
Trump called it a "disaster done and pushed by special interests who want to rape our country." One of his first acts as president was to pull the U.S. out of the deal, leaving it dead in the water.
Trump says he prefers trade agreements with individual countries.
Related: Japan calls Trump's currency criticism 'totally incorrect'
Currency manipulation
Trump has been accusing Japan of playing unfair on trade since the 1980s. He kept up the criticism during his campaign for president, including Japan in his list of countries he claims were "killing" the U.S. by manipulating their currencies, among other things.
The attacks haven't stopped since he took office.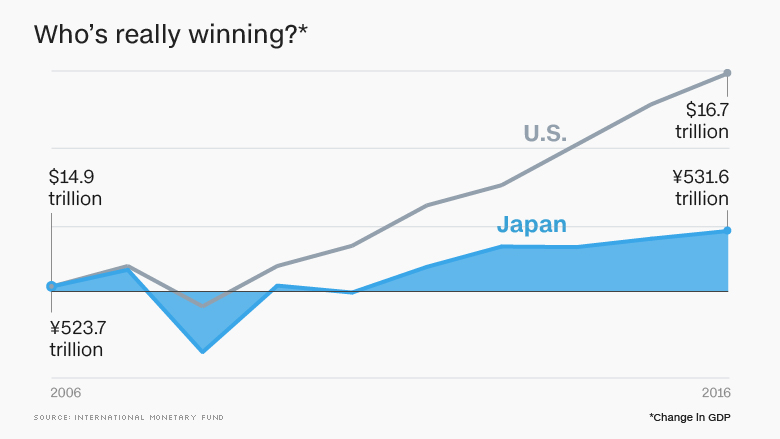 "Look at what China is doing. You look at what Japan has done over the years," Trump said recently. "They play the money market, they play the devaluation market and we sit there like a bunch of dummies."
That prompted perplexed reactions from Abe and others. Japan hasn't intervened in currency markets for years.
"We don't understand what he's talking about," said Masatsugu Asakawa, Japan's top financial diplomat. Economists say it's pretty hard to make a case that the country is manipulating the yen.
Related: Trump in 1989: Japan has 'sucked the blood out of America'
Car wars
Japan's auto industry is also a target. Trump said last month it was "impossible" for U.S. carmakers to sell their vehicles in the country, a remark that drew a defensive response from Abe.
"There is a reason why there are no American cars in Japan," Abe told parliament. "American auto companies do not advertise in Japan."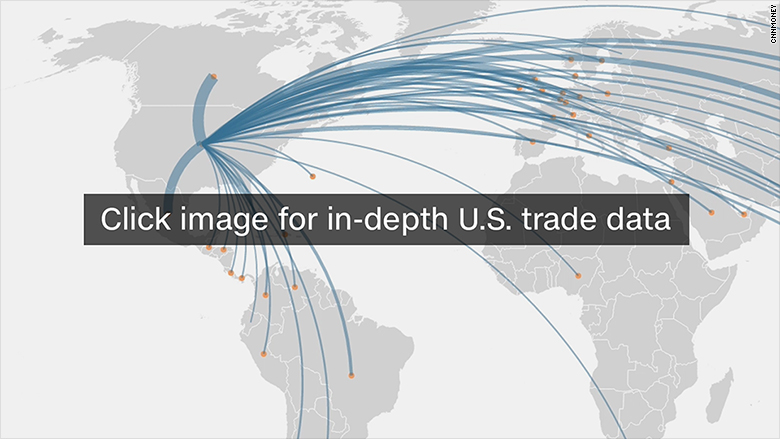 Trump threatened Japan's biggest automaker, Toyota (TM), with a "big border tax" if it goes ahead with a plan to build a new plant in Mexico -- even though the company says it won't cost the U.S. any jobs.
Toyota responded by stressing the billions of dollars it has invested in the U.S. and the tens of thousands of jobs it supports there. Japanese Finance Minister Taro Aso said it was "questionable whether the new president understands ... how many vehicles Toyota produces in the U.S."
Related: Trump's Toyota attack sets off alarm bells in Japan
China
Trump spent a lot of time attacking China during the campaign, vowing to take a harder line on Beijing over trade. Experts say he'll struggle to do that without the support of other major economies.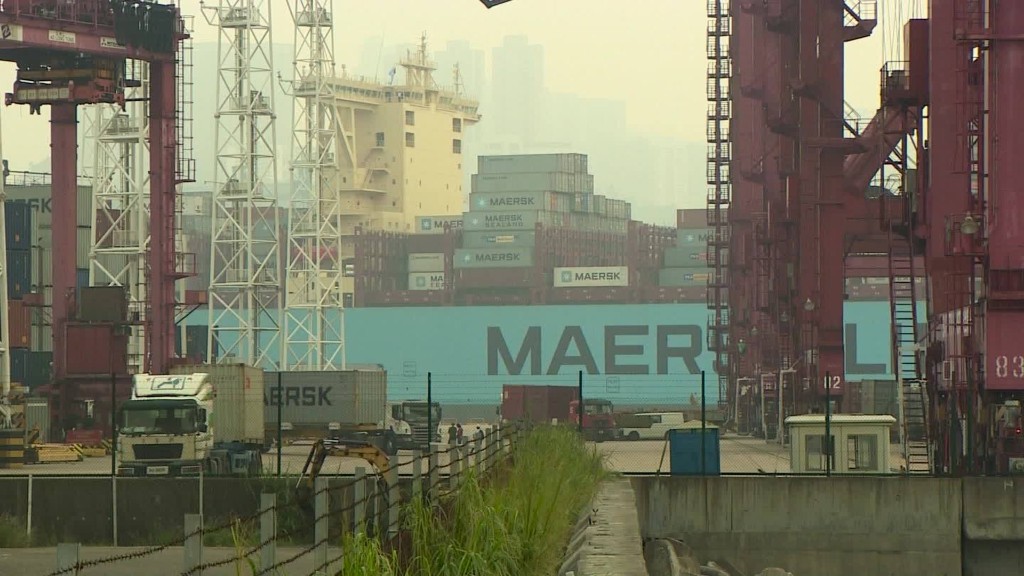 "He's going to need Japan and America's other allies and partners in Asia to work together to encourage China to change its trade and investment policies," Michael Fuchs and Brian Harding of the Center for American Progress wrote in a blog post this week.
Trump's rapid move to torpedo the Trans-Pacific Partnership wasn't a great start to such efforts. China's own regional trade plan is now widely seen as the most likely replacement.