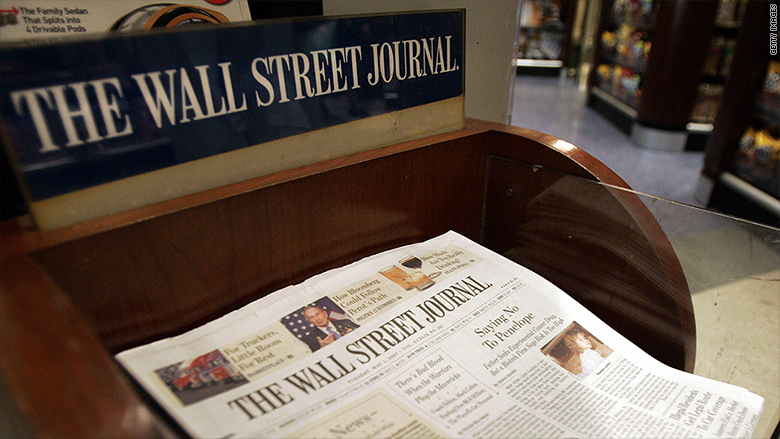 The Wall Street Journal is losing one of its top editors on Friday, and that's only the capper to what has been a trying week at the newspaper.
Deputy editor-in-chief Rebecca Blumenstein's decision to leave for The New York Times was reportedly not connected to newsroom frustration over the Journal's coverage of President Donald Trump.
But the timing is still awkward, given that employees are already on edge about recent layoffs and more cutbacks still to come. One longtime Journal staff member called Blumenstein's departure a "massive blow to morale, to say the least."
"She was the favorite of the rank and file," another Journal reporter said.
Blumenstein's last day comes before a staff town hall meeting with Journal editor-in-chief Gerry Baker scheduled for Monday.
Baker will almost certainly receive questions about the Journal's coverage of the new administration. The newspaper is owned by billionaire media mogul Rupert Murdoch, who has gradually warmed up to the president since Trump launched his White House bid in 2015. The Financial Times reported this week that Murdoch actually sat in on an interview between his British newspaper, The Times of London, and the new American president.
Late last month, BuzzFeed revealed an email from Baker in which he suggested that Journal editors avoid the phrase "seven majority Muslim countries" when describing Trump's immigration ban.
"It's very loaded," Baker said.
He later said he was not banning the term, which has appeared in Journal stories since the email was sent. "It was about making sure that that term was put in context and it was understood," he said at a Harvard symposium last month, adding, "We do need to be very careful about that language."
But the dust-up over the phrase caused consternation among Journal staff members. It was not the first time.
Well before election day, there was dissent within the newsroom about the tone of Trump coverage, with concerned staffers saying the paper was going easy on the GOP candidate.
The Journal ran ads in December touting its evenhandness as a reason to subscribe to the paper.
But the dissenters say it's actually been uneven -- to Trump's benefit. Lately, the "open speculation that Journal coverage has grown way too favorable for Trump" has grown louder, one of the staffers said.
Much of the speculation has to do with Baker and Murdoch's personal politics, multiple staffers agreed.
The newsroom disenchantment was highlighted in a pair of unflattering stories this week by Politico and the Huffington Post.
One unnamed Journal editor told Politico that Baker "doesn't have the support of [the] newsroom."
The Journal is a big place, however, and it's hard to know how widespread the Trump-related complaints are.
Baker, for his part, has encouraged accountability journalism in the coverage of Trump and other politicians, saying at Harvard, "We may be polite and respectful to them, but we need to not be cravenly deferential towards them, in a way that I think frankly sometimes the press bench has had a tendency to be."
Baker joined the Journal from the Times of London in 2009, about a year and a half after Murdoch's $5 billion acquisition of the paper.
Many media observers viewed Murdoch's purchase as a sign that the Journal's news pages would move further to the right, aligning them ideologically with other conservative News Corp. properties like Fox News and the New York Post -- as well as the Journal's own editorial pages.
But Murdoch had initially expressed disapproval with Trump's presidential campaign, through both his newspapers and his Twitter feed.
Following Trump's criticism of Sen. John McCain's service in Vietnam, the New York Post published a cover depicting Trump on a dilapidated raft with a shark ominously closing in under the headline, "Don Voyage!" And when Trump likened one-time GOP rival Ben Carson to a child molester, Murdoch tweeted, "Trump finally loses it."
But that was in 2015. By the spring of 2016, Trump and Murdoch were making amends. As CNN Media reported in April of that year, the two had engaged in several meetings and conversations -- brokered by Trump's son-in-law and current White House adviser Jared Kushner -- as Murdoch came to see Trump as the inevitable Republican nominee.
In January, weeks before he took office, Trump offered an update on his relationship with Murdoch.
"Rupert Murdoch is a great guy who likes me much better as a very successful candidate than he ever did as a very successful developer!" Trump tweeted.
Trump is now the president, and Murdoch now has growing anxiety at his most prestigious print outlet.
As one of the Journal staffers told CNN, the frustration with Baker has only worsened the blow of losing Blumenstein.
"Her departure looks very bad," the staffer said.