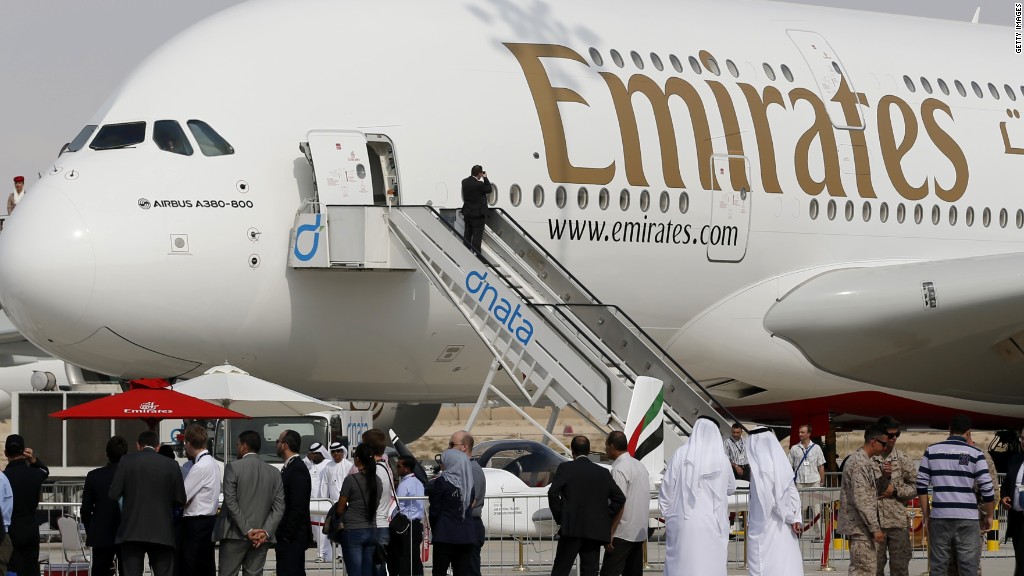 The airline known for its superjumbo jets is thinking smaller again.
Emirates Airline President Tim Clark said he is looking at buying smaller single-aisle jets, better known for tighter cabins and fewer amenities, rather than its opulent airliners with showers and walkup bars.
Clark, longtime president of the world's largest international airline, told CNN's Richard Quest there are three different studies on his desk today. Over the next 18 months the airline will decide between adding the smaller aircraft like the Boeing 737 or Airbus A320, combining that with a deal for smaller twin-aisle jets, or continuing to only buy twin-aisle aircraft.
Buying a new fleet of small single-aisle jets would be a radical departure for the Dubai-based airline. Emirates today relies solely on double-deck Airbus A380 superjumbo jets and Boeing 777s that seat from 266 all the way up to 615 passengers. It is the largest operator in the world for both.
Related: The world's shortest superjumbo flight
It's been more than 20 years since the airline last flew a single-aisle jet in its fleet and Emirates' strategy shift may set up a cut-throat competition between Boeing and Airbus, the two biggest airplane makers.
Emirates uses its advantageous geography on the north side of the Arabian peninsula to reach billions of people within an eight hour flight. Its strategy is designed to connect two distant points on the planet using a single stop in Dubai, but its massive jets aren't right for every route.
The airline in the coming years is plotting a move to a sprawling new airport, Dubai World Central, from its home at Dubai Internationa. Clark said the greater number of runways and gates means it could serve smaller cities.
Related: Dubai airport widens gap over London's Heathrow Airport
But before a decision is made, Emirates must first weather a brewing storm in the global economy and declining per passenger profit. Falling oil prices have been a boon for travelers seeking lower fares, but "we are notorious in our business of racing to the bottom whenever there is some advantage given to us and this is no exception," he said.
"The last three of four years as the oil prices come off, we have reduced our fares to point of...stupidity in my view. That has affected our bottom line," said Clark. "We have a difficult time in global economics. We have a difficult time in global geopolitics and there is a degree of volatility out there."
Emirates already has tens of billions of dollars of aircraft on order with both the Boeing in the U.S. and Airbus in Europe, but it has slowed down its plans for buying more. The three options on Clark's desk again delays a decision on whether or not to buy Boeing 787s or Airbus A350s. Emirates canceled an order for 70 A350s in 2014 and recently deferred a batch of superjumbo A380s to 2018 and 2019.
Related: Airbus isn't giving up on its A380 superjumbo
"When the time is right we will decide," said Clark. "But so far, we are just biding our time to see which way it all pans out."
At at a time when Middle East carriers are looking to curry favor with the Trump administration to ensure they continue to be allowed access to U.S. airports, Emirates' decision on big airplane purchases from the U.S. or Europe could have a political tinge.
Related: Trump faces delicate balancing act between U.S. and foreign airlines
U.S. carriers, Delta Air Lines, United Airlines and American Airlines, have urged the State Department to review a treaty that allows the airlines of the U.S. and the home countries of fast-growing Emirates, Qatar Airways and Etihad Airways unfettered access to each other's airports. As the trio has expanded in the U.S., that has drawn claims of illegal subsidies for the foreign airlines. It's a claim the state-supported trio denies.
President Trump signaled in a meeting February 9 with airline CEOs that the administration will work to protect U.S. carriers from foreign competition, but has not specified how. Sean Spicer, White House Press Secretary, has also indicated that preserving manufacturing jobs like those at Boeing is a driving force behind the administration's thinking.