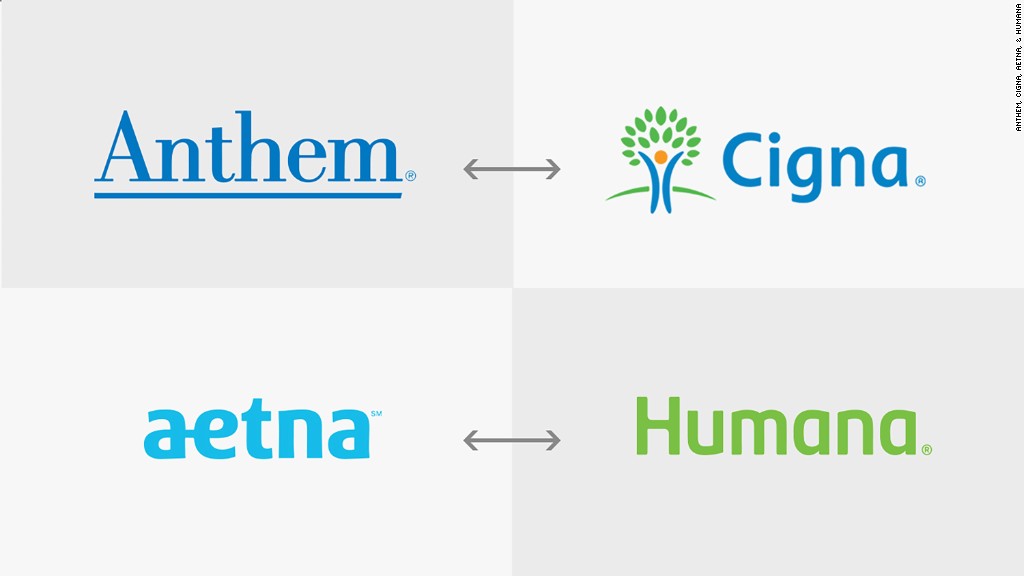 Two health care mega mergers appeared to have died in one day.
Aetna and Humana said Tuesday morning that they're calling off their $34 billion merger, and just hours later Cigna said it's calling off its $54 billion deal with Anthem.
Both deals were targeted by the Justice Department and were recently blocked by federal judges, citing antitrust concerns.
Aetna (AET) said Tuesday it will pay Humana (HUM) a $1 billion breakup fee.
Anthem (ANTX) will owe Cigna (CI) a $1.85 billion breakup fee, according to their agreement terms.
Cigna is also seeking damages from Anthem in an amount totaling more than $13 billion, according to a public filing filing issued Tuesday. The filing states that damages "includes the lost premium value to Cigna's shareholders caused by Anthem's willful breaches of the Merger Agreement."
Anthem, however, insists the deal is not dead. The company said in a statement Tuesday that Cigna "does not have a right to terminate the agreement. Therefore, Cigna's purported termination of the Merger Agreement is invalid."
Cigna said in its public filing Tuesday that it "notified Anthem that it has terminated the Agreement and Plan of Merger." Cigna also said it filed a suit against Anthem in a Delaware court to ensure Anthem is not permitted to extend the kill date of their merger agreement. Anthem claims the termination date has already been extended to April 30, 2017.
That deal has been rocked by infighting between the companies. Cigna has long hinted it was searching for a way out of the takeover.
Anthem vowed to fight the federal judge's decision to block the deal, but Cigna said it did not intend to move forward.
Related: U.S. sues to block 2 major healthcare mergers
When then-Attorney General Loretta Lynch sued all four companies last year to block the two mergers, she said the combinations ran the risk of "drastically constricting competition" in health care.
The two mergers would have left the health insurance industry dominated by only three giant insurers. The third company is UnitedHealth (UNH).