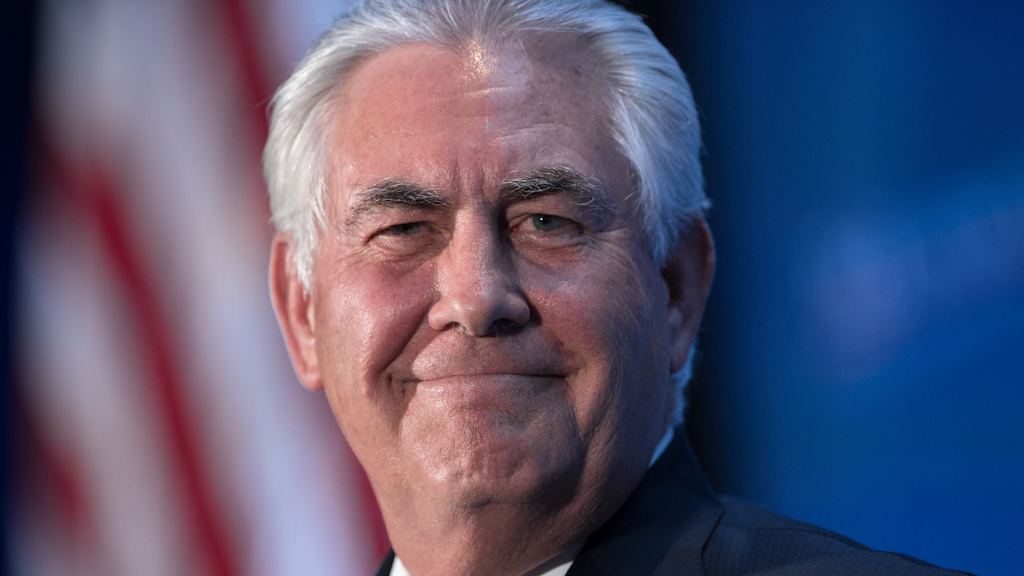 Did Secretary of State Rex Tillerson leave Exxon at the top of the oil market?
Shares of ExxonMobil (XOM), the company that Tillerson used to be CEO and chairman of before President Trump named him to his cabinet, are down 9% so far this year. Verizon (VZ) is the only stock in the Dow that has done worse in 2017.
But Tillerson has already cashed in on his Exxon stake. He agreed to sell the more than 600,000 Exxon shares he owned after he was nominated.
And last month, Exxon said it would not give him the 2 million shares he was due from the company over the next decade. Instead, the shares were sold and the proceeds -- about $180 million -- were placed in a blind trust.
So far, that's good news for Tillerson.
Exxon's stock is now lower than where it was the day before Trump was elected. And it has lagged the broader rally despite an uptick in oil prices. Crude prices have surged nearly 20% since Election Day and are now hovering around $53 a barrel.
Exxon isn't the only big oil stock that's doing poorly. Rival Chevron (CVX), which is also in the Dow, has fallen 5% this year. And shares of BP (BP) and ConocoPhillips (COP) are down this year as well.
What's going on?
President Trump's pledge to drill more for oil in the U.S. and restart the controversial Dakota and Keystone pipelines that were stalled under President Obama should be good for oil producers, right?
Yes and no.
Increased production should lead to higher revenues and more energy sector jobs. However, a boost to the world's oil supplies also would put pressure on prices.
Related: Exxon plays catch-up after missing U.S. shale oil boom
The days of oil trading above $100 a barrel are long gone and may never return now that there are no longer any major fears about geopolitical tensions in the Middle East leading to a supply shortage.
If anything, there is now a glut of crude and natural gas thanks to advances in hydraulic fracturing, or fracking, technology.
Sure, OPEC nations have so far lived up to their promise to cut production. But the United States is not a member of OPEC.
And as long as Exxon, other American oil giants and smaller shale companies keep pumping and drilling, then crude prices may not wind up going that much higher. That could be bad news for the stock.
There are also some company specific reasons to explain why Exxon has not taken part in the broader market rally.
Related: Exxon profit falls 40% as cheap oil pain lingers
Exxon's most recent quarterly earnings missed forecasts. The company was also forced to take a $2 billion writedown to reflect the lower value of natural gas assets in the Rocky Mountain region that it inherited when it bought XTO Energy in late 2009.
And as my colleague Matt Egan has pointed out, Exxon made a big bet on drilling for oil in the Arctic and was late to capitalize on the U.S. shale gas boom. That could be another reason why the stock may continue to lag the broader market.
Ironically enough, electric car company (no gas required!) Tesla has been a market stud this year. Shares have surged more than 30% so far in 2017 and are not far from their all-time high.
So even though Trump is a fan of fossil fuel, has publicly questioned whether oil production has really led to climate change and has the biggest of Big Oil leaders in his cabinet, Exxon's stock could wind up doing poorly during Trump's tenure.