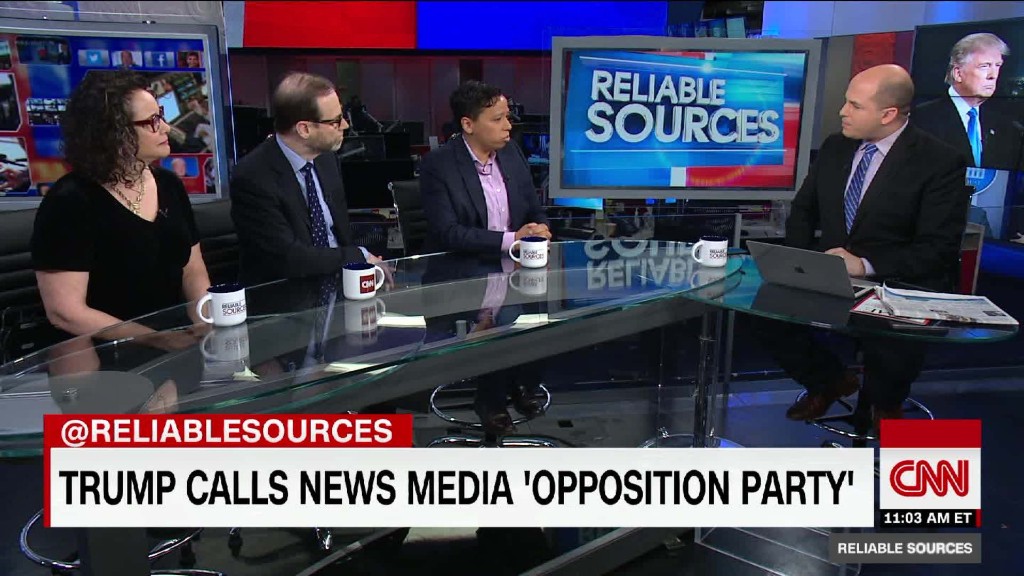 The tensions between the White House and the media just got personal for two former friends.
On Tuesday, a war of words broke out between Omarosa Manigault, an administration communications official, and April Ryan, a longtime White House reporter, stemming from a heated exchange the two had last week in the White House press office.
In separate interviews with CNNMoney, Ryan and Manigault offered contradicting accounts about what had taken place during the confrontation. Most notably, Ryan said Manigault had physically and verbally intimidated her and claimed that the White House had "dossiers" of negative information on her and other journalists. (Ryan also made these claims to the The Washington Post earlier.)
Manigault accused Ryan of lying and said she had never claimed to have any "dossiers." She also offered CNNMoney an incomplete and at times inaudible recording of the exchange that had been taped by a White House staffer who began recording once the exchange grew heated.
"We have a recording of the exchange and she blatantly lied," Manigault said.
Like Manigault, the White House denies keeping any dossiers on reporters. "That is absolutely not true," White House Press Secretary Sean Spicer said during his briefing Tuesday. "There are no dossiers being kept."
The 4-minute recording Manigault provided to CNNMoney does not include any mention of dossiers, but much of the recording is drowned out by cable television and background chatter and some of the confrontation is clearly not included in the recording.
Ryan stood by her claim and said Manigault's remarks about the dossiers was either not included in the recording or edited out.
The two women were formerly friends. But Ryan said their friendship ended in October when Manigault accused Ryan of being paid by Hillary Clinton's campaign. That accusation, which Ryan vehemently denies, appears to be based on Manigault's misreading of an Intercept article about Clinton's relationship with the press (the article does not state that Ryan is paid by the Clinton campaign). Manigault nevertheless made the allegation again during their confrontation at the White House.
Both women said the confrontation started in or near Spicer's office, with Ryan accusing Manigault of telling the press secretary not to call on her in the daily press briefings.
When the recorded portion of the confrontation begins, the two women can be heard discussing whether or not Ryan would be a bridesmaid at Manigault's wedding.
"I will never be in your wedding," Ryan says to Manigault.
"Girl please," Manigault says.
"I still have the email where you begged for me to be in your wedding," Ryan responds.
"Girl bye," Manigault says. "Bye friend."
"You turned on me," Ryan says.
At one point, Ryan can be clearly heard saying, "She has the bad reputation. I don't."
"Oh, you do. You are paid by the Clintons," Manigault says.
"Keep reporting it and see how you get sued," Ryan responds.
Much of the conversation is inaudible, but Ryan told CNNMoney that she told Manigault, "I was here when you were fired the first time, and I'll be here when you're fired this time."
Near the end of the recording, Ryan can be heard saying Manigault's "got a problem," adding that she "got in my face, stood over me." The recording ends shortly thereafter.
On Tuesday afternoon, Ryan told CNNMoney she did not understand why Maginault offered the tape, because it only made her look worse. "She's stupid. This is how she dumb is," Ryan said. "She's a bully."
Later, Ryan emailed: "Also you are not supposed to tape a conversation with out a person's permission. Didn't Nixon get in trouble for that! Wow she is just amazing."