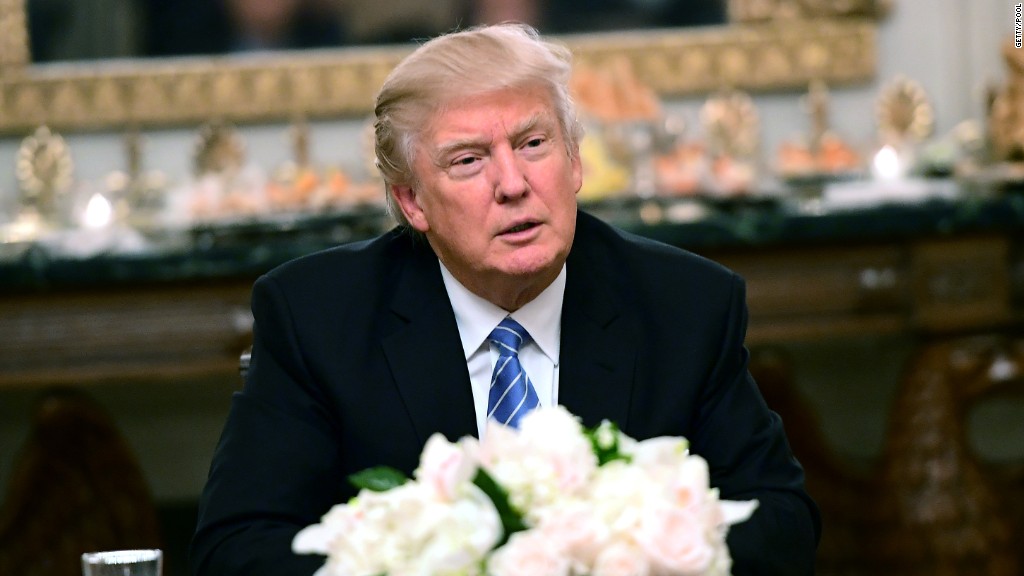 President Trump has a new opponent: A gusher of leaks from anonymous sources hinting at nefarious collusion with Russia and painting a picture of a White House in crisis.
Trump is questioning the motivations of the leakers and accusing the "fake news media" of "going crazy." But he's not refuting the accuracy of the reporting by CNN, The New York Times or The Washington Post.
With his own gusher of tweets, Trump is trying to reframe the story. "The real scandal here is that classified information is illegally given out by 'intelligence' like candy. Very un-American!" he wrote Wednesday.
He stayed on the topic later in the day at a press conference with Israeli Prime Minister Benjamin Netanyahu.
"From intelligence, papers are being leaked, things are being leaked," Trump said. "It's a criminal action, criminal act, and it's been going on for a long time before me, but now it's really going on. And people are trying to cover up for a terrible loss that the Democrats had under Hillary Clinton."
Newsrooms, for understandable reasons, are focusing on the actual allegations at hand.
But some prominent Republicans are backing the president by calling for FBI investigations into some of the leaks. Conservative media commentators are echoing those calls and alleging "political sabotage" by anti-Trump bureaucrats.
Related: Flynn resignation: Fox, Breitbart focus on leaks
Democratic lawmaker Adam Schiff responded on CNN Wednesday morning: "I think this is a distraction, a sideshow, a GOP effort, frankly, to put the leak issue front and center and ignore potential illegality in the White House."
The truth is that people in and out of government leak information to journalists for a variety of reasons. Sometimes the people have axes to grind; sometimes they are trying to alert the public to malfeasance; other times they are trying to get the attention of their supervisors, all the way up to the president.
Journalists don't always know the actual agendas of their sources. Depending on one's perspective, a source's motives could be perceived as petty -- or heroic.
Leaks and old-fashioned investigative journalism created the conditions that led to National Security Adviser Michael Flynn's resignation on Monday.
The New York Times' latest story about Trump and Russia, published Tuesday night, cited "four current and former American officials."
The Times granted them anonymity "because the continuing investigation is classified" and thus the sources are not allowed to speak publicly.
CNN's story on Tuesday night similarly cited "multiple current and former intelligence, law enforcement and administration officials."
"Current and former" suggests that some of the sources worked in the Obama administration. Others are inside the Trump administration."
Trump is right that it is a crime for a government official to share classified information with unauthorized individuals.
The Obama administration aggressively pursued some leakers through a series of investigations -- a stance that generated widespread criticism in media circles.
However, there are many other times when government officials share classified information and are not prosecuted for it.
Editors like Marty Baron of The Washington Post are concerned about the prospect of new leak investigations now, but say this is not a deterrent to investigative reporting.
"Newsworthiness" is the standard for determining when to publish information provided by anonymous sources, Baron said earlier this week.
Glenn Greenwald of The Intercept, who was one of the recipients of Edward Snowden's NSA leaks, weighed in on Tuesday, saying that the "officials leaking this information acted justifiably, despite the fact that they violated the law."
Pro-Trump opinion hosts, like the trio on "Fox & Friends," are taking the opposite view. "The problem is these faceless bureaucrats who are leaking this stuff," Steve Doocy said Wednesday morning.
Co-host Ainsley Earhardt agreed, saying, "They're doing damage to all of us. These are national secrets."
Doocy added, "The president, the White House, Congress needs to do something about it."
Trump advisors like Kellyanne Conway are making the same points.
"If people are running to the media to leak and not providing that information to the proper authorities, that should concern all of us. This is not a partisan issue. It's dangerous stuff," Conway said on Sean Hannity's Fox News show on Tuesday night.
And Rep. Steve King, an Iowa Republican who has supported Trump, told CNN's Alisyn Camerota Wednesday morning that "We have to find the people that are working against this administration and they need to be purged from this community."
Others have staked out a middle ground. National Review staff writer David French commented on Twitter that "bureaucrats can be furiously and improperly leaking" and "administration officials can be doing improper things" at the same time. "Two things true at once," he said.
During the campaign, then-candidate Trump was a booster of one specific kind of leaks, those from Wikileaks, which published a stolen trove of emails from Hillary Clinton's campaign chairman John Podesta.
Trump said "I love Wikileaks," and he marveled at how "nothing is secret" anymore.