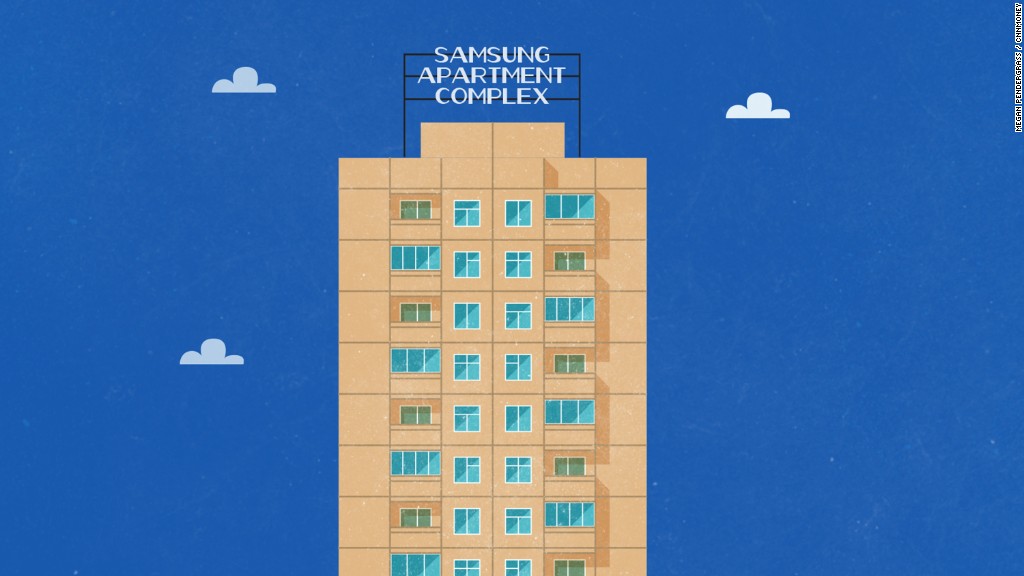 The heir to the Samsung business empire has been arrested on corruption allegations.
The detention of Lee Jae-yong, Samsung's de facto leader, is an embarrassing setback for South Korea's biggest conglomerate. Lee is under investigation for his alleged involvement in the huge political corruption scandal that has rocked the country.
Early Friday, a judge in Seoul approved a request from prosecutors for an arrest warrant for Lee, the prosecutor's office said. That means Lee will be held at the detention center where he had been awaiting the court decision.
Related: South Korea's long history of light sentences for business leaders
Prosecutors allege that the executive, who's also known as Jay Y. Lee, pledged tens of millions of dollars to win favor with President Park Geun-hye and secure government support for a controversial merger that helped tighten his grip on Samsung.
They are accusing him of bribery, perjury, concealing criminal profits, embezzlement and hiding assets overseas.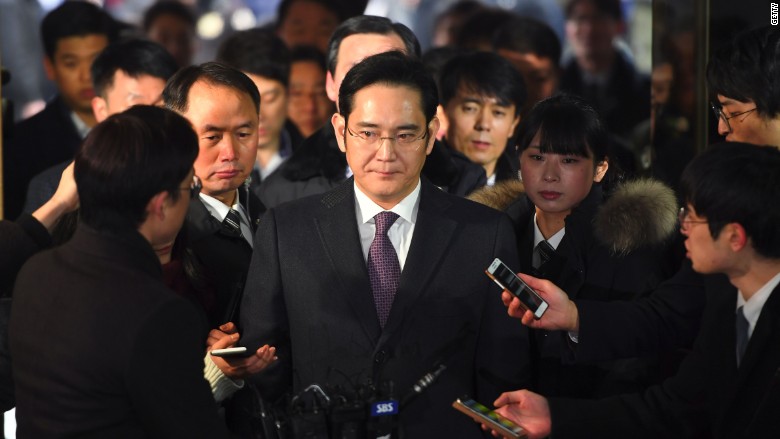 Samsung and Lee have denied the allegations.
"We will do our best to ensure that the truth is revealed in future court proceedings," Samsung said in a statement Friday after the judge approved the arrest warrant for Lee.
The judge rejected a request for a warrant to arrest Park Sang-jin, the president of Samsung Electronics (SSNLF).
Related: How Samsung dominates South Korea's economy
Lee is a vice chairman of Samsung Electronics, the crown jewel in the family's sprawling array of businesses, which also include construction, shipbuilding and even theme parks.
Samsung Electronics shares fell as much as 2% in Seoul on Friday after Lee was arrested. But they recovered some of their losses later in the day, closing down 0.4%.
"Samsung is going to continue to function just fine because it has a very deep bench of experienced executives to take care of day-to-day business," said Mark Newman, an analyst at Bernstein. "The only potential issue could be infrequent decisions on large long-term investments like major acquisitions."
The prosecutors first sought to arrest Lee in January, but a judge turned down that request, citing a lack of evidence. At the time, the prosecutors vowed to "steadily" pursue their investigation of the Samsung heir.
Related: Samsung blames batteries for Galaxy Note 7 fires
The case is part of a far-reaching scandal that has driven hundreds of thousands of South Korean protesters to the streets and prompted lawmakers to vote to impeach the president. Other top South Korean companies are also under investigation.
Samsung's links to the corruption investigation have done further damage to the company's image after the humiliating fiasco over its fire-prone Galaxy Note 7 smartphone last year.
Lee is far from the first South Korean business leader to face accusations of corruption. His father, Samsung Group Chairman Lee Kun-hee, was convicted twice -- and pardoned twice.
The elder Lee suffered a heart attack in 2014, which accelerated the conglomerate's efforts to prepare the way for his son to succeed him.
-- BoBin Seo and Sol Han contributed to this report.