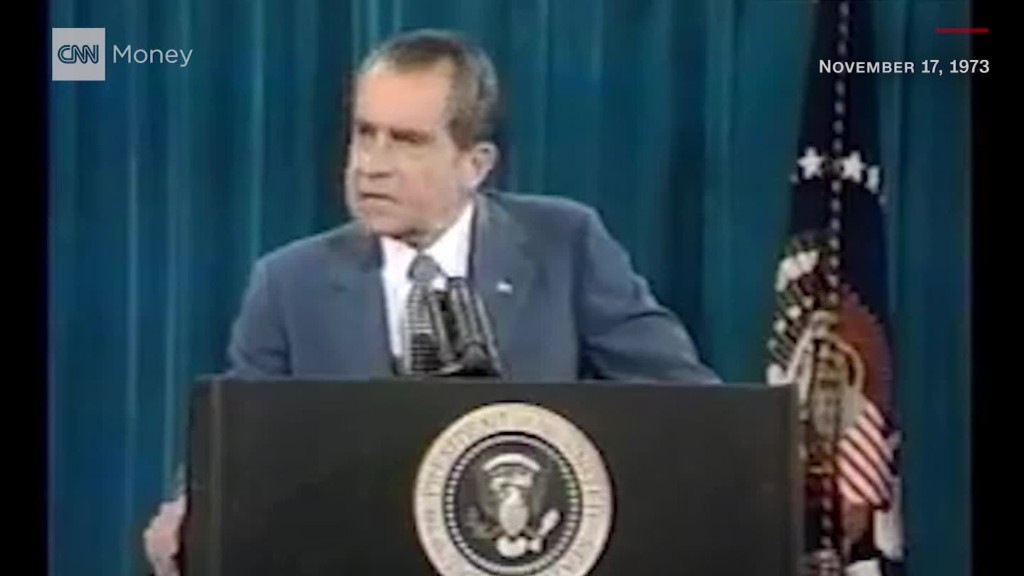 Over the course of a 77-minute press conference Thursday filled with characteristic attacks on the press, President Donald Trump went out of his way to praise the "very honorable people" working at "Fox & Friends."
"They hit me also when I do something wrong, but they have the most honest morning show," Trump said during an exchange with CNN's Jim Acosta. "That's all I can say. It's the most honest."
The next morning, "Fox & Friends" showed why Trump likes it so much, reciprocating the president's praise and echoing his criticisms of the press.
Before he launched his presidential campaign,Trump was a weekly guest on the program, which has long been a reliable steward of the channel's conservative agenda. And with the possible exception of Trump pal Sean Hannity, no one at Fox News is a bigger cheerleader for the current administration than the three hosts of "Fox & Friends": Steve Doocy, Brian Kilmeade and Ainsley Earhardt.
Related: Trump attacks media in lengthy, combative press conference
On Friday's edition of the show, Earhardt said her "phone was blowing up" after Trump's shout out at the presser.
"I bet he was in a great mood after that press conference because people were saying, 'He's back,'" Earhardt said.
The three took turns directing their ire at the members of the media who had a more critical response. They showed a highlight reel of various commentators panning the president's performance, including former George W. Bush aide and ABC News political analyst Matthew Dowd, who said Trump looked "smaller" at the press conference.
"I don't think he looked smaller," Kilmeade scoffed. "Are you kidding me? He looked bigger than the -- I mean, he looked bigger than the superpower which he's representing."
"The mainstream media, they can't stand it," Earhardt said.
"Well, I think the headline from the Jim Acosta back-and-forth is that CNN is no longer 'fake news,' it's 'very fake news,'" Doocy said, repeating Trump's newly minted insult.
(The highlight reel did not include their own colleague, Fox News afternoon host Shepard Smith, who reacted to Thursday's press conference with a forceful rebuke against Trump's attacks on the media.)
Related: President Trump's exchange with CNN's Jim Acosta
"Fox & Friends" has been a ratings magnet for the channel. It has cycled through different co-hosts over the years -- including Gretchen Carlson, whose sexual harassment lawsuit against Fox News founder Roger Ailes led to his ouster last year -- all while consistently maintaining its title of the top morning program on cable news.
The show epitomized the channel's adversarial tone during Barack Obama's eight years in office; in 2012, the program ran a four-minute long video that resembled a campaign ad against the then-president.
"Fox & Friends" is now a central part of Trump's information feedback loop, often providing fodder for the president's pre-sunrise tweets, which in turn provide fodder for the show. "Fox & Friends" is no doubt a morning staple for many of Trump's supporters, too. A study released last month from Pew Research Center found that 40% of Trump voters said Fox News was their primary source of election news.
On Friday, the three co-hosts channeled Trump's anti-media tenor and mocked his enemies.
"The mainstream media is freaking out about the president's immigration plans and everything else," Doocy said at one point in the broadcast.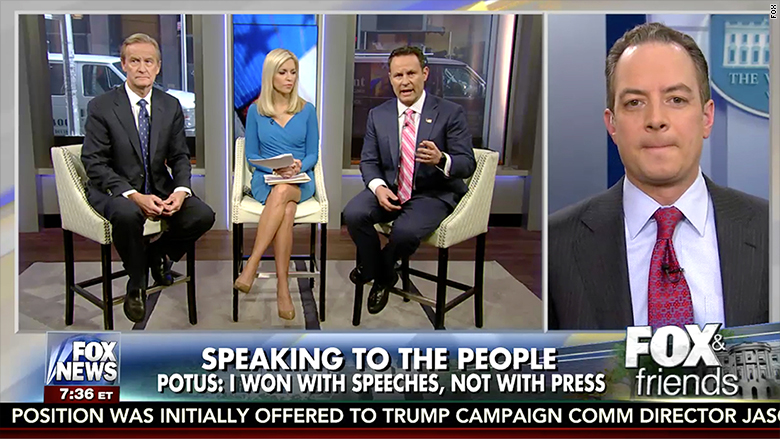 Around 7:30 a.m., the hosts conducted a largely softball interview with White House Chief of Staff Reince Priebus, who said the "highest levels of intelligence officials" had assured him that a New York Times story earlier this week about alleged contacts between the Trump campaign and the Russian government was "grossly overstated and inaccurate." When Priebus complained that he spends half his days "putting out phony stories," Earhardt sympathized.
"It's like stop, let us work, let us clean up this country," she said.
It is rare to hear any of the three "Fox & Friends" hosts criticize Trump, despite his suggestion to the contrary. There were moments on Friday, however, when Kilmeade seemed to be advising the president through the television screen.
"He's got so much to do, why is he even watching Don Lemon at 10:00 on CNN," Kilmeade said, referring to the host who Trump attacked at the press conference without naming.
Earhardt defended the president's media obsession.
"But when most of the media is painting him in a bad light and not giving him a chance, as the president you would want to know that, you would want to watch it because you need to have your finger on the pulse," she said.
"But here's the thing about Donald Trump," Doocy chimed in, "television is his business."
"No, that's his old business," Kilmeade replied.