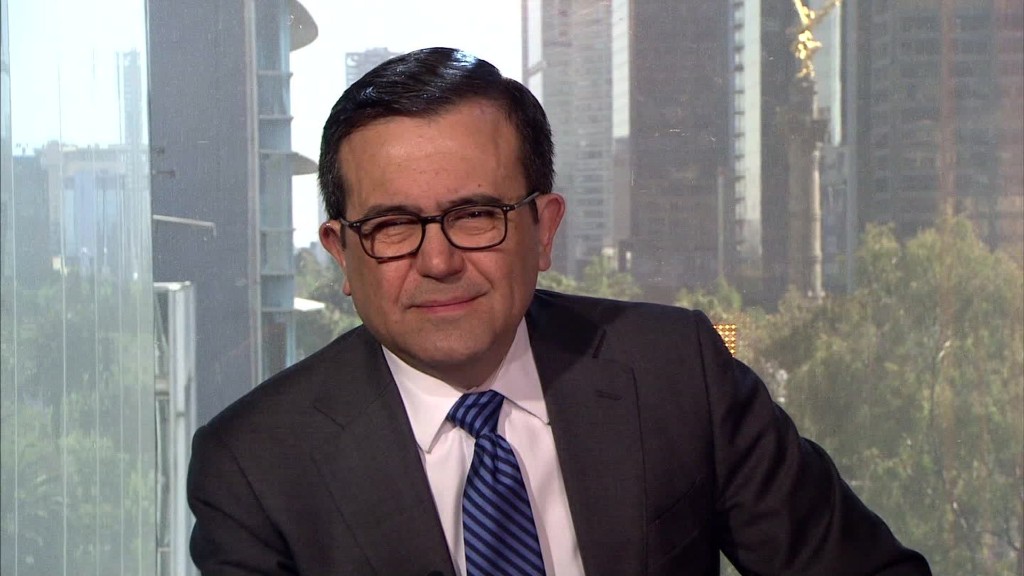 Mexico has a clear message for President Trump: Don't try tariffs. We'll retaliate.
"From Mexico's point of view, opening tariffs will be a big mistake," Mexico's economic minister, Ildefonso Guajardo, told CNN's Richard Quest on Friday. "It will be a step backwards, not a step forwards."
The Trump administration has floated the idea of a 20% tariff on Mexican imports to the United States to pay for its proposed border wall. Trump has also threatened a 35% "big border tax" on companies that move jobs to Mexico.
Guajardo said that Mexico would be forced to respond.
"If you're talking about tariffs, specifically, obviously that is not the way to go because it will hurt both economies," he said. "If anything is done on one side, it has to be compensated with actions on the other side."
Guajardo is Mexico's top negotiator on NAFTA, the free trade agreement among Canada, Mexico and the United States, which Trump wants to renegotiate. Guajardo was one of the architects of the deal in the 1990s. He knows it inside out.
Related: Mexico is already pivoting away from the U.S.
Trump blames NAFTA for causing manufacturing jobs to pour out of the United States into Mexico. Nonpartisan congressional research concluded in 2015 that NAFTA did not trigger such an exodus of jobs.
Trump's threat to tear up the trade agreement has brought the three countries back to the table 23 years later to renegotiate. They all agree NAFTA can be improved, but few leaders have said what a better deal would look like.
In the CNN interview, Guajardo said NAFTA has been a great deal for all three countries.
He also emphasized that any new deal would have to include benefits for Mexico. He said anything less favorable would be impossible to sell to Mexico's fragmented Senate, which would have to approve it.
"I can't come back home with an agreement that will not be a win-win-win situation for the U.S., Canada and Mexico," Guajardo said.
Related: Mexico ready to retaliate against the U.S.
The three countries are expected to begin negotiations in May.
Guajardo tried to get a head start on talks. He flew to Washington in January to meet with White House trade officials. That same day, Trump tweeted that Mexico's president, Enrique Peña Nieto, shouldn't bother coming to Washington if he wasn't prepared to pay for the border wall. Peña Nieto canceled.
Guajardo didn't discuss specifics of how Mexico might retaliate, but other Mexican leaders have.
Senator Armando Rios Piter told CNN on Sunday that he would soon introduce a bill requiring Mexico to buy corn from Argentina and Brazil instead of the United States. In 2015, corn was one of the top U.S. exports to Mexico, totaling $2.4 billion.
NAFTA eliminated Mexican tariffs on American corn, and U.S. corn farmers warn that retaliation by Mexico would probably wipe out some of their jobs.
Guajardo was clear that Mexico would respond in some fashion if Trump hurts Mexico with trade barriers.
"We're trying to organize our discussions in a constructive manner, but if there is no room for improvement and we have to react to actions that damage the Mexican economy ... it will be necessary to respond in some of these manners," he told Quest.