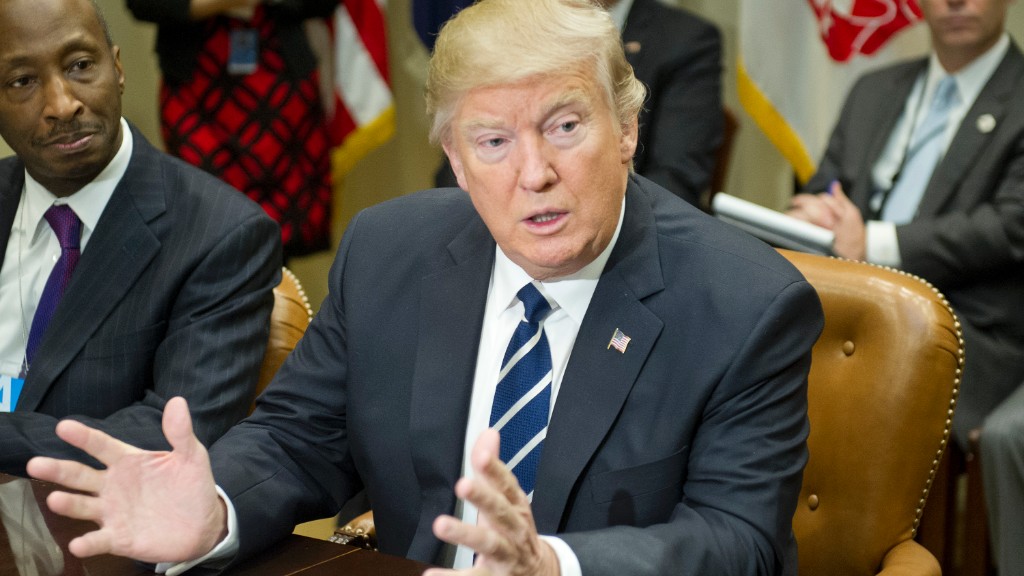 Donald Trump has a vast online portfolio of domain names -- digital addresses that foreshadowed his political career, business projects and accusations of unethical behavior.
Before he reached the White House, Trump's company had laid claim to at least 3,643 website domains, according to internet records gathered by CNNMoney.
The buying spree continued as he ran for president. Trump bought 93 of them after he launched his presidential campaign.
One was TrumpEmpire.com. That domain had belonged to a Mexican cybersquatter. Luis Jorge O'Brien Covarrubias is a civil engineer in Guadalajara, Mexico. He bought TrumpEmpire for $10 in April 2015 hoping that someday he'd be able to cash in on the property. When no deal came around, he didn't bother to renew it.
O'Brien didn't know that Trump had snapped it up in June 2016 until he was told by CNNMoney.
Now O'Brien wishes he would have kept the domain out of Trump's hands.
"What did I do?" he lamented. "He's rude to people. He mistreats everyone. Now he has an empire -- in every meaning of the word."
CNNMoney investigated 20 years of internet records using DomainTools, which tracks registrations and transfers. Some are obvious choices he acquired long ago, like TrumpOrganization.com and TrumpBuilding.org.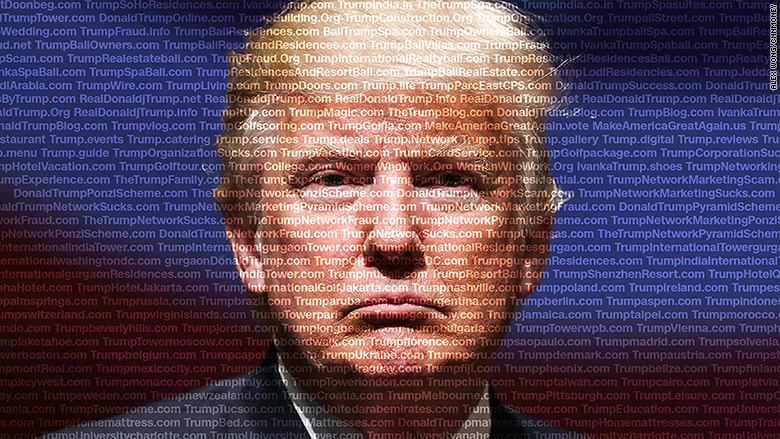 But Trump has also grabbed names that could be used against him, including TrumpFraud.org and TrumpScam.com.
The White House did not respond to CNNMoney's questions about his collection of domains. But the Trump Organization issued a statement on Tuesday.
"Unfortunately cyber squatting, publishing false content and the use of 'negative' domain names is a serious issue facing all large companies around the world," said company spokeswoman Amanda Miller. "We take the protection of our corporate identity and our intellectual property very seriously... this includes trademarking both positive and negative domain names and taking firm legal action when necessary to protect our name and intellectual property."
Trump has a history of buying site names before he needs them.
For example, he bought TrumpNetwork.com in 2007 in preparation to launch a multi-level marketing company, in the style of Amway and Herbalife. This is a controversial type of business that offers people the promise of self-employment and high salary as long as they recruit others -- who in turn must find even more recruits.
MLMs, as they're called, are often accused of being pyramid schemes. Trump saw that coming.
In the months before he launched Trump Network in 2009, he acquired TrumpMultiLevelMarketing.com, TrumpNetworkFraud.com, TrumpNetworkPyramidScheme.com, TrumpNetworkPonziScheme.com and 15 similar iterations. He sold the business in 2012.
"Whoever bought those domains was already thinking those allegations might be raised. Most reputable organizations do not go out and buy these kinds of websites. Most companies are not going to engage in activities that would cause this kind of blowback," said Bruce Rubin, senior counselor at rbb Communications in Miami who is one of the top crisis public relations experts in the country.
Trump took similar measures to defend Trump University. He registered 157 versions for related operations across the United States and Puerto Rico. The for-profit series of real estate seminars was accused of fraud in 2010, and it closed in 2011. Two days before Trump was sworn in as president, he wrote a check for $25 million to settle fraud complaints against the school. Trump agreed to the settlement soon after the election.
Trump's public defense was that the school had a 98 percent approval rating. Indeed, he registered 98percentApproval.com in July 2013, just as the accusations were heating up.
"Digital breadcrumbs are constantly left by people who register domains. All of that is still tracked. People don't think about this," said Kyle Wilhoit, senior security researcher at DomainTools.
Trump -- known for being a litigious celebrity -- also bought ImBeingSuedByTheDonald.com in 2009.
"You're preparing yourself for defamation of character, that's why you would buy this," said Armando Martinez Jr., whose firm SpiderBoost specializes in "reputation management."
The way Trump bought domains also shows how he methodically planned his political rise. In 2012, the Trump Organization acquired VoteAgainstTrump.com, TrumpMustGo.com, and NoMoreTrump.com.
A few years later, Trump grabbed MakeAmericaGreatAgain.vote and MakeAmericaGreatAgain.us. Those purchases came two months before he announced his second presidential run in June 2015.
According to internet records, the registrant information for all of these 3,643 domains point back to The Trump Organization's general counsel. The listed contact information is an email address for the company's legal team.
The vast majority are just blank pages. Only 50 of these domains are unique websites for Trump businesses. Another 400 redirect you to Trump websites. And a handful take you to weird destinations. ChicagoTrumpLimo.com redirects you to a site that sells "Proud2bDeplorable" shirts. TrumpOnTheBeachOnline.net rents out a Washington, D.C. party bus.
His first website? DonaldjTrump.com, bought on January 20, 1997.
Then there's DonaldTrumpSucks.com. That domain originally belonged to Dan Parisi, an infamous cybersquatter who once ran WhiteHouse.com as a porn site. Parisi told CNNMoney that he let the TrumpSucks domain registration lapse. Trump grabbed it on Christmas Eve 2014.
But Parisi said he plans to soon turn WhiteHouse.com into "a voice of the people against the administration."