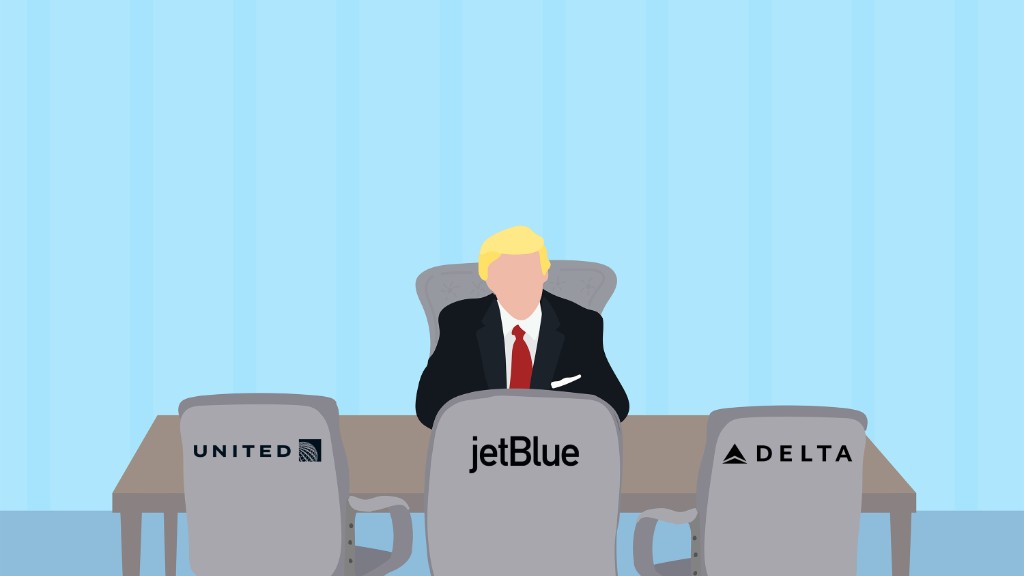 Business executives are feeling more confident with Donald Trump in the White House, according to an annual survey from JPMorgan Chase.
The survey found that 76% of the executives believe the new administration will have a positive impact on their businesses. The respondents cited the new administration's policy plans, including tax reform and reduced regulation.
Only 12% said they expect a negative impact.
The report, called the 2017 JPMorgan Chase & Co. Business Leaders Outlook, said that confidence in the economy has been growing since the election. Survey questions referred to the "new administration," not Trump by name.
Related: CNNMoney's Fear & Greed Index
The report said 80% of executives from middle market businesses are feeling confident about the U.S. economy, double the percentage from last year. The report said that 62% of small business executives are feeling confident, compared with 43% last year.
The report is based on a survey that ended January 20, the day Trump was inaugurated. But JPMorgan Chase senior economist Jim Glassman said the confidence isn't just about Trump. He said the year-to-year increase in confidence also reflects an absence of market turmoil compared with January 2016, when stocks dropped because of crashing oil prices and turbulence in China.
"You were catching people at a time of significant worry," said Glassman of last year's survey. "It's not surprising to me that they were pretty glum when we took the survey in January [2016]."
Related: Mexican minister vows retaliation if Trump imposes tariffs
Trump ran his campaign on promises to cut taxes, ramp up spending on infrastructure and beef up the military. He has vowed to increase manufacturing jobs, and has threatened to impose tariffs on some importers and penalize U.S. companies that outsource manufacturing jobs overseas. He also said he will dismantle the Affordable Care Act, known as Obamacare.
When asked what should be the top goal of government, JPMorgan respondents said that reducing regulations should be first, followed by lowering taxes and improving infrastructure.
The majority of respondents, 57%, said they planned to hire more full-time employees in the coming year, an increase of 8 percentage points from last year. And 71% said they plan to raise compensation, an increase of 10 points from last year.
Related: Small business confidence makes biggest gain since 1980
At the same time, they're worried that they won't find the skilled workers they need. Some 38% of respondents said they're "extremely or very concerned" about finding people with the right skill sets. Technical and trade skills were the "most absent," according to 43% of the executives, a slight increase from last year. Hard-to-find talent also includes workers with managerial and communication skills.
Trump's threats to eliminate Obamacare got a mixed reaction in the JPMorgan survey. Of the middle market executives, 44% said their health care costs have increased by 10% or more over the past year. But only 30% of them want Obamacare reduced or eliminated. Health care has been their top regulatory concern for the last three years.
Related: Why President Trump is bad for the gun industry
These findings are similar to the post-election reports from the National Federation of Independent Businesses. The NFIB said in January that small business optimism notched up to its highest level since December 2004, "suggesting that the post-election surge has staying power."