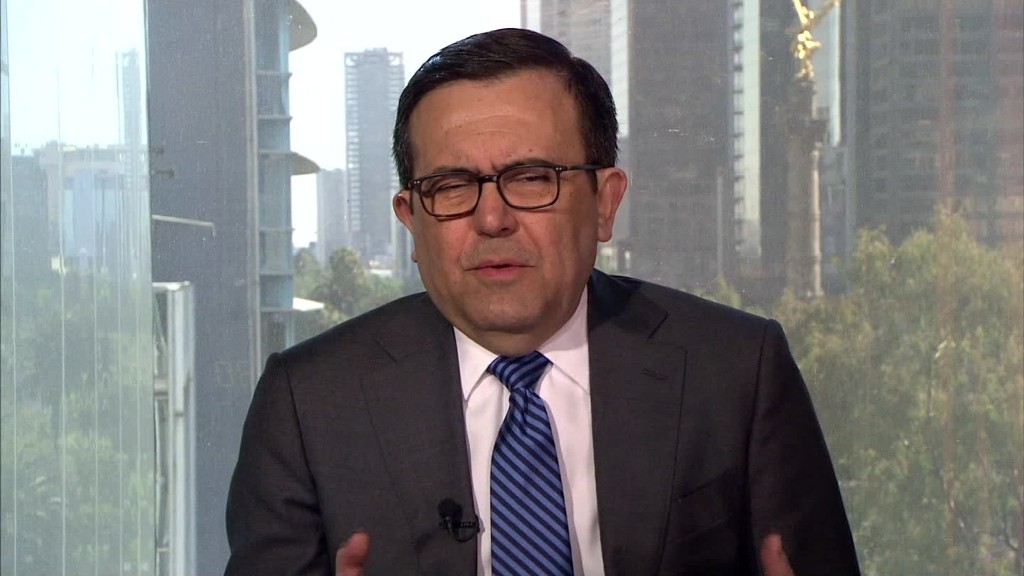 A prominent Mexican senator wants to remind President Trump of the benefits of free trade -- by taking a big one away from the U.S.
Senator Armando Rios introduced a bill that would drastically cut down Mexico's purchases of U.S. corn.
Mexico bought nearly 25% of all U.S. corn last year, totaling $2.6 billion. It's the second biggest market in the world for U.S. corn only behind Japan.
Trump says NAFTA, the free trade deal with Mexico and Canada, has been a "one-sided deal" in which Mexico has won and America has lost.
Rios disagrees.
"The position of Donald Trump is a mistaken one and it's a lying one," Rios told CNNMoney Wednesday. "They have been insisting that Mexico takes advantage of the U.S. regarding NAFTA and that's totally false... It's a big lie, so there is a good way to show that this is not true."
That way would be to cut off imports of U.S. corn. In his bill, Rios says Mexico would reduce its imports of U.S. corn by 60% in the first year, 80% in the second and 100% by the third year.
The bill's chances of becoming law are unclear, but Rios said that the bill already has the support of several senators from political parties that control Mexico's Congress.
Rios' bill is Mexico's most concrete sign of potential retaliation against the U.S. if Trump follows through on his threats against Mexico.
Trump threatens to make Mexico pay for a border wall, to potentially slap tariffs on Mexican goods and to withdraw from NAFTA.
Related: Mexico is already pivoting away from the U.S.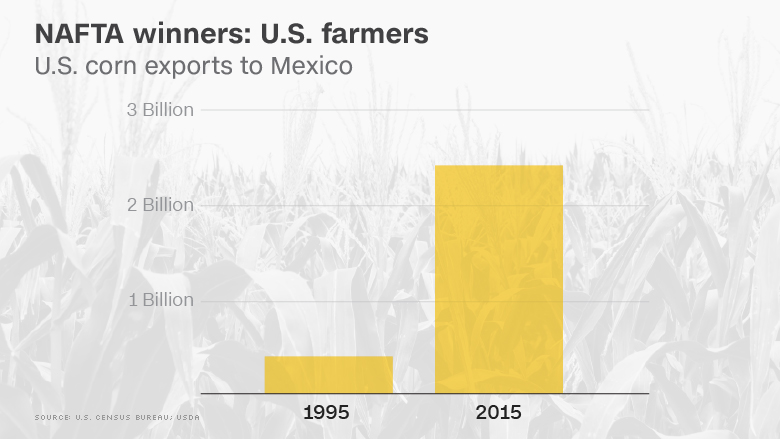 Rios' bill also reflects a broader push in Mexico to diversify its economy away from the U.S. and sign new or revised trade deals with nations in Latin America and Asia as well as the European Union.
"Right now we have hostile position from the U.S. and we have all our eggs in the same basket, so we should probably start diversifying in the short term," Rios said.
U.S. corn farmers say that any disruption to their access to the Mexican market would be detrimental to their business and would likely cost farming jobs in America.
Related: Mexico's economic minister warns Trump: tariffs 'will be a big mistake'
Rios' bill "does highlight how important it is to stress to our Mexican corn...and meat buyers that we appreciate their business and want to continue our strong working relationship with them," says Kurt Hora, president of the Iowa Corn Growers Association and a corn farmer in Washington, Iowa.
The legislation comes as U.S. Secretary of State Rex Tillerson arrives in Mexico City Wednesday to meet with President Enrique Pena Nieto. Treasury Secretary Steve Mnuchin also spoke with Mexico's finance minister, Jose Antonio Meade, on Tuesday to shore up ties.
Corn is a staple food to the Mexican diet, and is a favored ingredient in dishes like tacos, tortillas and quesadillas. Mexico cultivated the crop for thousands of years, but its production drastically declined after NAFTA became law in 1994 because NAFTA gave U.S. farmers free access to the Mexican market. Small and mid-size Mexican farmers couldn't compete in that environment and had to abandon their farms.
Rios says it's time for Mexico to "stop giving these benefits that this [Trump] administration wants to ignore."