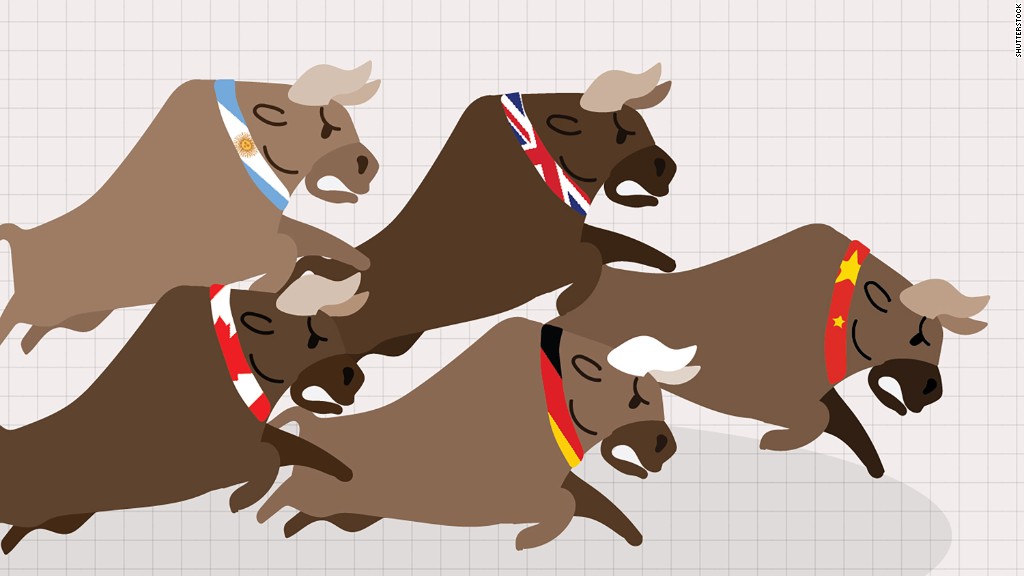 Nothing's Gonna Stop Us Now was the name of a hit song by Starship way back in 1987. And that seems like an appropriate rallying cry for Wall Street bulls now that the Dow has just matched of best streak of consecutive records since...1987.
The Dow finished with a more than 30 point gain Thursday and hit its tenth record closing high in a row.
The Dow has had several 10-day winning streaks in the past few years, most recently in March 2013, according to data from Bespoke Investment Group.
But what makes this rally truly historic is the fact that the market is also continuing to hit new highs during this epic run. That hasn't happened since Ronald Reagan's second term.
The Dow wound up hitting 12 consecutive records in January of 1987, and it went up 13 straight days overall.
Of course, market historians might ominously note that 1987 was also the year that the stock market suffered its worst one-day drop ever, the infamous Black Monday of October 19, a 508-point plunge that wiped out nearly 23% of the index's value.
That ultimately turned out to be a blip in a bull market that didn't end until 2000, but it was a scary drop nonetheless.
Related: Has the stock market gone too far too fast?
Still, few investors are worried that another crash is on the horizon.
CNNMoney's Fear & Greed Index, which looks at seven measures of market sentiment, is showing signs of Extreme Greed.
Hopes for tax cuts and a rollback on regulations from President Trump and the Republican-led Congress are helping to fuel the rally.
Comments from Treasury Secretary Steven Mnuchin on CNBC Thursday morning about a tax plan passing Congress by August helped keep the rally going.
Investors are also excited about the potential for a big federal infrastructure spending plan that could put people to work building new roads and bridges.
Related: Trump to meet with top US manufacturers
The Dow is now up 5% this year, and the rally has been led by banks, tech stocks, retailers and industrial firms.
Shares of Goldman Sachs (GS), JPMorgan Chase (JPM), Visa (V), Apple (AAPL), Cisco (CSCO), Nike (NKE), Home Depot (HD) and Boeing (BA) are among the top performers.
But the Dow has actually lagged the performance of the broader S&P 500 and Nasdaq in 2017. And both of those indexes had their own winning streaks snapped on Wednesday. The Nasdaq was lower again on Thursday too while the S&P 500 finished flat.