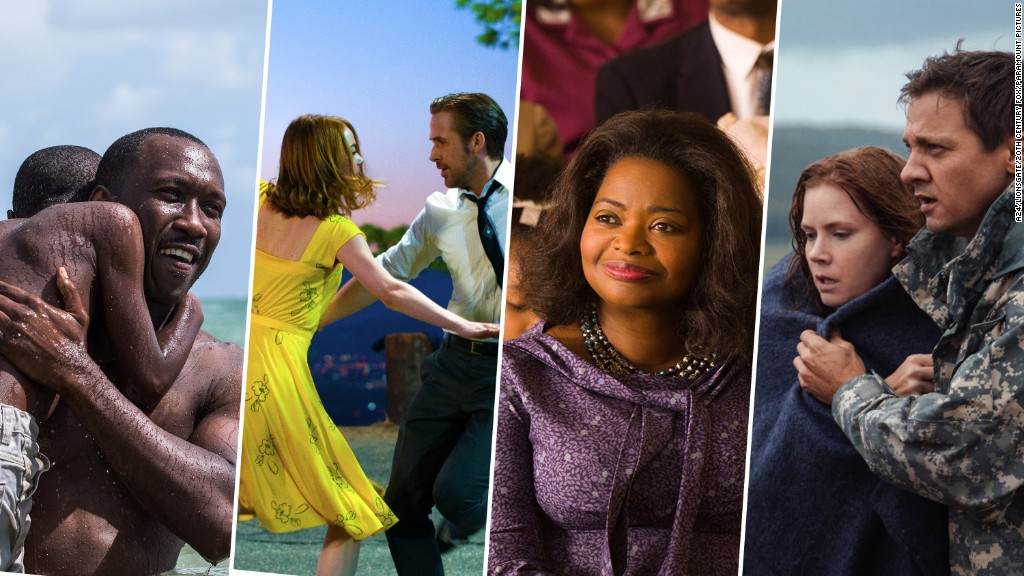 Two streaming services and one television network went home with Oscar statuettes on Sunday night.
The historic wins for Amazon, Netflix and ESPN showcase the evolving and expanding shape of the movie business.
Netflix (NFLX) and Amazon (AMZN) have been investing heavily in feature films and documentaries to retain and gain subscribers.
With Amazon CEO Jeff Bezos in the audience at the Kodak Theatre, the Amazon Studios film "Manchester by the Sea" picked up the Oscar for best original screenplay, and the film's star Casey Affleck won the lead actor prize.
Amazon also has U.S. distribution rights to "The Salesman," from the Iranian filmmaker Asghar Farhadi, which won best foreign-language film. Farhadi boycotted the Oscars to protest President Trump's attempted travel ban.
Related: PwC apologizes for best picture mix-up at Oscars
On Monday morning, Amazon's home page celebrated the trio of wins. The company's Prime Video service will start streaming "Manchester by the Sea" in May and "The Salesman" this summer.
Amazon's chief streaming rival, Netflix, also earned its first Academy Award on Sunday night. "The White Helmets," which is currently streaming on the service, won the Oscar for best documentary short.
Some viewers were motivated to look up the 40-minute film, which follows volunteer rescue workers in Syria: One hour after the win, "The White Helmets" was the top trending search in the United States, according to Google.
ESPN won an Oscar for a much longer documentary: the seven-hour-47-minute miniseries "O.J.: Made in America."
Related: Oscars: Full list of winners
The O.J. Simpson series was featured on TV, but it was screened in movie theaters in New York and Los Angeles to qualify for an Oscar nomination. Industry insiders debated whether it was really a film or a TV series since it straddled the line.
On Sunday night, it became the longest film to ever win an Academy Award.
"O.J." was part of ESPN's "30 for 30" brand.
"When we created ESPN Films 10 years ago, we never dreamed we would be accepted by the film community in this way," ESPN senior vice president Connor Schell said in a statement.
ESPN president John Skipper sent out a companywide memo on Sunday night celebrating the win.
"I imagine many would have scoffed at the idea that ESPN would be taken seriously in the Academy Award conversation but now it is a reality, and the fact that we have built up such a strong leadership presence in this space is a credit to all of you," Skipper wrote.
ESPN2 will re-air the documentary in its entirety this week.