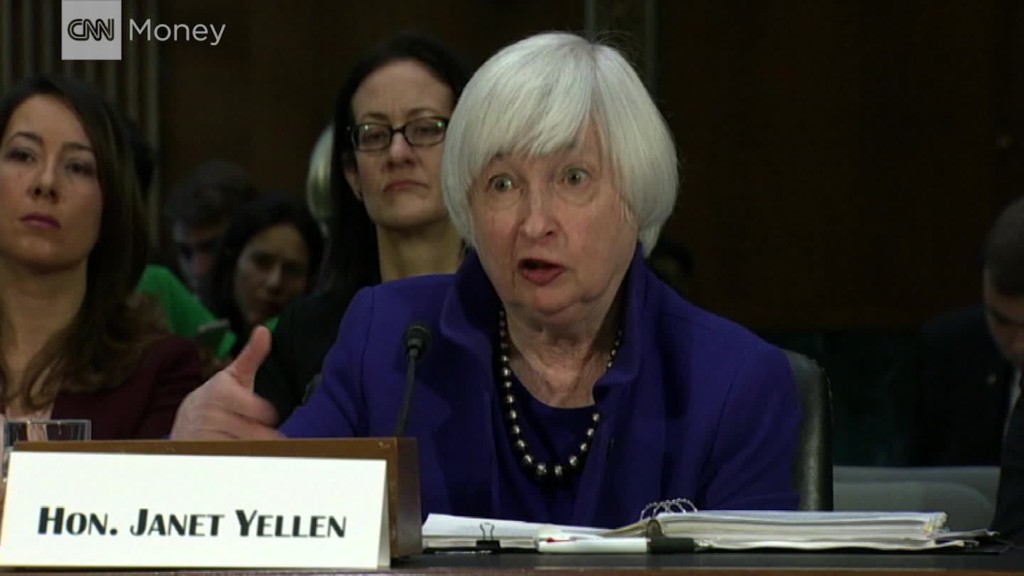 American banks raked in record profits last year as they continue to rebound from the meltdown of 2008.
Not only did the banking industry notch its third year of record profits in the past four, but FDIC statistics published this week showed that loan growth was strong and the number of "problem banks" fell to a seven-year low.
The strong 2016 results stand in contrast with the dark picture painted by President Trump and Republicans who want to rip up financial regulation.
Trump has vowed to "do a big number" on Dodd-Frank, calling the 2010 reform law a "disaster." He recently signed an executive order that began the process of dialing back bank regulation.
But the $171.3 billion in profits banks generated last year suggest many are doing just fine. And Democrats are likely to lean on those numbers as they seek to protect Dodd-Frank from being dismantled.
In fact, the FDIC said that out of 5,913 insured institutions, 59% of them generated profits in the fourth quarter of last year. The percentage of banks suffering losses dipped to 8.1%.
"The American banking system has certainly come back from the financial crisis. Things aren't as bad as people would like to suggest," said Nathan Dean, a financial policy analyst at Bloomberg Intelligence.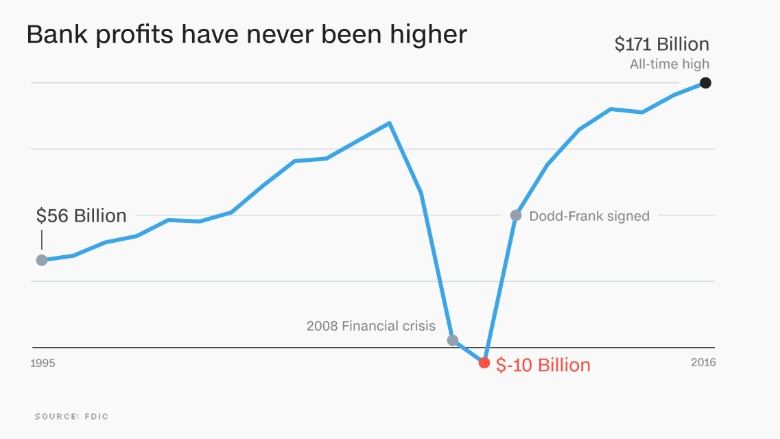 Others argue that banks should actually be thanking Dodd-Frank for their financial fortunes.
"The fact is that record profits of this period rest in significant part on the renewed confidence in finance -- and that rests on Dodd-Frank," said Robert Shapiro, who advised the Obama and Clinton administrations.
He pointed to the lighter regulation in Europe and the struggles of lenders there, particularly in Spain, Italy and Germany.
"Far from being a burden, regulation has benefited finance," said Shapiro, a senior fellow at Georgetown's McDonough School of Business.
Related: Trump vows to 'do a big number' on Dodd-Frank
Federal Reserve Chairman Janet Yellen recently pushed back on the argument that Dodd-Frank has made American banks less competitive.
U.S. banks are "quite profitable" and considered "quite strong relative to their counterparts," Yellen told Congress last month. Yellen credited the fact that American banks quickly built up capital after the crisis, "as a result of our insistence they do so."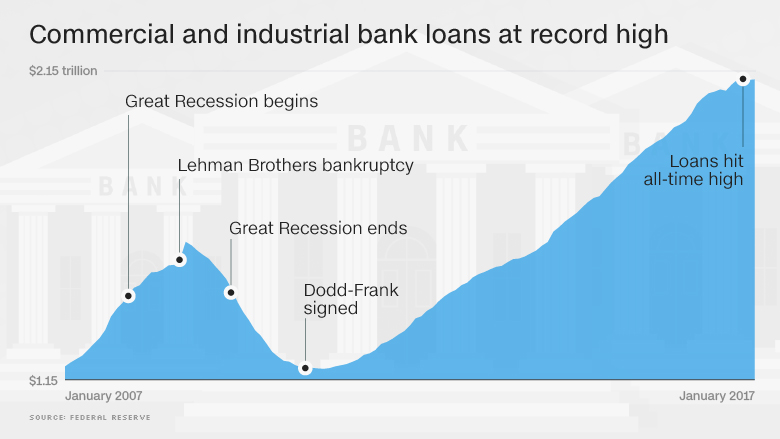 Of course, none of this means that Dodd-Frank is perfect and U.S. banks don't have obstacles.
FDIC Chairman Martin Gruenberg said in the report that while the banking industry enjoyed "another largely positive quarter," the operating environment for banks "remains challenging."
In particular, banks have suffered from almost a decade of near-zero interest rates, which makes it harder for them to earn money. But bank stocks have risen lately in part due to signs that the Fed is moving to raise rates more quickly.
And there's community banks. Even Dodd-Frank co-author Barney Frank admits the reform law may have been too hard on community lenders. The former Democratic congressman recently told CNNMoney that community and midsize banks need relief from the heavy legal costs they incurred from Dodd-Frank.
The American Bankers Association, an industry group, put out a statement in response to the FDIC report that acknowledged the "solid performance" of banks in 2016.
Related: Yellen debunks Trump's case for killing Dodd-Frank
However, ABA chief economist James Chessen blamed "regulatory pressures and greater capital requirements" for forcing 251 bank mergers last year.
"The underlying regulatory pressures driving community banks to sell or merge can't be ignored," Chessen said, adding that there needs to be a "tailored system of regulation."
But community banks didn't perform poorly last year. The FDIC said community bank profits jumped 10.5% in the fourth quarter as revenue and loan growth outpaced the rest of the industry.