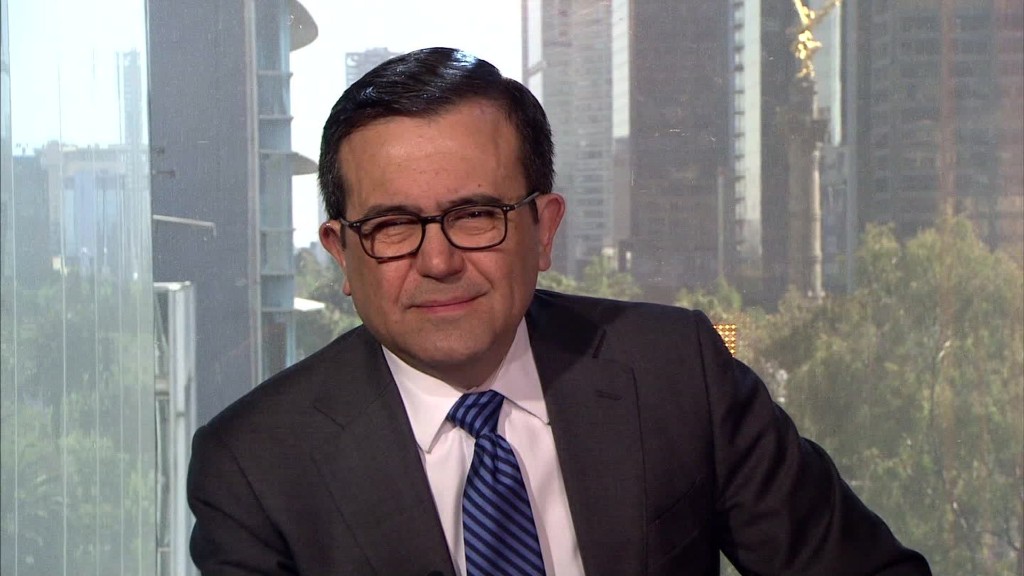 America's top trade negotiator is giving Mexico's battered currency a boost.
Commerce Secretary Wilbur Ross said Friday that the peso should recover if the United States and Mexico reach a new trade agreement.
"I believe that if we and the Mexicans make a very sensible trade agreement, the Mexican peso will recover quite a lot," Ross told CNBC.
The Mexican currency shot up as much as 2.4%, a major gain for one of the world's most traded currencies, before falling a bit.
The peso plunged after President Trump won the election. The Mexican economy relies heavily on trade and investment from the United States, and Trump has threatened to build a border wall, slap tariffs on Mexican goods and withdraw from NAFTA, the free trade agreement with Canada and Mexico.
Related: Trump administration: We may ignore the World Trade Organization
But Ross is Trump's top negotiator, and his comments Friday eased investors' concerns about the administration's trade agenda.
Trump blames NAFTA for a flood of manufacturing jobs from the United States to Mexico, and Ross echoed that sentiment.
But while Trump has called NAFTA a "one-sided deal," under which Mexico wins and the United States loses, Ross acknowledged that Mexican workers haven't reaped major wage gains from the trade agreement.
"The minimum wage for the peso has barely gone up in peso terms," Ross said. "Mexican workers are not really better off than they were some time ago."
Ross also said the two countries should consider mechanisms to stabilize the relationship between the peso and the dollar.
As an example, Ross recalled when the United States established lines of credit for Mexico in 1994 and 1995, when the peso was severely declining.
"I think we need to also think about some other mechanisms for making the peso-dollar exchange rate a bit more stable," Ross said.