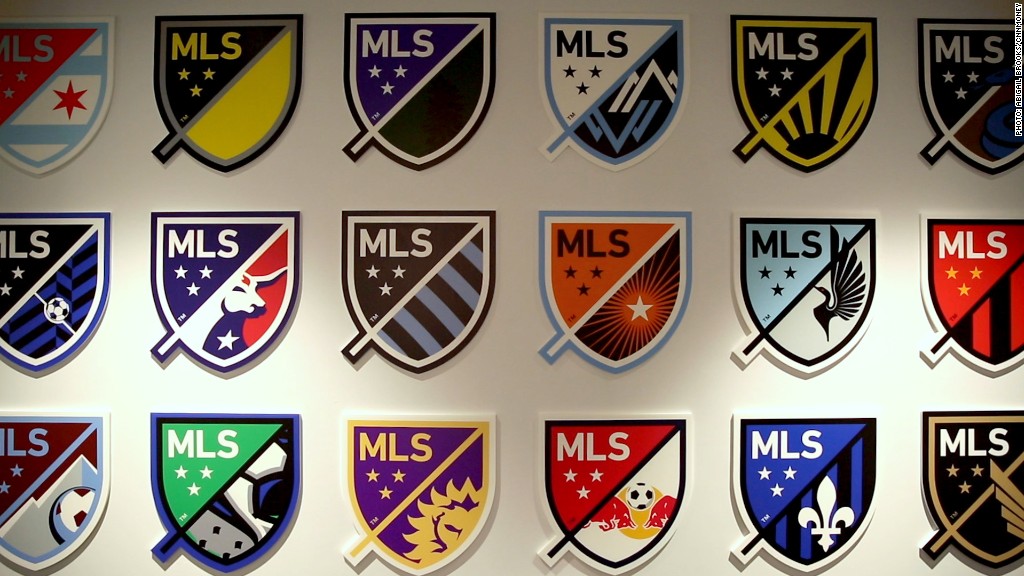 MLS teams are worth an average of $185 million -- that's up 80% from four years ago.
The boost in value comes as the league pushes to position itself as truly major -- as important and popular as the NFL, the NBA, MLB and the NHL.
That's no small feat. While other U.S. leagues represent the pinnacle of talent and play for their sports, MLS has to compete with international soccer leagues that are more established.
But commissioner Don Garber thinks MLS, which kicks off Friday, has a unique selling point when it comes to courting players -- the chance to live in the U.S. or Canada.
"Many of our players are coming from places where it's not as easy to live, and they might not have the same economic opportunities, or the same educational opportunities for their families," Garber said.
The league has also focused on building homegrown players.
"There's a movement, a soccer movement. Both with boys and girls," he said. "Boys and girls play together as a young age. Same ball, same field, same rules. That's very appropriate for our country, as with gender equality."
Garber said the league is focused on getting kids to start young, and that its clubs have spent "tens of millions of dollars of investment" in soccer academies for younger players.
Related: Carli Lloyd and Alex Morgan head overseas amid US fight for 'Equal Play, Equal Pay'
Garber has been at the helm of MLS since 1999. Back then there were 12 teams. Now there are 22.
L.A. is set to debut a second team in 2018. Miami is expected to launch a 24th team with backing from soccer legend David Beckham. And twelve cities are currently bidding for the right to start four new teams. Likely locations include San Diego, St. Louis and Detroit.
That's another area where MLS has grown -- expansion teams have increased in value to about $150 million.
"I'd like to think I played a big role in that. At least I hope my owners believe that I did," Garber said. "It has been a slow, steady strategy. ... Bringing David Beckham, getting the television deals, bringing new corporate partners, and that got us to a new level."
The league is also finalizing a deal with a social media company to broadcast content online and reach a broader audience -- something the NFL, NBA and even eSports companies have done.
Demand for pro-soccer tickets is also on the rise. In fact, the league has the fastest growing market for resale tickets, according to SeatGeek, which partnered with MLS in July. Atlanta's new team sold 30,000 season tickets alone.
Related: Cristiano Ronaldo is the third athlete to sign Nike 'lifetime' deal
To fuel that growth, Garber is drawing on his 20 years of experience with the NFL.
"What it really taught me is that sports teams and their players need to be deeply embedded in the community," he said, adding that players visit children's hospitals and volunteer in their local communities.
The league can also count on the fact that "Spanish language coverage of our league is part of our DNA," said Garber, who adds that 35% of his fan base is Hispanic. "We don't have to have a special Hispanic soccer month."
Young people are also a big demographic for U.S. soccer.
"So, when you deal with Millennials and Hispanics, two really important demographics in our country and drivers of commerce and drivers of entertainment," he said, "That's a good thing."