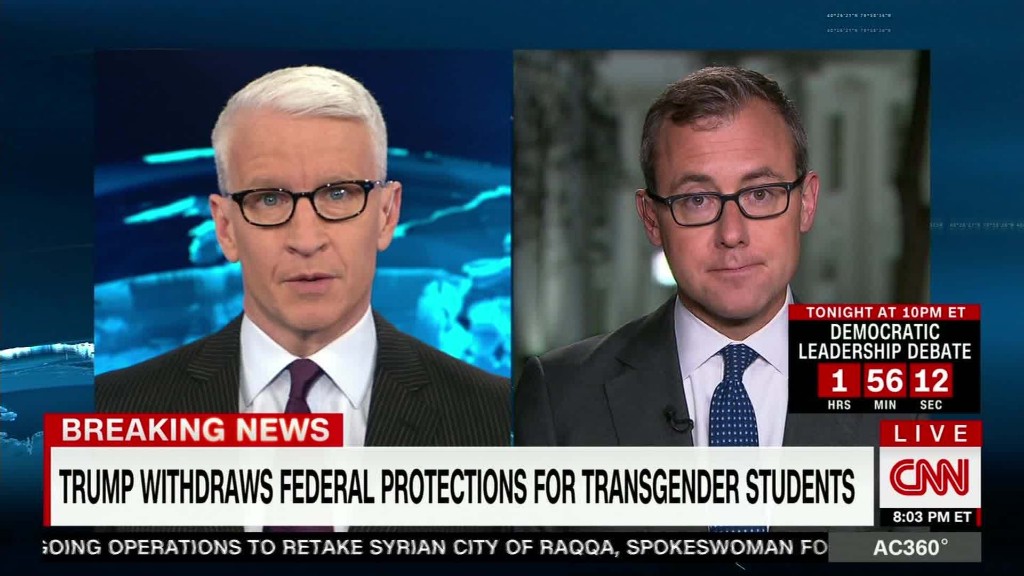 Yelp is using its product to take a stance on transgender rights.
On Friday, the ratings and review platform announced that a new feature will make it possible to discover which businesses offer gender neutral restrooms for customers.
It defines "gender neutral" as a locking, single-stall bathroom accessible to any gender, according to a blog post from Rachel Williams, Yelp's (YELP) head of diversity and inclusion.
The company will crowdsource the information, allowing businesses to self report, and will also collect data from customers who are checking into or reviewing businesses on the platform.
Within a few weeks, people will also be able to filter search results for businesses that offer this option.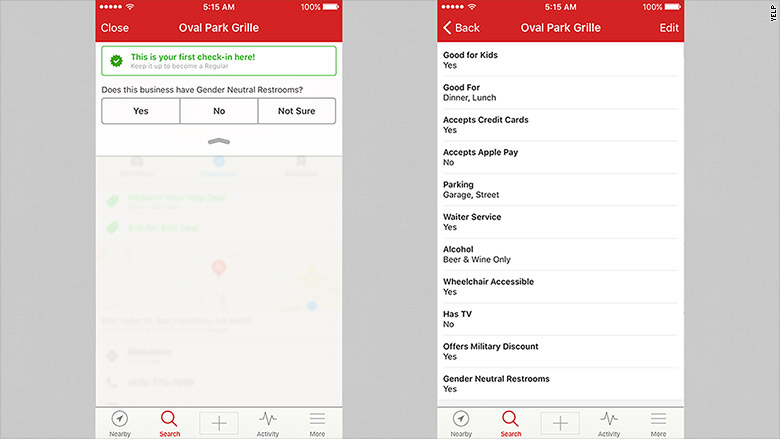 On Thursday, Yelp joined 52 other companies in signing onto an amicus brief supporting 17-year-old transgender student Gavin Grimm. Grimm was barred from using the men's bathroom at a Virginia high school. Grimm's case is set to be heard by the Supreme Court later this month and could set a new legal standard about whether transgender people are protected under Title IX.
Related: Apple, Microsoft, Paypal join legal fight for trans rights
Last month, the Trump administration withdrew Obama-era protections for trans students in public schools that let them use bathrooms and facilities corresponding with their gender identity. At the time, tech companies like Apple (AAPL), Microsoft, (MSFT) Google (GOOG) were quick to condemn the move, calling it an effort to limit the rights and protections of trans people.
The tech industry vocally disavowed North Carolina's controversial bathroom law last year. And Yelp CEO and cofounder Jeremy Stoppelman has written open letters in the past criticizing states like Indiana for enacting laws that would allow for discriminatory practices against consumers.
"Protecting the consumer has been -- and will continue to be -- our main priority," he wrote in a letter to Arizona Governor Jan Brewer in 2014, protesting a controversial Arizona bill that many called anti-gay. "I believe that every consumer has a right to be served by a business without fear of discrimination."