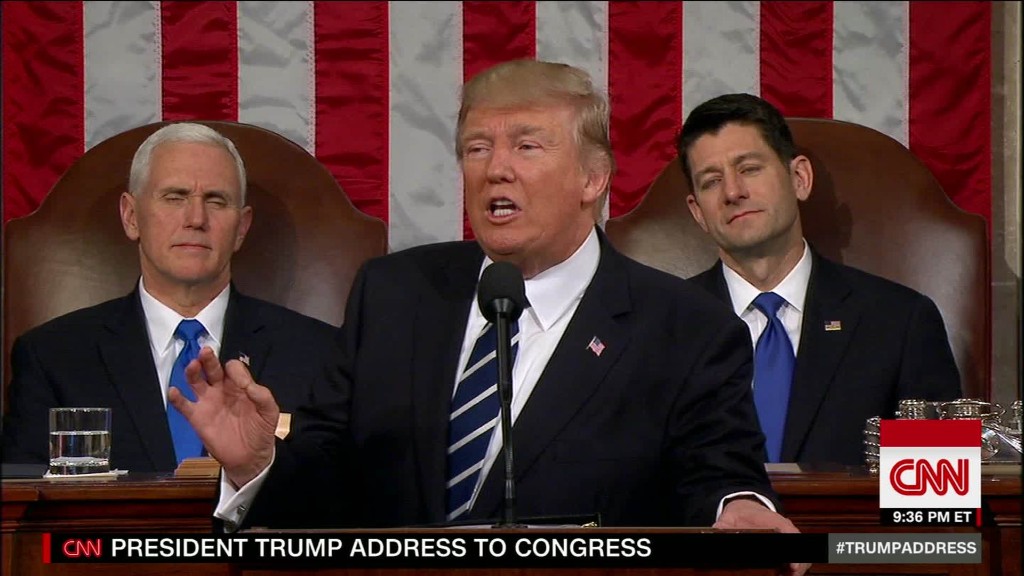 President Trump's restrictive immigration policies are a mistake, say the vast majority of economists at America's major corporations.
The National Association of Business Economics (NABE) surveyed 285 economists at America's big companies like Wells Fargo (WFC), AT&T (T) and FedEx (FDX) shortly after Trump took office.
The economists were asked what they thought of Trump's policies. The response was clear: They disagree with Trump on immigration, NAFTA and how to handle the debt.
Unlike Trump, these business experts favor "relaxed immigration policies" to boost the economy.
Nearly half (49%) support an increase in U.S. immigration. Another 27% don't think Trump should make any changes to immigration policy. In other words, 216 leading business economists don't think the U.S. needs to crack down on the number of people coming into America.
"Panelists especially favor expanding the H-1B visa program for high-skill workers," says Richard DeKaser, corporate economist at Wells Fargo and NABE survey chair. Businesses continue to complain that they cannot find enough skilled workers.
Related: Trump's latest H-1B move has businesses worried
Why economists favor more immigration
Last week, Trump proposed the idea of a merit-based immigration system similar to Canada and Australia's where people with more degrees and specialized skills would get priority to get into the U.S. The NABE survey didn't ask specifically about that kind of a system, but the general view of business economists is that fixing the H-1B visa should be the priority of Congress and the White House, not going after illegal immigrants already in the U.S.
Only 5% of the economists surveyed believe the U.S. should spend more to deport illegal immigrants.
The Trump administration is currently trying to hire 15,000 additional immigration and border control agents. U.S. Immigration and Customs Enforcement (ICE) officials have arrested hundreds of illegal immigrants since Trump took office.
Countries prosper when they a) have more workers and b) have more productive workers. The U.S. fertility rate just hit the lowest level on record in 2016, meaning U.S. population growth is slowing. That's why many economists think the U.S. needs more immigration, not less, to make up for fewer American families having children.
Related: Rust Belt voters made Trump president. Now they want jobs
Many economists believe Trump will add to debt
It's not just Trump's immigration policies that worry top business economists. A large majority (78%) of the survey respondents expect Trump to add to the U.S. debt by spending far more than his government takes in through taxes and other revenues.
Most economists want Congress and the White House to focus on reducing the federal deficit and debt. They think the way to do that is to cut or tweak Social Security and Medicare. But Trump has promised not to touch those two programs, which make up about a third of federal spending.
"Most panelists would prefer to see the deficit shrink," says NABE president Stuart Mackintosh.
The business community is also alarmed by Trump's push to erect trade barriers and redo the North America Free Trade Agreement (NAFTA) with Mexico and Canada. Most survey respondents "clearly support" NAFTA, and nearly 7 out of 10 economists said trade barriers like tariffs should occur only "occasionally and tactically."