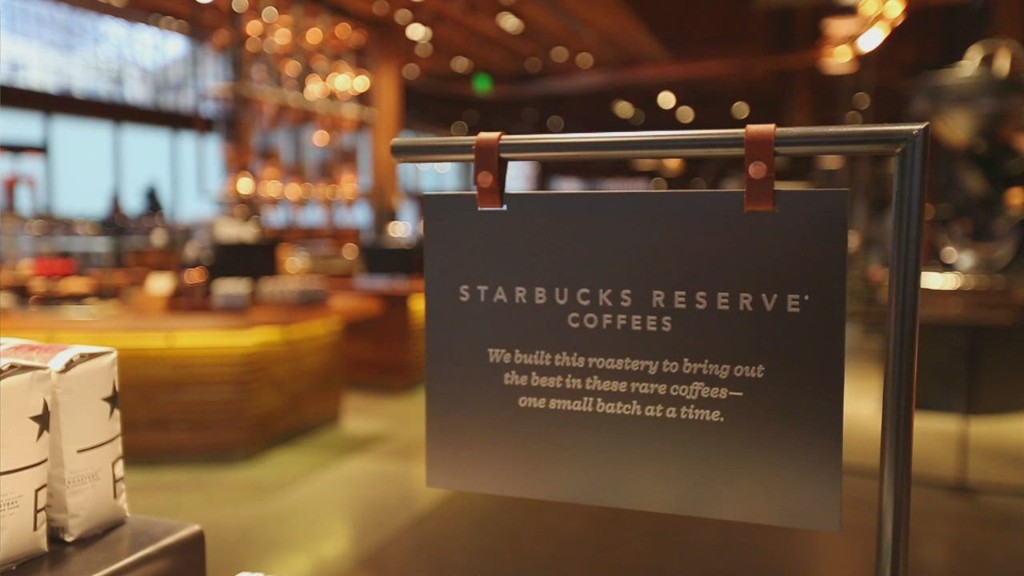 I like my liquor brown and my coffee black. I'm sure I'm not alone. And that's probably why Starbucks now has a special new beverage for fans of whiskey and strong java.
Starbucks announced Monday that its Roastery store in Seattle has begun selling two new specialty drinks made from beans aged in whiskey barrels. Starbucks will be selling bags of those coffee beans as well.
The company said its Starbucks Reserve Whiskey Barrel Aged Sulawesi beans are aged in "freshly emptied" oak barrels from a local distiller in Washington State -- Woodinville Whiskey, Co. (I'd like to be the guy that helps to freshly empty the barrels!)
Starbucks (SBUX) said the beans are "hand-rotated frequently" over a period of several weeks to make sure they all come into contact with the barrel and absorb the flavor of the whiskey.
The roasting burns off the actual alcohol. But Starbucks says that the whiskey flavor and smell remains.
"You get those earthy notes mingling with the oak to create a cup that's unlike any other," said Duane Thompson, a member of the Starbucks beverage R&D team, in a release about the new coffee.
The Seattle roastery will sell two specialty drinks -- a cold brew sweetened with vanilla syrup in a sidecar glass -- as well as a hot "con crema" drink that features the coffee mixed with the vanilla syrup and topped with sugar and foam.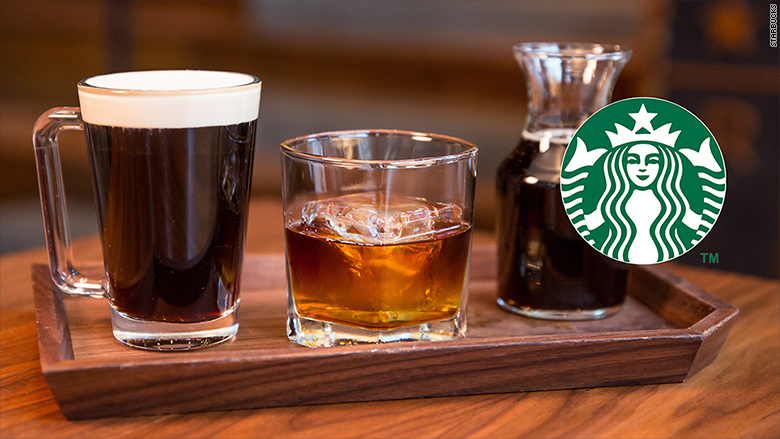 But if you don't live near Seattle and aren't able to make a trip to the 206 just to try these whiskey-infused coffees, take heart. There are some other liquor-coffee hybrids available.
Jack Daniel's has a special Tennessee Whiskey Coffee that it launched last December. Brown-Forman (BFB), the owner of Jack Daniel's, partnered with New Jersey-based World of Coffee on it.
Related: Starbucks got approval in 2016 to sell alcohol in five Utah stores
Death Wish Coffee was selling Barrel Brand Coffee a few years ago -- coffee in four different varieties that are aged in whiskey, rye, rum and wine barrels.
A company in Colorado called Whiskey Barrel Coffee also sells coffee that, as its name implies, was aged in whiskey barrels.
It just makes me wonder if Jim Morrison of The Doors were still alive today (note to conspiracy theorists -- he's not) would he sing about needing to be shown the way to the next whiskey coffee bar? Oh. Don't ask why.
Of course, you could always just order an Irish coffee too. But that's preferably with some Baileys, Jameson or Bushmills -- and not American bourbon.