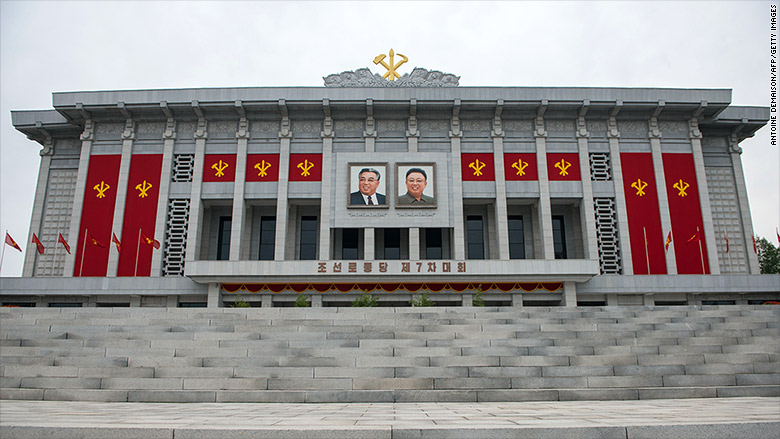 Three North Korean banks have been barred from the global messaging network that connects the world's financial institutions.
Their suspension highlights the continued efforts by the U.S. and its allies to cut North Korea off from the international financial system as Kim Jong Un's regime pursues its nuclear weapons program.
SWIFT, the global banking communications service, said Wednesday that it recently suspended the North Korean banks' access to its vast network, which connects more than 11,000 entities around the world.
Financial firms use SWIFT for millions of transactions each day, such as transferring money and settling trades.
What is not clear is why the North Korean banks were still able to operate in a mainstream part of the global financial system even though they had been blacklisted under U.N. sanctions -- in one case since January 2013.
The U.S. Treasury Department last year accused North Korea of being a hub for money laundering and prohibited American banks from dealing with front companies that do business on behalf of North Korean financial institutions.
Related: U.S. cracks down on North Korea's money laundering
The Treasury Department said that North Korea's financial institutions operate with little or no international supervision -- making it easier for them to shift money for illicit purposes. The North Korean government has been accused of using state-owned corporations and front companies to pay for nuclear weapons and ballistic missiles.
The blacklisted North Korean banks' continued access to the SWIFT network was revealed in a U.N. Security Council report released this month.
Related: Chinese firm fined $1.2 billion for sanctions violations
"Despite strengthened financial sanctions in 2016, the country's networks are adapting by using greater ingenuity in accessing formal banking channels, as well as bulk cash and gold transfers," U.N. experts said in the report.
North Korea also has been loosely linked to attacks on banks via the SWIFT network.
Security researchers said last year they believed a series of efforts to steal money from banks on the network used tools similar to those previously deployed by a sophisticated hacking group that has been linked to North Korea.
SWIFT, which is based in Belgium, said in a statement that it "has no authority to make sanctions decisions." It said that's down to the relevant government authorities -- in this case, Belgium.
Belgian authorities recently told SWIFT that they were withdrawing the authorizations that the North Korean banks needed to use the network's financial messaging services, SWIFT said.
Related: North Korea flouting sanctions with illegal arms trade, report says
The authorities cited "the current international situation" relating to North Korea and "the ongoing discussions in the UN Security Council," according to SWIFT.
The Belgian Finance Ministry didn't immediately respond to a request for comment. SWIFT declined to comment further.
The three blacklisted banks were Bank of East Land, Korea Kwangson Banking Corp. and Korea Daesong Bank, according to the U.N. report. Bank of East Land was blacklisted in January 2013, Korea Kwangson Banking Corp. in March 2016 and Korea Daesong Bank in November 2016.