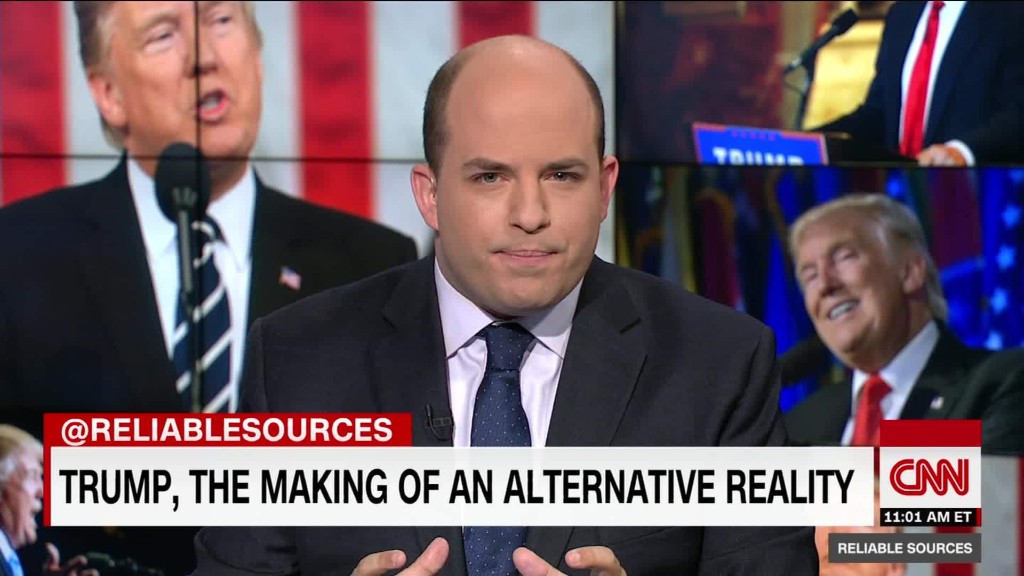 President Trump is selling the Republican health care bill, but many of his most stalwart boosters in the media aren't buying.
The revolt against the legislation, which Trump called "wonderful," constitutes the first major break between the president and the cohort of pundits and news outlets that have propped him up since the launch of his presidential campaign.
Breitbart News, where White House strategist Steve Bannon previously served as chairman, derisively labeled the bill "Obamacare 2.0."
Trump endorsed the bill on Tuesday after it was rolled out by Republicans in the House. Breitbart characterized it as "Paul Ryan's healthcare plan," a swipe at the House speaker, whom Trump himself has sometimes treated as an adversary.
On Tuesday, while Trump lobbied aggressively for the bill during a meeting with House Republicans, the right-wing website ran a story that decried the bill for removing "even Obamacare's weak protections preventing illegal aliens from signing up for health care meant for citizens."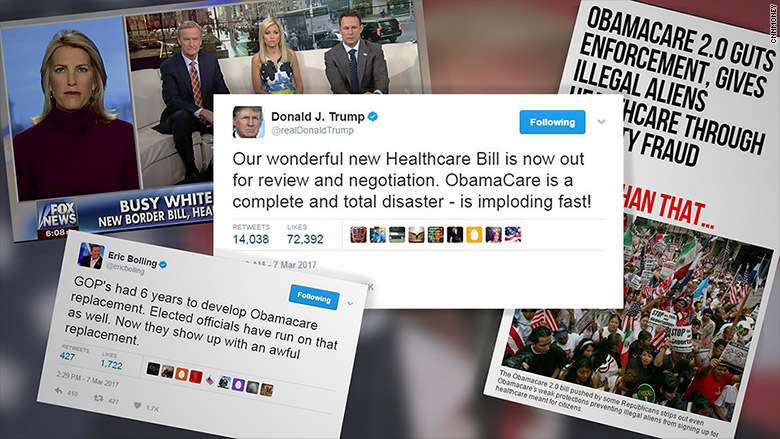 The opposition within Trump-friendly media reflects deep divisions that emerged within the Republican Party almost as soon as the bill was introduced. But it still represented a striking break.
During an appearance on "Fox & Friends" earlier Tuesday, conservative commentator Laura Ingraham, who was once considered for White House press secretary, complained that the GOP's health care bill lacked what she described as "Trumpism."
Ingraham said the bill didn't improve either "transparency in pricing" or "competition across state lines."
Watching from the White House, as he regularly does, Trump tweeted a response shortly after Ingraham's appearance.
"Don't worry," he said, "getting rid of state lines, which will promote competition, will be in phase 2 & 3 of healthcare rollout."
Related: Trump tweets and the TV news stories behind them
Other corners of the pro-Trump media have also registered their disappointment. The right-wing provocateur Ann Coulter, whose latest book was called "In Trump We Trust," wanted someone to blame.
"Who wrote this piece of crap Obamacare replacement bill?" she tweeted on Tuesday. "Please be specific."
Fox News host Eric Bolling, whose own book was enthusiastically endorsed by Trump last year, likewise spoke out against the bill.
"Just fix the damn thing," Bolling said on air Tuesday. "You've had six years to come up with a replacement. Fix it!"
Related: Birth of a conspiracy theory: How Trump's wiretap claim got started
Later in the evening, Breitbart published another story declaring that White House press secretary Sean Spicer had "inaccurately" claimed that the House GOP's bill amounted to a "full repeal of Obamacare."
The story detailed an apparently testy interview between Spicer and Breitbart reporter Matthew Boyle.
Spicer did not immediately respond to a request for comment. In the interview, after Boyle told him the bill fell short of a full repeal of Obamacare, Spicer said, "I don't care."
"Again, that's your -- that's not what the president thinks," the press secretary said. "That's not what Tom Price thinks. That's not what Mick Mulvaney thinks. So, say what you will, but that's the reality of this."