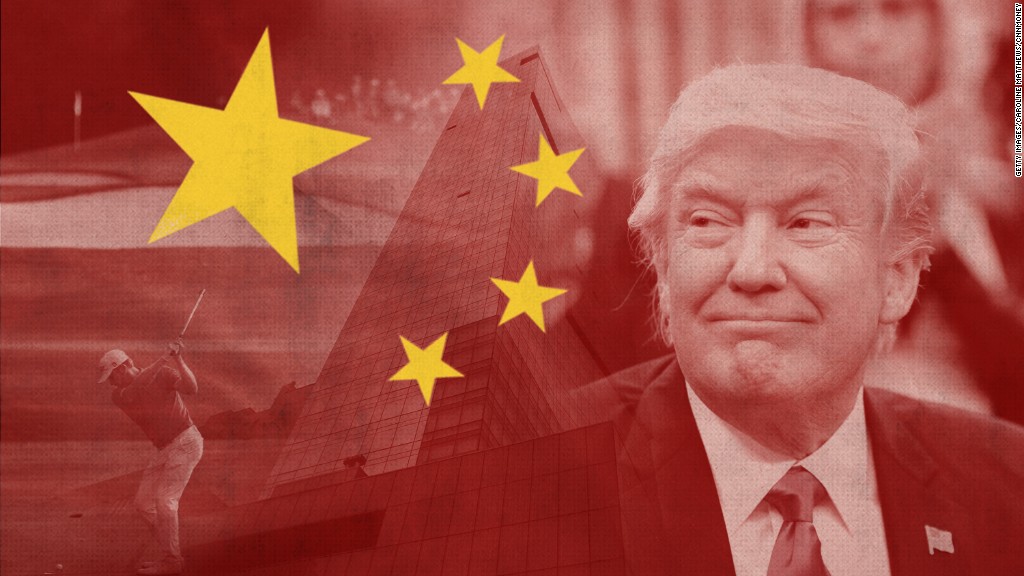 The Chinese government has granted preliminary approval for 35 Trump-related trademarks in businesses ranging from mining and construction to restaurants, hotels and golf courses.
Nine of the applications were approved on Feb. 27, and 26 were approved on Monday, according to Chinese trademark documents reviewed by CNN.
Donald Trump applied for 39 trademarks in China in April 2016, during the presidential campaign. Four were rejected last month, though it is unclear what was in those applications or why they were not approved.
Lawyers for the Trump Organization, President Trump's company, have told CNN that the business is simply trying to protect the Trump trademark from anyone who might improperly squat on it.
In a statement on Wednesday, Alan Garten, a Trump Organization lawyer, said the company has been "actively enforcing its intellectual property rights in China for more than a decade."
Geng Shuang, a spokesman for China's foreign ministry, declined to comment on the trademarks granted to Trump but said that Chinese authorities "consistently and equally protect domestic and international trademark holders' legal rights."
"They review trademark applications in accordance with Chinese laws and regulations," he added.
Trump's overseas business ties have been heavily scrutinized by ethics lawyers and Democratic lawmakers, who are concerned about conflicts of interest for the president. Trump declined to sell any of his business interests before taking office.
His attempts to secure trademarks in China attracted attention after the Chinese government granted a construction-related trademark in November. Trump had sought the trademark for years, but it wasn't granted until after he was elected.
Related: China grants Trump a trademark he's been seeking for a decade
Senator Ben Cardin, a Maryland Democrat, said Wednesday that he finds the trademark approvals a "major concern" that could violate the Constitution, which prohibits federal office holders from accepting any "present, emolument, office or title," from a foreign state.
Cardin claimed the timing of the approvals were a "deliberate decision" by China. He said he worries Trump "is jeopardizing the office of the presidency" by violating the Constitution.
Garten said the Trump Organization's "core real estate" trademarks have been registered in China since 2011, years before Trump announced his candidacy for office.
"The latest registrations are a natural result of those longstanding, diligent efforts and any suggestion to the contrary demonstrates a complete disregard of the facts as well as a lack of understanding of international trademark law," Garten said.
Related: What we know, and don't, about Trump's trust
The newest trademark protections were granted for several variations of the Trump name, including his full name in English, just the last name "Trump" in English, and two well-known Chinese translations of his name.
The approved trademarks cover a range of industries as varied as construction, mining, shipbuilding, shoe repair, restaurants, hotels, golf courses, day care centers, animal training, toy rental, advertising and financial services.
Trump was granted preliminary approval, meaning that objections to the trademarks can be raised for three months from the date that the authorities post their initial decisions online. If there are no objections, then the trademarks become officially registered in China.
The trademark approvals were first reported Wednesday by The Associated Press.
-- CNN's Serenitie Wang, Nanlin Fang, Nicole Gaouette and Steven Jiang contributed to this story.