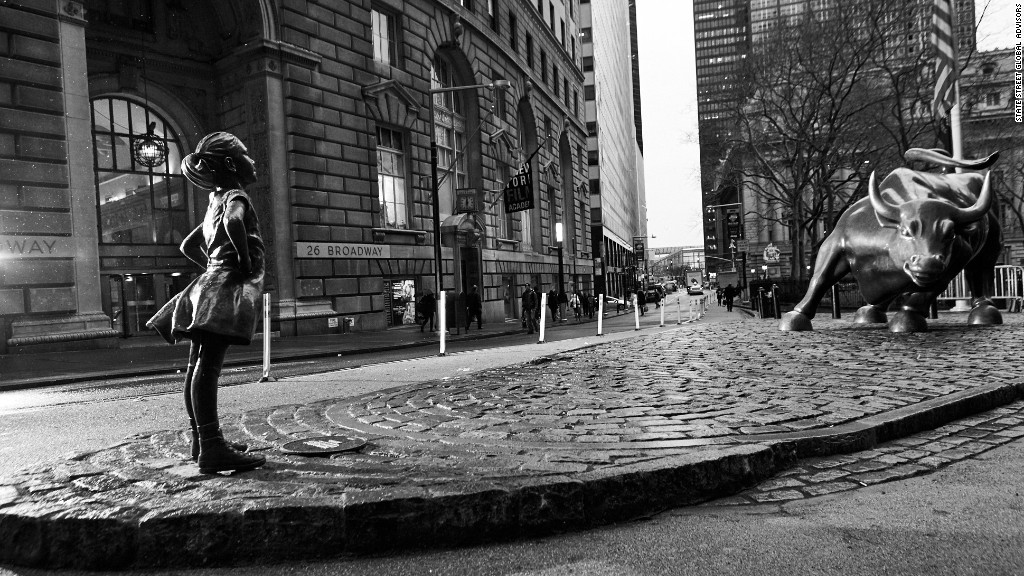 She's the most popular girl on Wall Street.
One woman went to see the "Fearless Girl" statue -- defiantly staring down the famous Wall Street bull -- on Wednesday after she heard about the statue from her child.
"My daughter called me at 6 a.m., and says 'You're in New York, you have to take a picture, you have to take a picture of the girl!"
"No matter what, no matter how big that bull is, women can defy all odds," she said.
Related: See more of the 'Fearless Girl' statue
"Fearless Girl" was installed Tuesday by State Street Global Advisors as part of the asset-manager's campaign to increase the number of women on their clients' corporate boards.
A group of women who work together also came to the financial district to see the statue on International Women's Day. "We really like the little girl standing up to the bull," one said.
A man who works nearby said, "I have two daughters and I thought it was pretty impressive that they have this up here."
Others snapped selfies with the girl, or posed for group photos next to the statue.
"Fearless Girl" wasn't the only one overwhelmed by attention. The woman who created her, artist Kristen Visbal, says she's been inundated with calls and emails from fans.
Visbal said that team behind the campaign,which includes the advertising agency McCann NY, approached her to design a statue of a young girl. "We were focusing on making a statement about the future of Wall Street," she said. "We wanted this wonderful contrast," she said, between the delicate child and the aggressive bull.
"I think the fact that she's a child makes the figure much more endearing."
Visbal was particularly moved by an image of young girl wearing a cape and posing beside the statue.
"The whole project is about girl power," she said. "I love that phrase, because it makes us a lot stronger if we are in unison."
Anne McNally, SSGA's head of public relations for North America, told CNNMoney that the group has a permit that allows the statue to remain in place for one week, but that they are seeking an extension that would keep "Fearless Girl" in place for a month.
"After that, it's up to the city," she said. "We would be very supportive of a permanent installation as a piece of art."
Many of the people who have reached out to Visbal are wondering how to keep the statue in place permanently. Some are asking if they can donate funds toward the cause, or sign a petition urging the city to let "Fearless Girl" stay.
Visbal said that she, SSGA and others involved in the project are working on a plan to keep the statue in place for at least a year. But they hope "Fearless Girl" will stick around for much longer. "Ultimately, the most successful outcome of this project would be for it to be permanently placed in front of our bull." For her, the statue represents a female outcry for inclusion -- a declaration "that we are here, that we are heard, that we are permanent."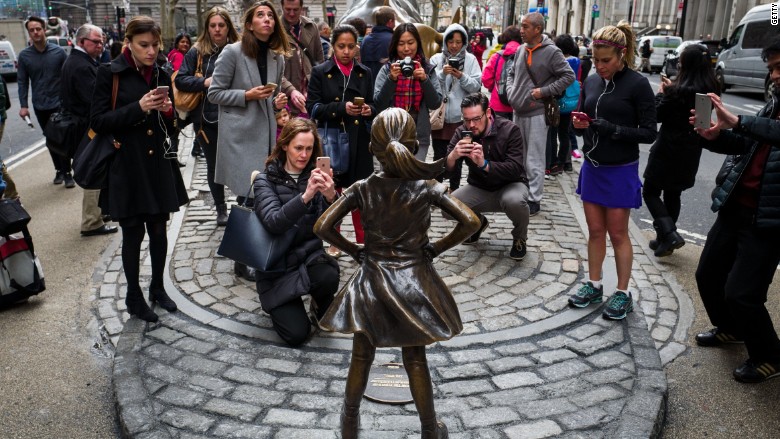 Some have indeed started a Change.Org petition asking the city to make her a permanent feature. "I'm signing it because, as a woman, I felt like such an outsider in the corporate world," Ingrid Herrera wrote on the site. Signer Katie Kaczmarski wrote "more public displays of fearless girls = more fearless women."
On Twitter, people using the hashtag #FearlessGirl are calling for the statue to remain on Wall Street. Mary Emily O'Hara asked her followers to retweet "if you think the temporary #FearlessGirl statue should stay forever." So far, more than 100 users have heeded her call.
Others also tweeted at the New York City mayor's office.
The mayor's office did not immediately respond to a request for comment.
If "Fearless Girl" becomes a permanent Wall Street fixture, she will follow in the footsteps of the Wall Street bull.
Arturo Di Modica, the sculptor behind the "Charging Bull," snuck it onto Wall Street one night in 1989. Unlike SSGA, he did not have a permit for the statue, and it was removed by police. New Yorkers were upset, and eventually the city returned it to to the public.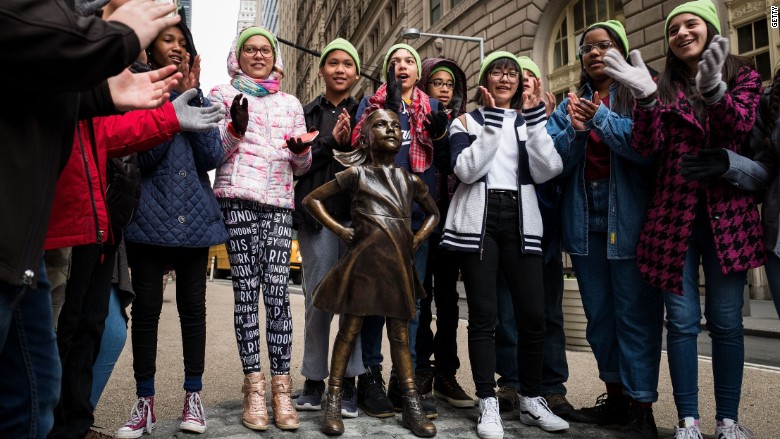 It took nearly six hours to install "Fearless Girl," Visbal said. First, the team had to artificially extend the tip of Bowling Green Park, where the bull sits, by lowering a massive cobblestone base onto city property. They installed the hollow statue, which Visbal estimates weighs about 300 pounds, into the base, and had to adjust her to offset the street's steep incline.
They started at 11:30 p.m. on Monday, and didn't wrap up until 5:20 the next morning.
Speaking with CNN's Maggie Lake, SSGA's Deputy Chief Investment Officer Lori Heinel said that "Fearless Girl" is more than just a symbol. "Board governance is something that we find critically important."
"Better boards just make better decisions and drive company change in a more proactive way," she said. "By engaging with them around the need to have more diverse boards, in this case women, we can actually vote with our conscience and drive the change that's necessary."