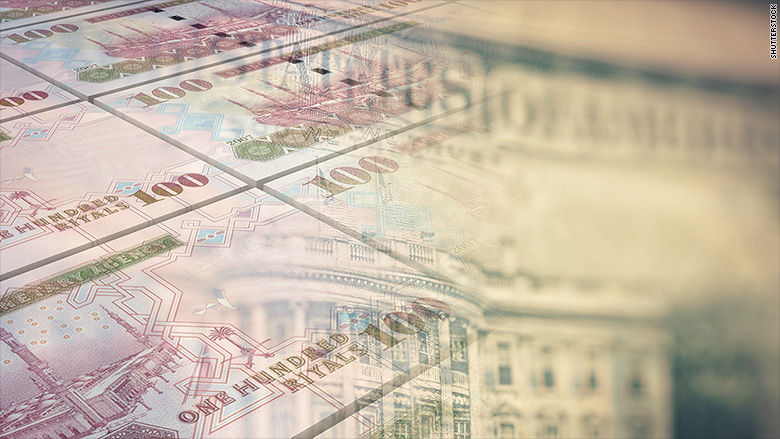 Just weeks after being elected, President Trump met the Japanese billionaire behind a huge new tech fund and was promised a big investment.
Now that fund is a step closer to reaching its target to raise $100 billion. And most of its cash will come from the Middle East.
Mubadala, one of the United Arab Emirates' sovereign wealth funds, said Wednesday it is discussing a contribution of as much as $15 billion.
"We simply think this is the right investment opportunity, to take advantage of an inflection point in the next wave of the technological revolution," a spokesman for Mubadala said.
Saudi Arabia has already committed $45 billion from its public investment fund.
The SoftBank Vision Fund was announced in October by Masayoshi Son, the billionaire founder and CEO of Japanese telecoms group SoftBank (SFTBF), and Saudi deputy Crown Prince Mohammed Bin Salman, who is overhauling the kingdom's economy.
SoftBank is pitching in $25 billion.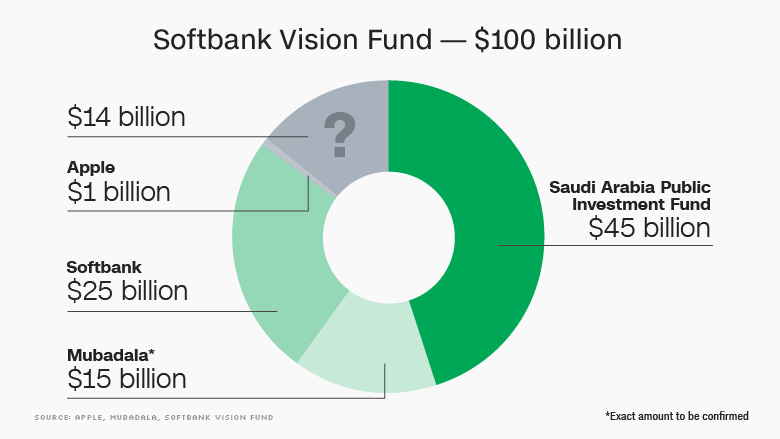 Son visited Trump in December and pledged to invest $50 billion in the U.S. with the aim of creating 50,000 jobs. Son later told the Wall Street Journal the $50 billion investment would come from the Vision Fund.
Related: The 'crazy' Japanese billionaire who met Donald Trump has a 300-year plan
Trump was quick to claim credit for the investment, tweeting: "Masa said he would never do this had we (Trump) not won the election!"
During the election campaign he criticized Hillary Clinton for accepting money from Saudi Arabia for the Clinton Foundation.
"You talk about women and women's rights... And yet you take their money. So I'd like to ask you right now why don't you give back the money that you have taken from certain countries that treat certain groups of people so horribly?" Trump said during a debate.
And asked in an interview with Fox News presenter Sean Hannity whether he would take Saudi money, Trump answered: "No."
Related: Over 200 economists say Trump is wrong on immigration
If Son keeps his promise, billions of dollars of Saudi and UAE government money will pour into U.S. tech firms.
Mubadala said it would finalize the deal in the next few weeks. Apple (AAPL) is another investor in the SoftBank Vision Fund. It has committed $1 billion.
That leaves at least $14 billion up for grabs.
Qualcomm (QCOM), a chip maker that works with Apple, will provide a chunk of that, but it said the amount is "confidential and still under discussion."