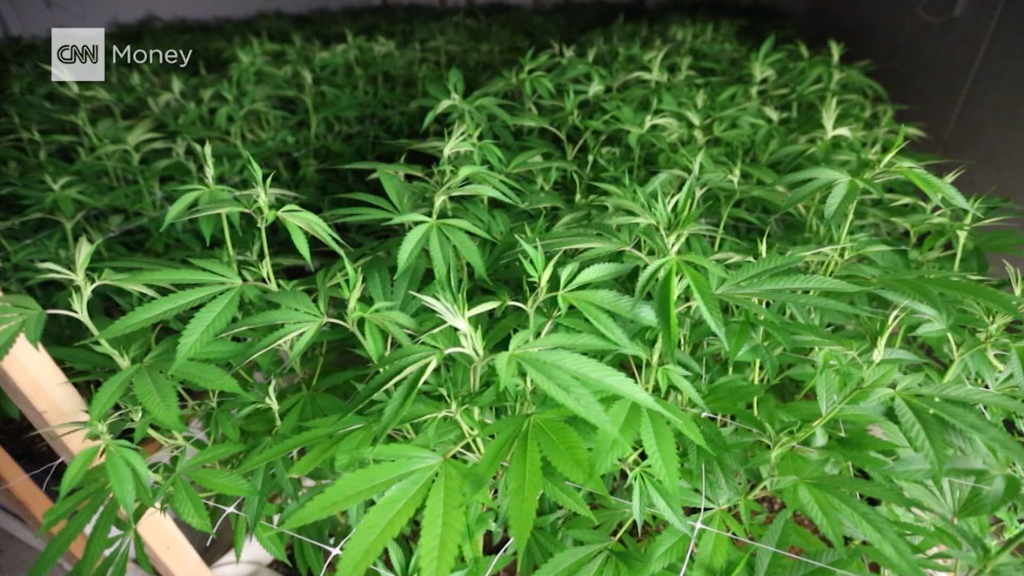 Talk about "smoke" and mirrors.
Marijuana vending machine company Medbox and its founder were charged this week with tricking investors by using a secret shell company to create "bogus" sales.
Medbox bragged in press releases about "record" profits and claimed to be a leader in the marijuana industry, authorities said. And in a May 2013 Bloomberg BusinessWeek article, Medbox was profiled as the marijuana vending machine company "plans to be the Walmart of weed."
In reality, nearly 90% of its quarterly revenue once stemmed from "sham transactions," according to a Securities and Exchange Commission complaint.
Medbox founder and majority shareholder Vincent Mehdizadeh allegedly orchestrated the scheme and then used the proceeds to buy a luxury home in California's Pacific Palisades.
The SEC said Mehdizadeh installed his then-fiancee Yocelin Legaspi as CEO of New-Age Investment Consulting, a shell company that carried out "illegal stock sales" used to inflate Medbox's revenue.
"The only thing we are really good at is public company publicity and stock awareness," Mehdizadeh said in a text message, cited in the complaint.
"We get an A+ for creating revenue off sheer will," the Medbox founder and chief operating officer allegedly wrote.
Mehdizadeh and Medbox, which has since changed its name to Notis Global (NGBL), agreed to a settlement, which is pending court approval.
As part of the settlement, Mehdizadeh must pay more than $12 million in ill-gotten profits and penalties. He also agreed to be barred from serving as a public company officer or director.
"Investors were misled into believing that Medbox was a leader in the burgeoning marijuana industry when the company was just round-tripping money from illegal stock sales to boost revenue," Michele Wein Layne, director of the SEC's Los Angeles Regional Office, said in a statement.
Related: Trump is a buzzkill for pot stocks
Mehdizadeh said in a statement that he decided to settle without admitting or denying the allegations "for peace of mind and so that I could move on with my life" following a three-year investigation.
He said he didn't read the SEC's complaint and doesn't plan to, adding, "They have their version of what happened and I have mine."
Mehdizadeh said his attorneys are in the process of filing a complaint against previous legal counsel for providing incompetent advice related to his work at Medbox.
Notis Global didn't respond to a request for comment nor did its lawyer.
Legal action continues against Legaspi and former Medbox CEO Bruce Bedrick, who the SEC said was "complicit in the scheme" and also personally profited off it.
Related: Mexican company faked the building of 100K homes: SEC
The Medbox charges are the latest in a series of red flags about the risks of investing in marijuana-related penny stocks.
In 2014, the SEC suspended trading in five different pot-related stocks due to "potential illegal activity."
At the time, the SEC sent an investor alert warning about the risk of "fraudsters" spreading false information about marijuana companies to enrich themselves while "creating losses for unsuspecting investors."
Investors also need to navigate complex political risks. Pot stocks took a hit after the Trump administration signaled last month it plans to get tough on marijuana. White House press secretary recently promised "greater enforcement" of federal marijuana laws.
Innovative Industrial Properties (IIPR), a NYSE-listed company that buys buildings and leases them to growers of medical marijuana, has lost 15% of its value so far this year after going public in 2016.
Lawyers representing Bedrick and Legaspi didn't respond to requests for comments.
--CNNMoney's Aaron Smith contributed to this report.