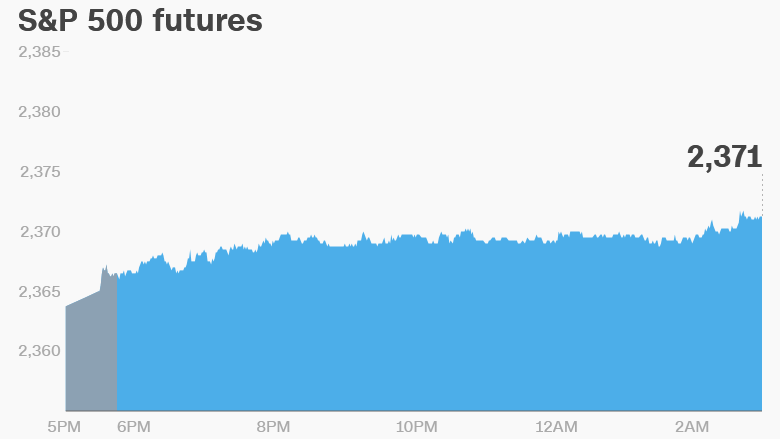 1. Jobs, jobs, jobs: The U.S. economy added a robust 235,000 jobs in February, the Labor Department said Friday. The unemployment rate ticked down to 4.7%.
The report captures the first full month of job growth under President Trump, providing the earliest reading of progress toward his campaign promise to create 25 million new jobs over the next 10 years.
The solid report clears the way for the U.S. Federal Reserve to raise interest rates next week at the end of its two-day meeting on March 15. The central bank has been waiting to make sure the economy is in a position of strength before hiking rates.
2. Trouble in Seoul: South Korea's Constitutional Court voted Friday to remove President Park Geun-hye from office over alleged corruption.
The removal of South Korea's first female president, which comes amid rising tension with North Korea, caps months of street protests over a corruption scandal that reached into the top echelons of business and politics.
Lee Jae-yong, the de facto chief of Samsung (SSNLF) and the country's most prominent business leader, has also been ensnared in the scandal. Preliminary hearings in his trial began Thursday. His legal team denied all the charges.
Stocks in the country had a muted reaction to Park's removal.
"The installation of a new president should provide a boost to short term growth prospects," said Krystal Tan, an Asia analyst at Capital Economics. "A return to normality should help prop up sentiment, which has been badly damaged by the recent political scandal."
3. Crude stability: The price of crude oil rebounded 1.3% on Friday to trade near $49.90.
The move higher follows two very rough trading session for the commodity, which fell below $50 this week for the first time since December.
Investors are worried that an OPEC deal to cut production may not be enough to prevent oversupply in the market.
Data released this week showed that U.S. crude stockpiles are at record highs. American shale producers could deepen the oil glut as their output recovers.
4. Global market overview: U.S. stock futures were in positive territory.
European markets were also broadly higher. Asian markets ended mixed, with the Nikkei turning in a 1.5% gain.
The price of gold dipped below $1,200 on Friday. For those who prefer digital safe havens, a single bitcoin could be purchased for the same price.
U.S. stocks were little changed on Thursday.
Before the Bell newsletter: Key market news. In your inbox. Subscribe now!
5. Stock market movers: A smattering of companies will report earnings on Friday, but no major market players are on the schedule.
Download CNN MoneyStream for up-to-the-minute market data and news
6. Coming this week:
Friday - U.S. jobs report