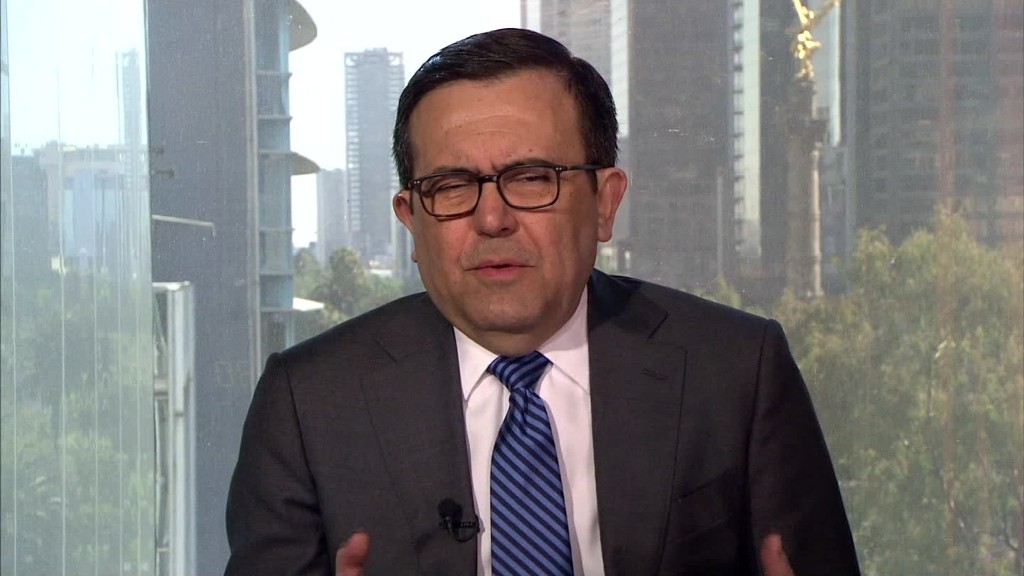 The top trade negotiators for the U.S. and Mexico said all the right things Friday at a joint press conference.
Conversations will be constructive. A new trade deal will benefit all parties. The U.S.-Mexico relationship is important.
But they weren't on the same page on one key issue: how to renegotiate NAFTA.
Commerce secretary Wilbur Ross wants to keep the option open for the U.S. to hold separate trade talks with each of the stakeholders: Canada and Mexico.
"It will either be two parallel bilaterals...or one main trilateral," discussion, Ross said at the press conference in Washington.
Mexico's economic minister, Ildefonso Guajardo, doesn't view separate talks as an option. He immediately jumped on the mic after Ross' comment and emphasized that all talks should occur will all three parties present.
"NAFTA is a trilateral agreement...it makes a lot of sense to discuss [the chapters of NAFTA] trilaterally," Guajardo said.
Ross did not respond to Guajardo.
Related: My American job is moving to Mexico
There is already debate about whether Canada and the U.S. would strike a trade deal without Mexico. Canada's ambassador to the U.S. hinted in January that Canada would consider one-on-one trade talks with the U.S., and press secretary Sean Spicer has emphasized that the Trump administration wants bilateral deals.
President Trump calls NAFTA a "one-sided deal" that's only benefited Mexico and caused the U.S. to lose jobs to its southern neighbor. Congressional nonpartisan research concluded in 2015 that NAFTA did not cause an exodus of jobs, and Mexican officials frequently note that millions of U.S. jobs depend on trade with Mexico.
Ross said Friday that he aims to formally begin the process toward renegotiating NAFTA in the coming weeks. That requires the U.S. to announce an official 90-day consultation period before any negotiations with Canada or Mexico occur.
Related: Why a trade deficit isn't like losing money
Ross told Bloomberg Wednesday that "real" NAFTA negotiations won't take place until later this year, and that talks hopefully won't last much longer than a year.
Guajardo said Friday that Mexico already triggered its 90-day consultation period and will be ready to negotiate by May.
Overall, investors took the press conference well. The Mexican peso -- an indicator for U.S.-Mexico relations at the moment -- rose above 1%, a solid gain, on Friday. Trump's trade threats against Mexico pushed the value of the peso to an all-time low in January before recovering a bit.
Still, all parties recognize the road ahead is a long one. Ross and the Trump administration have said few specifics about what a better NAFTA looks like.
Related: Wilbur Ross wants a higher minimum wage -- in Mexico
One thing they want to change is called "rules of origin" which requires a certain amount of parts in a product, like a car, to be sourced from within the three countries. Trump's advisers have talked about increasing that amount but haven't put an exact number on it yet.
However, Trump's threat of tariffs against Mexico would be a deal breaker for Guajardo. There was no mention of tariffs on Friday.
Guajardo told CNNMoney in February that any tariffs against Mexico will be met with retaliation. That would start a trade war.
"From Mexico's point of view, opening tariffs will be a big mistake," Guajardo told CNNMoney's Richard Quest on Feb. 17. "If anything is done on one side, it has to be compensated with actions on the other side."
Guajardo and Ross did announce that they would try to resolve a dispute between sugar producers and suppliers on both sides of the border. Mexico recently suspended its sugar exports because they had reached a limit previously agreed to. That created a raw sugar shortage for some U.S. firms.