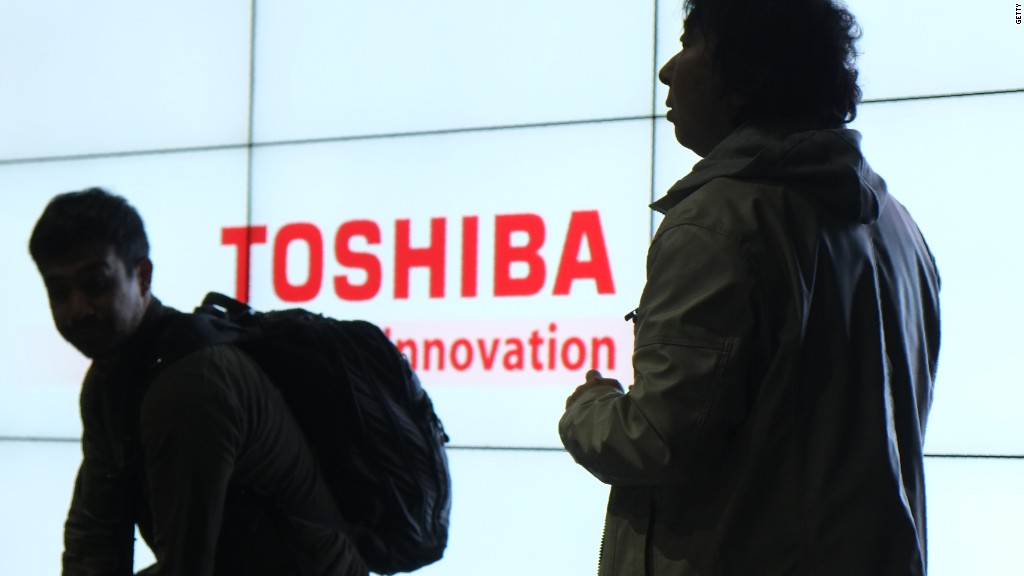 Toshiba is planning to dump its U.S. nuclear subsidiary Westinghouse after billions of dollars in losses brought the troubled company to the brink of collapse.
The Japanese conglomerate wants to sell a majority stake in Westinghouse in a bid to reduce the risk from the overseas nuclear business, a spokesman said on Tuesday.
News of the reorganization came as Toshiba received approval to delay its detailed third quarter earnings report for a second time to April 11. It had asked for more time to investigate the U.S. nuclear business.
Toshiba (TOSBF) shares, which fell as much as 8% Tuesday, eventually closed up 0.5% after news of the nuclear plan was revealed.
But the company's shares have still lost more than half their value since news of the nuclear problems first emerged.
Related: Toshiba chairman steps down as company takes $6.3B hit from nuclear unit
Last month, Toshiba reported a $6.3 billion writedown in its U.S. nuclear unit, stemming from Westinghouse's acquisition of nuclear construction business CB&I Stone and Webster. Westinghouse's losses pushed Toshiba as a whole to a loss of $4.4 billion for the nine months ending Dec. 31, according to preliminary figures.
The CB&I Stone and Webster acquisition was supposed to help Westinghouse complete nuclear reactor projects in Georgia and South Carolina. But the U.S. projects are running way over budget and behind schedule.
Now, Toshiba says Westinghouse senior managers exerted "inappropriate pressures" to push through the takeover. It is also investigating concerns about the accounting process at the U.S. nuclear division.
The company's chairman, Shigenori Shiga, resigned last month to take responsibility for the widening crisis.
Related: Investors wipe $6.6 billion off Toshiba's market value
Toshiba is an iconic Japanese company. It made the country's first light bulb and manufactured Japan's first electric washing machines and refrigerators. It now makes everything from TVs to memory chips, and had turned to nuclear plant construction to try to help it recover in the wake of a massive $1.2 billion accounting scandal.
There were signs of a turnaround last year, when Toshiba reported earnings of 115 billion yen ($977 million) through the first six months of its 2016 financial year.
Related: Uranium stocks are booming, thanks to Trump
Now the company is back on shaky ground, and Toshiba admits the huge investment in the nuclear business may have been another misstep.
-- Yoko Wakatsuki contributed to this report.